February 18, 2020.
Accumulated clutter can be a large beast to tackle, even in a residential setting; cleaning out a commercial office building can be a serious challenge. Whether you're just looking to spruce the place up a bit, are preparing for a big move or working toward a full remodel of your office, junk removal is essential. For businesses in Palm Beach County, navigating waste management isn't always easy.
A good understanding of all your options allows you to make an informed decision, one you can feel good about across the board.
Palm Beach County Office Junk Removal Options
While residential clients of the Solid Waste Authority of Palm Beach County have access to limited bulk pickup services on a weekly basis, commercial clients aren't governed by the same policies. Commercial properties pay a flat fee for disposal in addition to a tipping fee. These fees are assessed based on a number of metrics, from the size of the business to the category under which it is classified. In addition to rules and regulations covering how and when these items can be collected, there are a number of things you'll likely want to consider when choosing an office junk removal solution.
SWA only collects waste placed in appropriate containers or adhering to their placement guidelines, which means that business owners must supply their own labor to get items out of the building. Assigning your office employees to manual labor isn't always the most popular choice among those employees, and hired outside laborers are usually at work on more important tasks. You don't want to pay expensive skilled tradespeople to haul waste in the middle of a construction or remodeling project, and you don't want to assume the risk of injury that comes with putting employees on the job.
Once those items are collected, there's a good chance most of them will make their way straight to the nearest landfill. Even desks and other furniture or goods in usable condition are likely to be tossed in the dump, because there is simply no framework in place to get them to area donation centers. This means you're almost certain to have a significant environmental impact, in addition to keeping items you no longer want or need out of circulation in the community.
How do you ensure the most sustainable and ethical path is taken while also keeping your employees' well-being and happiness in mind? You can take on responsibility for all the hauling and cleanup yourself, but you'll need access to a suitably sized vehicle and people willing to help you with the heavy lifting. Without a truck, you'll also be on the hook for rental costs, including insurance and administrative fees, along with all fueling expenses. Once you've invested time and labor into plotting the most efficient route for what will likely entail multiple trips to more than one location, you'll also need to be prepared for processing fees at recycling centers.
No matter the catalyst for your cleaning purge, chances are you've already got a full to-do list. Taking time away from tasks only you can manage in order to ensure waste is handled appropriately is grossly inefficient, and can be costly. Why risk mistakes due to lack of oversight or the chance of missing a firm deadline just because the trash was out of control? Making a solid disposal plan before the labor begins, or having a clear idea of how you'll approach waste management, allows you to maintain efficiency.
In most cases, it's a far better and more effective investment to work with a private hauler. One who understands the importance of preserving the planet for future generations, and works to support the community as a whole.
Keeping Your Office Junk Removal Project Clean and Green
Large-scale office cleanout projects mean you have a lot to manage. Why take time and energy away from the tasks you can't effectively outsource, just to handle one that's easily managed by dedicated professionals?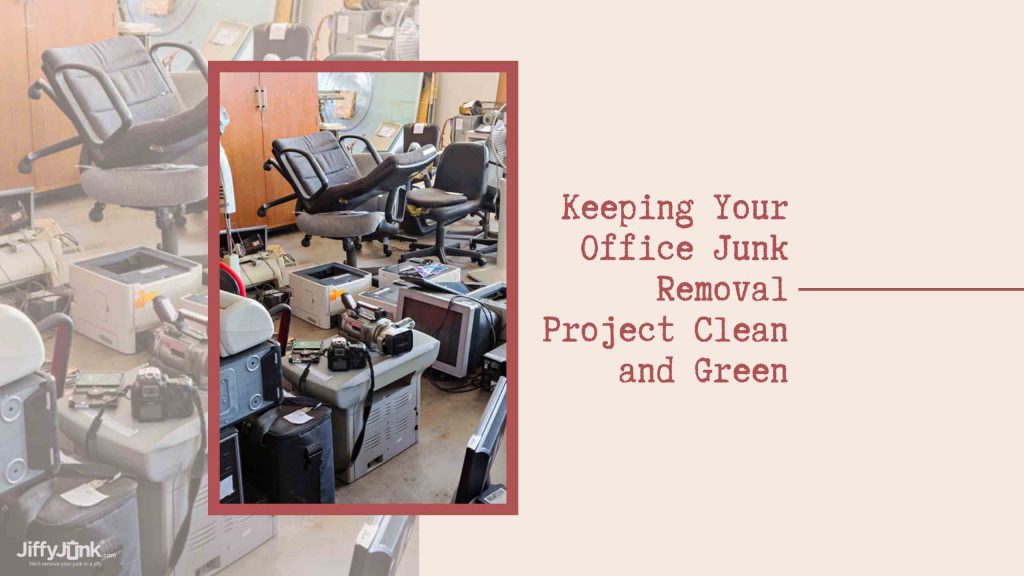 At Jiffy Junk, we've built our business on a strong foundation of environmental and community responsibility. When we come to your place of business to aid in the removal of unwanted items, we take a different approach.
Everything we remove, we first examine to make sure all usable items make their way to charitable donation centers, not the landfill. Anything we can't donate, we take to the appropriate recycling facility, even if it means seeking out community-based initiatives municipal services don't use. Our experienced and knowledgeable removal techs do all the lifting, even uninstalling appliances and removing old flooring marked for disposal. When it's all said and done, you're left with a clean space and a clean conscience, but also plenty of time and energy to dedicate to the rest of your to-do list.
We understand that time really is money, so we work to simplify waste management in every possible way. Because we also understand the importance of meeting deadlines, we make a point of attacking any dust bunnies and cobwebs with a thorough broom cleaning. Your spaces are ready for anything that comes next, from turning it back over to a landlord to clearing the way for contractors. Because there really is no job too large or too small, we provide one-time removal or ongoing pickup for projects that demand it.
Best of all, we'll work on your schedule. We understand you can't wait for the county's schedule, especially when you're dealing with moving or construction deadlines. With a single phone call, you can ensure your project is handled quickly, efficiently, professionally and ethically. At the end of the day, all you'll have to worry about is the next item on your personal to-do list. Call us today to learn more about our unique approach to sustainable office junk hauling, and all the ways we strive to make quick work of even the most overwhelming jobs. Together, we can turn the most anxiety-inducing waste piles into an easily managed job.