February 25, 2020.
Big cleaning projects are stressful enough on their own. Throw in a hard and fast deadline, and even a moderate job seems overwhelming. This particularly holds true in Austin, where you essentially have two collection periods each year to get it done. Junk removal and waste management are the backbone of any organizing or clean-up jobs, and lack of planning for disposal definitely has the potential to derail your entire timeline.
Understanding all your options for large-scale disposal allows you to make informed decisions that are best suited to your schedule, waste management needs and ethical demands. Before you start sorting waste and dragging it down to the curb, it's wise to take some time to explore all the possibilities.
When the City Makes it Hard to Get it Done: Junk Removal and Bulk Disposal in Austin
With an ambitious environmental goal of Zero Waste by 2040, the City of Austin is working hard to make disposal most sustainable. For this reason, it can be surprising to Austinites that much of what is collected during the two bulk pickup weeks provided each year will end up in the nearest landfill.
Metal items, including appliances, and passenger vehicle tires are taken to recycling facilities. Everything else, including castoff furniture and household goods still in usable condition, is disposed of in a landfill. During bulk collection week, there is simply no infrastructure in place to transport these items to donation centers. For Austinites working toward a greener cleanout project with a smaller environmental impact, relying upon municipal services just won't fit the bill. Sustainability isn't the only thing to consider. There are a few potential drawbacks and complications that can impede your progress when Austin Resource Recovery is your sole disposal solution.
The biggest and most pressing concern is obviously timing, because life rarely waits for a municipal schedule. When you're purging unwanted items before a big move, or doing the emotionally and physically demanding work of closing a loved one's estate, time is of the essence. You simply can't wait for twice-yearly windows of opportunity to open, especially when you have to vacate a property before a specific date.
If you are fortunate enough to find your lucky stars aligning, timing isn't the only thing to think over when choosing a disposal solution. In order to take advantage of Austin Resource Recovery bulk collection programs, you'll have to make sure you're complying with all the rules and regulations.
As items are placed at the curb, they must be separated into three distinct piles: metal items, passenger vehicle tires and non-metal items. These piles must be far enough apart to make clear to collection techs where they belong, but not so spread out that they break placement rules. Items must not be placed within five feet of any parked vehicles, utility or connection boxes, fences or walls, mailboxes or trash carts. They must also be clear of any low-hanging tree limbs or power lines to comply with ARR guidelines.
This brings another valuable point to the forefront: how do you get items down to the curb if you're not physically capable of dragging and hauling the heaviest items? Austin Resource Recovery does not offer full-service hauling, so if the heavy lifting is out of the question, you're left with no real options for municipal bulk disposal.
You must also consider the limitations placed on what can and cannot be collected. ARR collection technicians will not accept any construction, demolition or remodeling debris, cardboard boxes, automotive bodies, chassis or parts, motorcycles, boats or trailers. No more than eight passenger vehicle tires per household may be placed out, and these must be removed from rims prior to placement. Large truck and tractor tires are not accepted, nor are household chemicals or any containerized waste.
Garbage in bags or containers will be subject to extra trash fees, as bulk collection weeks are specifically intended for items too large to containerize. All of these rules, guidelines and regulations make it difficult to focus on any other aspect of what's likely a large and sprawling project. In the end, you could find yourself still scrambling to meet deadlines even if your schedule does align with bulk collection week.
A Better Way to Manage Junk Removal
There are so many things that need your attention, and many of them simply can't be outsourced. Fortunately, waste management isn't among them. While a waste management plan can make or break your entire project, it's not something you must personally oversee if you're working with a service provider you can trust.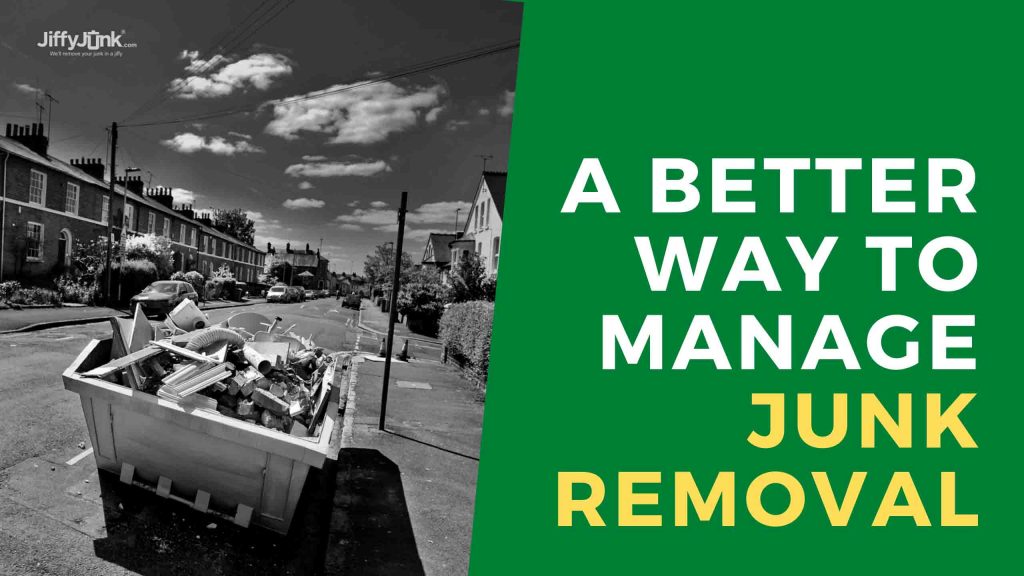 At Jiffy Junk, we understand there's more on your to-do list than just throwing out items you no longer need or want. We also understand the importance of protecting the planet, so we take a different approach to large-scale disposal.
When our expert removal technicians come to your home or place of business, we make a point of separating any items in usable condition. These make their way not to the landfill, but to local donation centers where they can make a difference in the lives of those in need. Anything we can't donate, we'll seek out sustainable disposal solutions that do not include landfill dumping whenever possible. We work hard to minimize our environmental footprint, passing it along to each and every one of our valued customers.
Because we also believe in never leaving a job half-done, there's no need to drag heavy items out to the curb. We'll remove ungainly furniture from where it sits, uninstall unwanted appliances and even tear out your carpeting if it's marked for disposal, so you don't have to worry about the heavy lifting. Our white-glove service promise means you can focus on everything else while we handle the dirty work.
Best of all, we'll come to you on your schedule. No working around a twice-annual window of opportunity, no stressing about deadlines. With just one phone call, you can turn even the most overwhelming junk pile into an easily managed job. Contact us today to learn more about our greener service promise, and all the ways we work to make waste management a stress-free experience.