May 10, 2021.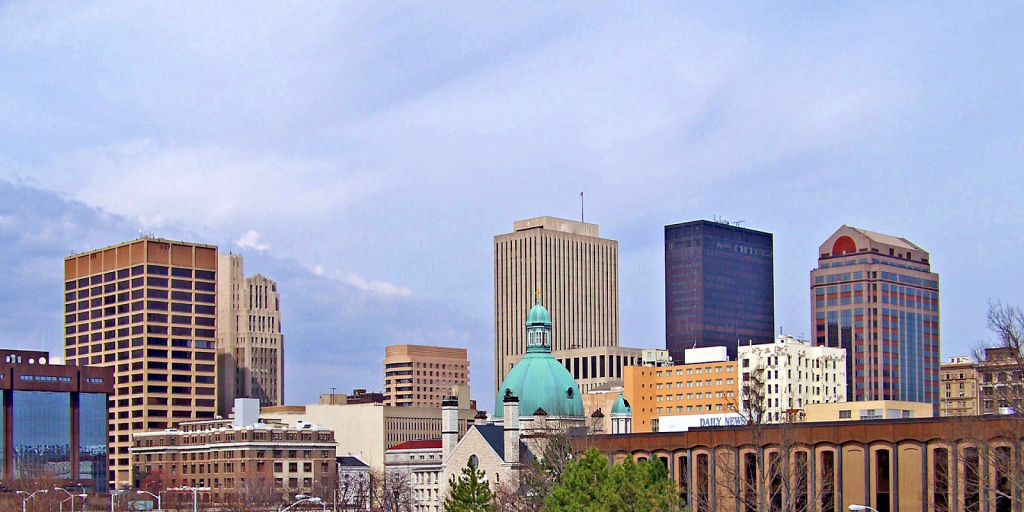 We all need something to look forward to and this is especially true with everything that's going on in the world now. The summer months are often an exciting time because people start booking holidays and enjoying warmer weather, especially after Dayton's harsh winters. You can also start working on your yard again for which you'll also want to find a way to haul away your trash. It is refreshing to see nature wake up and the blue sky appearing more often. Getting yourself mentally ready to take a well-deserved rest can also mean finishing those junk removal projects you've been putting off. Why not use the coming summer months as a deadline? Maybe you'll feel better to know it's so easy to contact our team in Dayton to get started.
The Gem City 
Clean, organized, and beautiful 

The diamond strikes of the 1880s 
Interestingly, Dayton has been called the Gem City for over 150 years but no one seems to know where that name comes from. There's no mistaking that Dayton is a beautiful city with its wide streets, impressive buildings, and gorgeous canals over in the east and the south. It's a clean and well-organized city that offers so much, in terms of from the city center to the suburbs, such that Daytonians are proud to call it the Gem City. 
There's also another intriguing theory that says that people in the 1880s started calling it the Gem City to show solidarity with diamond miners on strike in South Africa. Whatever the reason though, there are many things to enjoy in Dayton, even during the winter months. Overall, it's a friendly city that's environmentally focused and offers great galleries, breweries, festivals, universities, amongst other things. Doesn't this make you want to declutter your home and do your bit to keep the city clean and beautiful? 
Junk Removal Gets you Ready for the Summer 
Reminds you why you love your home 

Clears space for summer clothes shopping 

Prepare for friends and family to stay over 
You know it's time to do some junk removal when your old furniture or random old stuff starts piling up so that you can't even see your floor. Even before that though, something is liberating about replacing old furniture or clearing out unused clothes and piles of papers. What about finally replacing those appliances that barely function properly and need a special process to turn them on? If you're putting it all off because you don't know what to do with them then call a junk removal company. This is what we love and do best. 
We often forget how great our homes are because we're so used to them. Junk removal can be the perfect way to rediscover why you fell in love with your home in the first place. You'll rediscover spaces that you haven't been using to their fullest. What about creating new storage places or making space for those new summer clothes? After all, you'll need some kind of reward after your junk removal project.

Showing off Your Home – What's Next? 
You can then start planning how to show off your home for when people come to stay. Think of it almost like you're creating a whole new house. Then again, have you ever wondered what exactly makes your house look cluttered, apart from the obvious unwanted items? Have you perhaps got the wrong lighting or too many knick-knacks? This is the part when it gets exciting and you can start getting creative. For example, you could you out and get some cute storage boxes or launch into some DIY and build some shelves. What about repainting with brighter colors or simply more white? Whatever it is, you'll need to complete your junk removal first.
Junk Removal to Prepare for DIY Projects 
Clear space for home improvement

Tips to plan your DIY
Using a full-service junk removal team also gets you ready for those DIY projects you've been dreaming of. These could be in the house or the yard but whatever your project is, you'll first need to get rid of any waste and unwanted junk. Of course, you can start cleaning and clearing out on your own but a junk removal service can really make a difference. Essentially, you'll be able to sort out your junk removal more quickly and you'll even get a helping hand for the heavy stuff.
Just like a good junk removal project, a successful DIY project needs planning and lists. You first need to know your overall goal but then it's really a question of what tools and materials you need as well as what space. Make sure you do your junk removal properly and use hauling services to remove everything before you get started. Of course, you might opt for a simple dumpster rental but depending on the size of the job, you might appreciate the extra help and support from a friendly junk removal services team.

Why Junk Removal is Good for the Mind 
Feel efficient and confident 

Decrease stress

Decluttering can be therapeutic 
Of course, junk removal can be overwhelming and you might have to start with baby steps. Perhaps sort out all the clothes in your house first. Make sure you give yourself a reward before moving onto the next category and you'll soon start feeling efficient and confident. 
Another interesting advantage of junk removal is that studies show that decluttering actually reduces the stress hormone, cortisol. Whilst it might initially feel like a chore, once you get stuck into sorting things out, you'll relax into the job. You'll have something to focus on and gradually your mind will stabilize and feel clearer. Then, you'll be so proud of yourself when the junk removal company comes and takes it all away. Furthermore, you'll feel energized by what you've achieved and you'll be able to see things more clearly both in your space and in your mind.
Makes Things Easier for Yourself
Don't forget also all those things that you'll find that you'd forgotten you had. It can be quite fun rediscovering old photos or that tiny table from your travels that's hidden under a pile of newspapers. Of course, this is what also makes decluttering so hard because we hold onto things and we connect to the stories they remind us of. This is why you should try to make things as easy as possible for you. Either get a friend to help you or get advice from a junk removal company. Other people won't be emotionally attached and will help you get the job done more easily.
How to do Junk Removal 
Plan your approach

Research junk removal services 

Get a consultation and quote 
So, where do you start with your junk removal project? Many people still like to do one room at a time. This can be useful if you have children because they can be in charge of their space. Having said that, there's another school of thought that says that decluttering by category is more effective. For example, you could start with clothes then files, furniture, random stuff, or whatever feels right for you. Either way, give yourself manageable goals that don't feel too huge or overwhelming. 
There's no issue if you work with Dayton City who organizes local waste management and junk pickup services. Nevertheless, don't underestimate what a junk removal company does for you. The team can quite literally work through the project with you, starting with advising you on your plan of attack and all the way to helping you sort different items for recycling.
Your Helpful Junk Removal Team 
With our friendly junk removal team, the project can e fun and hassle-free. They'll even come into your house to move the bulky furniture or appliances and then clean and sanitize everything for you. You can expect your space to be left white-glove clean and safe from all viruses and bacteria. Isn't that what you've thought of? Moreover, it's so easy to call to get an initial consultation and quote with any junk removal and hauling services.

Professional Junk Removal Means Doing your Bit to Keep Dayton Clean 
Recycle and reduce waste

Junk removal services help you sort

Donations to support the community 
With junk removal services, you can be sure that your old unwanted items will be recycled and disposed of in an eco-friendly way. Where possible, things will be donated. Just because we've got tired of something, it doesn't mean that it can't still be used as a second-hand item. Either way, your friendly junk removal team will advise you on the best way to sort everything and will even help you hands-on if you prefer. 
When doing a junk removal project, you're basically taking care of your home which also makes you feel happier. You'll be house-proud and be able to enjoy the feeling that comes with doing your bit for a beautiful city. Of course, we all know that commercial junk removal plays a huge part in the environment. Regardless, even a little bit from each of us goes a long way. Essentially, you'll be creating a more environmentally sustainable lifestyle and if everyone did that then the world would be a much better place for the future.
Appreciate Sustainable Living 
The key is to try to avoid filling up the new space again with more stuff. Of course, we all like to buy things sometimes but perhaps we can introduce a better balance in our lives? For example, rather than buying things, maybe we can spend more time enjoying family and friends throughout Dayton? You'll be having fun and helping the environment at the same time. At a very basic level, you'll be using fewer things which leads to a smaller carbon footprint thanks to less manufacturing and delivery travel to your house. 
Enjoy a Different Summer in Dayton this Year 
Hikes instead of festivals 

Enjoy local shops 

Museums and river walks 
So, what can you start planning for the summer? Depending on what happens with Covid restrictions, you might find that it's a very different summer this year with fewer festivals. Having said that, Dayton still has a lot to offer. You can enjoy hikes both on foot and by bike. The Clifton Gorge is an obvious example of its stunning post-glacial canyon. You also have the Great Miami River Trail that takes you through downtown Dayton and past Riverscape and other numerous museums and galleries. 
With all the local boutiques and shops across Dayton, you can find charming streets to wander through. There's even an outdoor market, 3rd on Third, where you can explore arts and crafts, antiques, and other collectibles. Of course, this isn't about replacing your old stuff with more junk. Nevertheless, there's something charming about wandering through those markets even without buying anything. 
Dayton also has some wonderful galleries and museums to visit. This might even give you design ideas for your house because you'll be feeling that much more creative. Getting inspired is also another great way to get motivation for a junk removal project. You can almost visualize how much more awesome your home is going to be once you've finished. Moreover, art has a calming influence which will help you find the energy you need to make your DIY projects fun.

Final Words on Getting yourself Ready for the Summer with Junk Removal 
The summer months are all about taking time off and enjoying the outdoors with friends and family. You'll feel even more on top of the world if your house is clutter-free and sparkling as if it were new. All your guests will love coming over for dinner and admiring your space. The best part is that a junk removal project doesn't have to be stressful or overwhelming. Junk removal services do the heavy lifting for you and all with a friendly smile and great customer service. You'll soon be wondering what you've been waiting for. Then, you can truly enjoy that well-deserved summer break.