Who Will Pick Up Old Appliances for Free?
So, you've decided to buy a new appliance. Exciting! Shopping for a new refrigerator or stove can be a really fun experience considering the models and features available on the market today. But what about your old one? Whether it was broken or simply past its prime and ready to be upgraded, it's important to pre-plan your disposal to ensure that the switch-out goes well.
The great news is that there are tons of free local services that can help get the job done. Read on to learn everything you need to know about free appliance pickup, professional disposal, and what other options you have when looking to get rid of an old fridge or oven.
While some retailers will offer to haul away your old appliance when delivering your new one, it's not guaranteed. If you find yourself without options, rest assured that there are plenty of charities and places to donate old appliances to if yours is still in working condition. You may even get lucky and find a local group that offers free old appliance removal straight from your home. Here's a list of national organizations that will pick up donations free of charge:
RAD is a voluntary partnership program that works with retailers, manufacturers and utility companies, as well as state and local government agencies to properly dispose of old appliances. It promotes environmental practices that go beyond federal requirements to protect the Earth's climate and ozone layer – a responsible option over leaving free used appliances on the side of the road.
Accepted Appliances for Pickup:
Most RAD partner programs offer free removal of old appliances like refrigerators, freezers, window air conditioners for small windows, and house dehumidifier systems. It's worth inquiring with your local entity to ensure your item qualifies.
The Salvation Army has a long reputation of supporting communities with access to affordable donated items. If you have an appliance that still works well and is safe to use, they may offer a free appliance haul away in exchange for the item. Again, it's important to inquire ahead of time to make sure that they can handle whatever it is that you're giving away. In most cases though, the Salvation Army is able to pick up everything from refrigerators to laundry machines.
Head to their website and enter your zip code in the "schedule a pick-up" section to get information about your local donation center.
Accepted Appliances for Pickup:
The Salvation Army takes free used appliances like washing machines, dryers, heaters, microwaves, refrigerators, freezers, air conditioners, stoves, and dishwashers at select locations. These items must be in good working condition in order to qualify for pick up.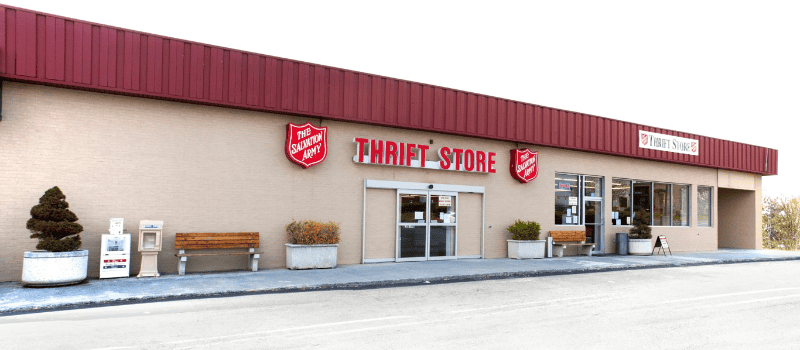 Habitat for Humanity ReStores
Habitat for Humanity's ReStores are another free refrigerator pickup option. This national charity specifically works with families in need of homes and affordable items to fill them with. They will typically pick up donated appliances like fridges and stoves – you just need to call ahead and schedule a time. Head to their website to find your local Habitat ReStore to get started with the process.
Accepted Appliances for Pickup:
Habitat for Humanity's free appliance removal services come with one caveat – the washing machine, dryer, freezer, air conditioner, stove, refrigerator, or dishwasher in question must be clean and safe to use. Pick up is available at select locations, so be sure to call ahead and confirm it's something yours provides.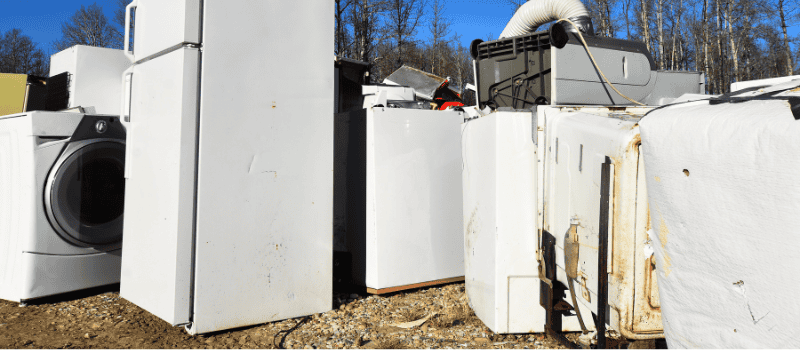 American Veterans (AMVETS)
The AMVETS National Service Foundation supports local veterans and their families. Their free washer and dryer pickup program is complete when you donate an appliance. They'll usually want you to schedule a date ahead of time, which can be done either online or over the phone with an organization representative.
Accepted Appliances for Pickup:
It's important to note that this charity only takes electrical appliances smaller than a microwave – like toasters, coffeemakers, food processors, blenders, toasters, hairdryers, electric kettles, beverage makers, slow cookers and vacuums.
Goodwill is a national organization that connects communities with the items they need to thrive. Donating to them is extremely easy, and depending on a given branch's needs, they may pick up old appliances for free. It's best to contact your local Goodwill team to learn more about their donation list and the process involved in donating. All Goodwill branches use the proceeds from the sale of donated items to help people with job training and placement.
Appliances Accepted for Pickup:
Goodwill is known to offer free washing machine removal, as well as pick up services for other items like dryers, stoves and dishwashers. What they take and the conditions it must meet to qualify for donation can vary by store.
Pickup Please help support Vietnam Veterans of America (VVA) and offer free pickup of old furniture when you donate it. Getting the removal process started is quite easy – just visit their website and find your local branch to schedule a donation pickup. In many cases, someone will come for your furniture donation within 24 hours.
Appliances Accepted for Pickup:
Pickup Please will only remove old appliances free of charge if they're small in size and in good working condition. Call to ask if your item qualifies.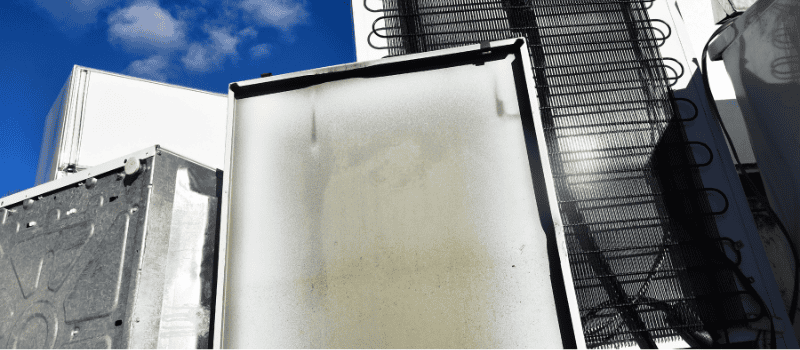 Green Drop is a non-profit that picks up donated items and distributes them to local organizations like the American Red Cross, Military Order of the Purple Heart, National Federation of the Blind and St. Vincent de Paul Society. They're a great free refrigerator pickup option if you're looking to make an impact among multiple causes.
Appliances Accepted for Pickup:
Green Drop's free removal of old appliances is contingent upon items being in good working condition. Other acceptable donation items include clothing, shoes, blankets, bedding, tools, collectibles, kitchenware, toys, electronics, musical instruments and sporting goods.
Founded in 1950, The Arc was created to help serve adults and children with intellectual and developmental disabilities. This non-profit may offer you free washer and dryer pick up if you choose to donate to their cause. We recommend visiting their website for more information about what your local branch does and doesn't haul away.
Appliances Accepted for Pickup:
The Arc is best known for its free pickup of old furniture and clothing, but it also takes household appliances in some cases.
The organization works with charities throughout the country to secure donations and deliver them to thrift stores and to people in need. They're a great way to get free refrigerator disposal while also supporting your local community. Simply visit their website and put in a donation request to get connected with local thrift stores and charities and schedule a pickup.
Appliances Accepted for Pickup:
Pick Up My Donation offers free pick up of used appliances of all kinds. Service availability can vary by region, so we highly recommend inquiring with them for further details.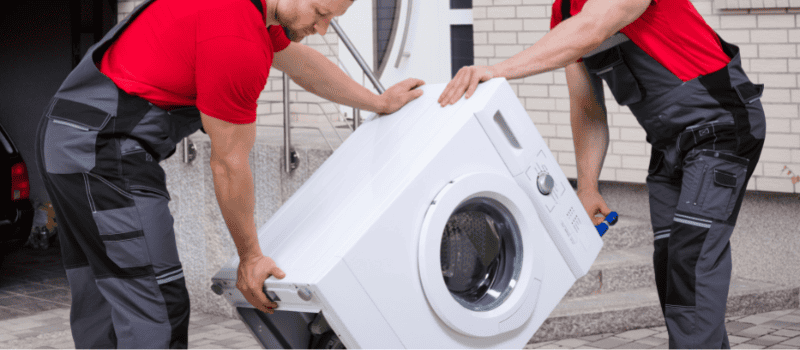 American Council of the Blind
The American Council of the Blind (ACB) can be an excellent option if you live in Texas and are on the hunt for free appliance removal services. They accept items of all types, including used furniture and old but working appliances. Donate your used appliances to ACB and you'll be supporting a local cause with a measurable impact on everyday Americans' lives.
Appliances Accepted for Pickup:
ACB's free removal of old appliances extends to practically any household item, as long as it's in safe working order.
This organization collects gently used furniture and gives those items back to people in need in the community. While they don't take appliances, they're a great option to keep in mind if you need to get rid of some other household items. Choosing to donate used furniture to the Furniture Bank Network is super responsible and can be handy if you're planning a full home clean-out or remodel.
Appliances Accepted for Pickup:
Furniture Bank Network only offers free pickup of old furniture. If you're donating some, it's always worth asking if they'll take appliances along in their truck too.
St. Vincent de Paul (SVDP) is a Catholic charitable organization that offers fast free appliance removal services in 140 countries. This is a great way to remove old appliances for free while also supporting an incredibly important cause.
Appliances Accepted for Pickup:
St. Vincent de Paul's free appliance removal service takes items like refrigerators, freezers, ranges, washers, and dryers less than 10 years old. They should be safe to use and work decently. We recommend calling to confirm that your local entity collects whatever item you're looking to get rid of.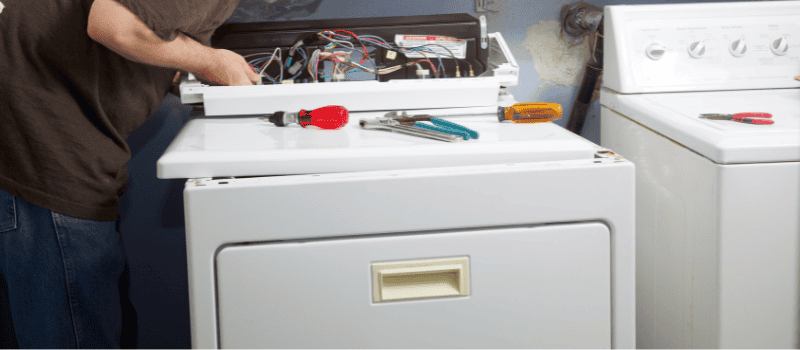 Your Local Government or City Hall
While this is likely not the first thing you can think of when it comes to places to donate used appliances, many local governments have designated programs that can pick up your item for free. This is perfect for people who don't have a friend or relative with a truck that can spare some space to transport the old appliance to its final destination.
Appliances Accepted for Pickup:
Municipality donation programs don't just offer free refrigerator pickup – most will take anything. They can also help with recycling by connecting you with a local facility.
IKEA offers free pick up of used appliances with the purchase of new ones. They'll take it out of your hands and dispose of it in an environmentally-friendly way, making the appliance switch process super easy and hassle-free.
Appliances Accepted for Pickup:
The only rule to IKEA's pickup offering is that you must buy an appliance in order to take advantage, and that appliances are one-for-one. Not buying a refrigerator and offloading 10, sorry.
Costco stores provide in-home delivery and installation services alongside old appliance removal services at a cost. They also offer free refrigerator disposal when you purchase and have them deliver a new one to your home.
Appliances Accepted for Pickup:
Costco's free refrigerator pickup team requires you to buy a new appliance in order to have another hauled away. It's one-for-one, but they can move anything from garages, lower floors and basements.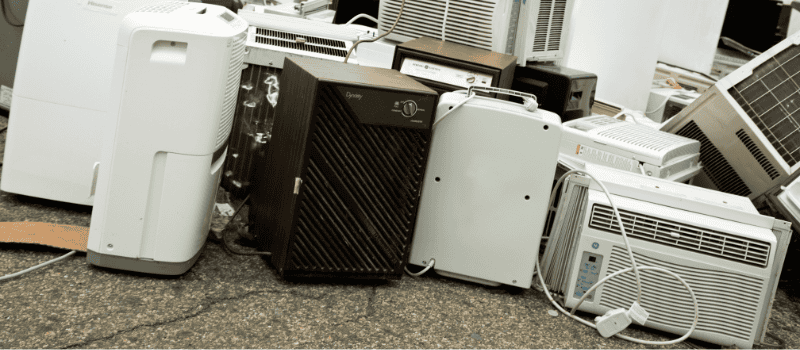 Some retailers will offer free appliance haul away if you buy a large item from them. Lowe's is a great example – its customers enjoy professional appliance delivery, installation, free haul away, and recycling services with the purchase of a new unit. The retailer also offers the service at a flat rate of $30 without a purchase.
Appliances Accepted for Pickup:
Lowe's offers everything from free washing machine removal to dryers, ranges, ovens, refrigerators and dishwasher disposals. You'll usually need to purchase the same type of item to get an old one hauled away for free.
If you're replacing an old appliance, Home Depot will pick it up for you at a very low cost. The hauling services are relatively affordable and are worth considering if you have multiple items to get rid of at once. Visit their website for more information about pricing and local availability.
Appliances Accepted for Pickup:
Home Depot offers free pick up of used appliances of all kinds, from old dryers, dishwashers, refrigerators and freezers to oven ranges and stovetops.
Alternative to Free Appliance Removal
While most charities will pick up old but working appliances, you may still be in need of junk removal. Fortunately, there are other options available if you don't want to wait for a charity pickup. There are many companies that specialize in appliance removal who can pick up broken items and recycle them for you. See possible options below.
1. Hire a Junk Removal Company
From the removal of washing machines and refrigerators to microwaves, ovens and stove tops, Jiffy Junk is a leading name in appliance haul away. We can handle anything – as long as it can be hooked up, you can trust our team to haul it away. Our business is proud to be a reliable provider homeowners can trust to get rid of their unwanted items. Appliance removal with us means a guaranteed quality service, eco-friendly disposal and a reasonable price you can afford.

2. Take Appliances to Recycling Centers
While it's not a guarantee for free appliance disposal, many recycling centers will take items off your hands for a low cost. Some of these items include large appliances such as refrigerators, washing machines, dryers and more. You can take the items to the center if you have a suitable vehicle, or typically set up a time for them to come and take it. Appliance recycling is always a great choice for those looking to responsibly and efficiently dispose of their old appliances.
If you're looking for a way to make money off your unwanted appliances, selling them online is a great option. Sites like Craigslist and eBay offer platforms for you to post and sell your items in exchange for money. This can be a great way to get some use out of an item that would otherwise be thrown away and make a few bucks in the process.
4. Repair Broken Appliances
In some cases, you may not even need to get rid of an old appliance. Depending on the age and condition of the item, you may find that it is worth repairing and reselling. With the help of a professional, many appliances can be repaired to make them useful again or ready for resale.
Frequently Asked Questions
When it comes to large items, your best bet is to contact local charities or social enterprises in the area to see if they provide a washer and dryer removal service. Some are free of charge, while others may require a donation.
There are many charities and organizations out there who will pick up your unwanted appliances for free. One of the best ways to find these resources is to search online for free appliance pick up near you. You can often find local charities that will donate it to those in need.
The best place to start for refrigerator removal is the Environmental Protection Agency (EPA). The EPA has a program designed to provide free pick up and proper disposal of refrigerators and other appliances. In some instances, local charities may also offer free removal services for these items. Contacting your local waste management company is another great way to find out more information on how to get rid of old refrigerators.
If you're looking to donate your used appliances, there are many charities in your community who will take them off your hands. You can also hire a junk removal service that specializes in repurposing or rehoming your unwanted items.