Sale on 1/4 load – ONLY $198. Save $94.00 LIMITED TIME ONLY
Broward is one of the largest counties in the US and is the second-largest county in Florida. With over 1.9 million people living in Broward today, the county has become a vibrant thriving community. You can find people from all walks of life in the county from artists, billionaires, to jobholders and small business owners. With such a diverse and large population there are obvious drawbacks. Broward county creates a lot of waste that the county waste management system cannot completely fulfill. With such a huge population it's no surprise either. So to ensure that junk removal is done efficiently within the county, Jiffy Junk brings one of the most comprehensive Junk Removal teams in the country. Junk removal can be a laborious process. It can take days of planning and the removal can last days and sometimes weeks. So instead of wasting your weekends away hauling trash, you can now sip Margaritas with Jiffy Junk taking care of the junk problem.
Who Are We?
Jiffy Junk has been providing junk removal services in Florida for a long time. Our local operations in each county have been specially designed to ensure the quality of service for residents and business owners alike. We are a nationally operated company that is known for its acute attention to detail and immense work ethic. Our specially trained team of junk removal experts can help you get rid of any sort of junk. The junk removal team here at Jiffy Junk has been carefully created with individuals who have immense experience in all types of junk removal. Because of our expert team, we have provided junk removal services to a wide variety of people. We have served everyone from homeowners, estate owners to office bosses and construction site managers to even multiplex owners. We work with the locals for the locals and ensure that all the junk removal needs are met for the people of Broward county. So if you need high-quality efficient junk removal service in Broward then Jiffy Junk who you want to call.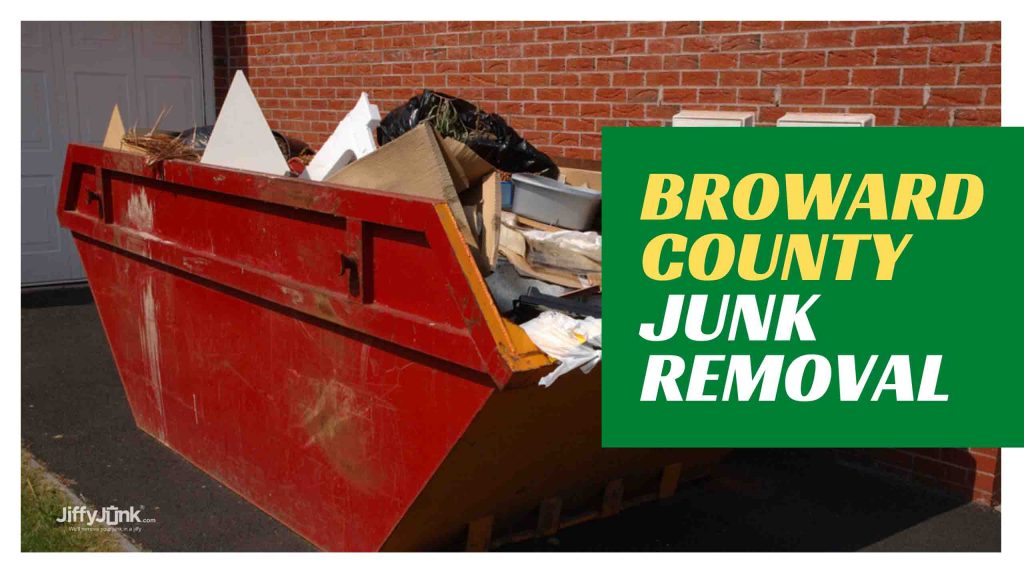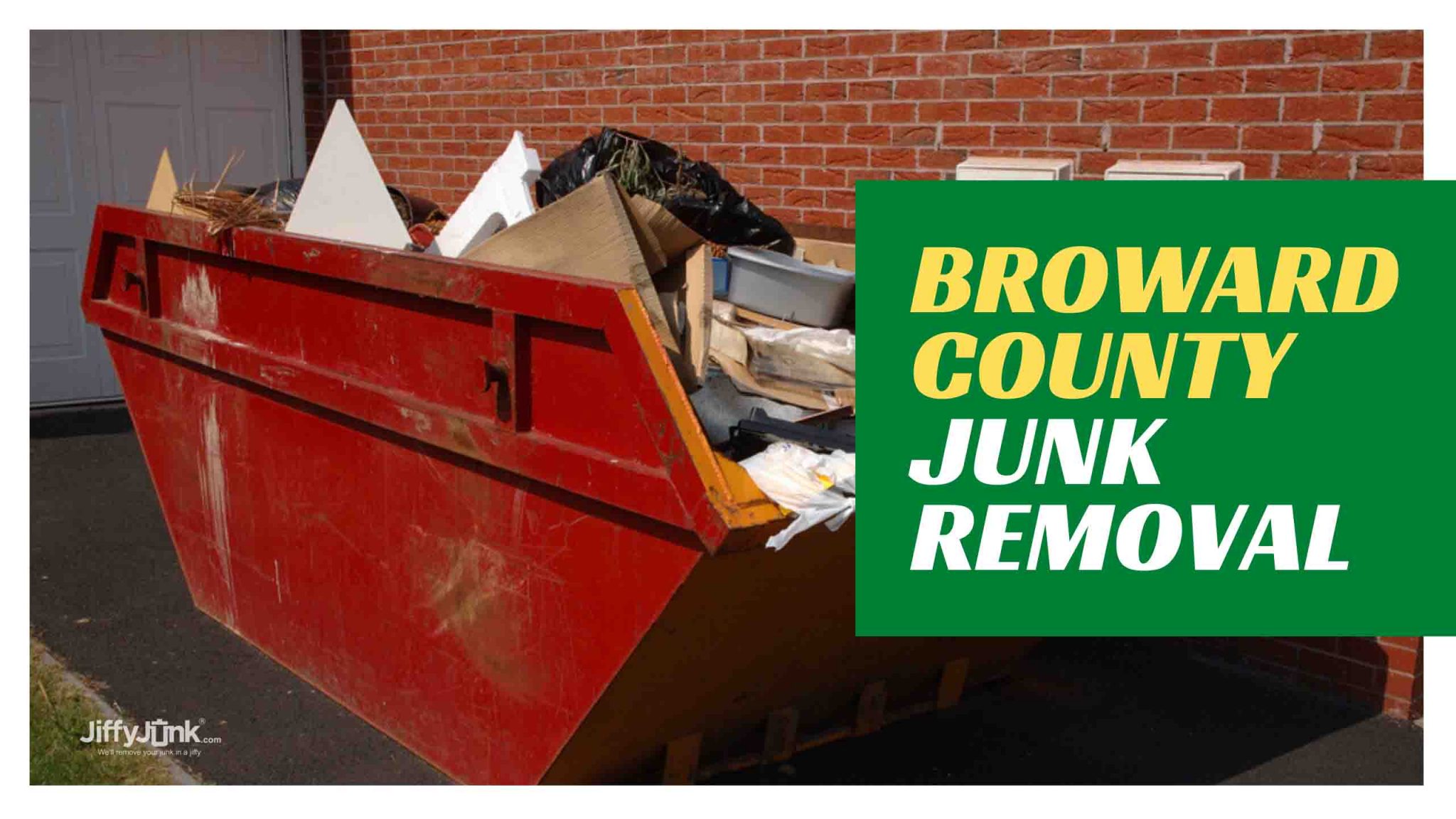 Junk Removal Services In Broward
Jiffy Junk is one of the best junk removal service providers in Broward county. This is because of our meticulous working process and our dedication to quality and efficiency. All this combined with our amazing team ensures that we deliver excellence every time. Our excellent team of professionals allows us to offer up the most extensive list of junk removal services in Broward county. We have based our services according to the needs of the people and this is why we have been able to serve every type of person within Broward County and all of Florida. For us, nothing is too small or big. We are capable of handling every single type of junk removal service there is. Whether your trash is cooped up in the basement or the attic, behind the garage or on the roof we will be there to help you get rid of it. We will even help you get rid of broken-down appliances like your old refrigerators. Jiffy Junk can also help you get rid of that old couch that you have been meaning to throw out for years now. Now for your convenience down below is a list of Jiffy Junk's trash removal service crafted for the people of Broward.
Scrap Metal Removal
Yard Waste Removal
Old Clothes Removal
Storage Cleanout
Lawn & Garden Debris Removal
Electronic Waste Management
 Eviction & Foreclosure Cleanup
Natural Disaster Cleanup
Plant And Tree Debris Removal
Roofing Materials
Damaged Boats
Patio Furniture
And Many More.
Home Junk Removal Services In Broward County
Your house goes through a lot of things over the year. The amount of waste that an average household creates is staggering and getting rid of it may seem daunting for most people. Whether you need old clothes, broken furniture, malfunctioning appliances to leaking old refrigerators to get rid of or something else you need to make sure you dispose of them perfectly. Now you can do it on your own but junk or trash removal takes careful planning for removal and for specific items you need to know about proper disposal methods. This is why the homeowners of Broward county call Jiffy Junk. We will make sure that all your home junk removal needs are met and then some. We will haul away all the junk in your home. Whether you need the old couch in your attic to be removed or an old mattress we will help you get rid of everything. We will take care of the special disposing methods that are required when disposing of broken-down appliances like old refrigerators. The Jiffy Junk team is also an expert in furniture removal. With our team, we can safely say that we can get rid of any old furniture that needs to be removed from your house. We will even take away the old couch that you have been meaning to throw away for years. Our expert advice, quality service, and efficient working methods ensure that we provide the best for the lovely people of Broward. So whether the job is big or small don't forget to give Jiffy Junk a call!
Estate Cleanout Services In Broward County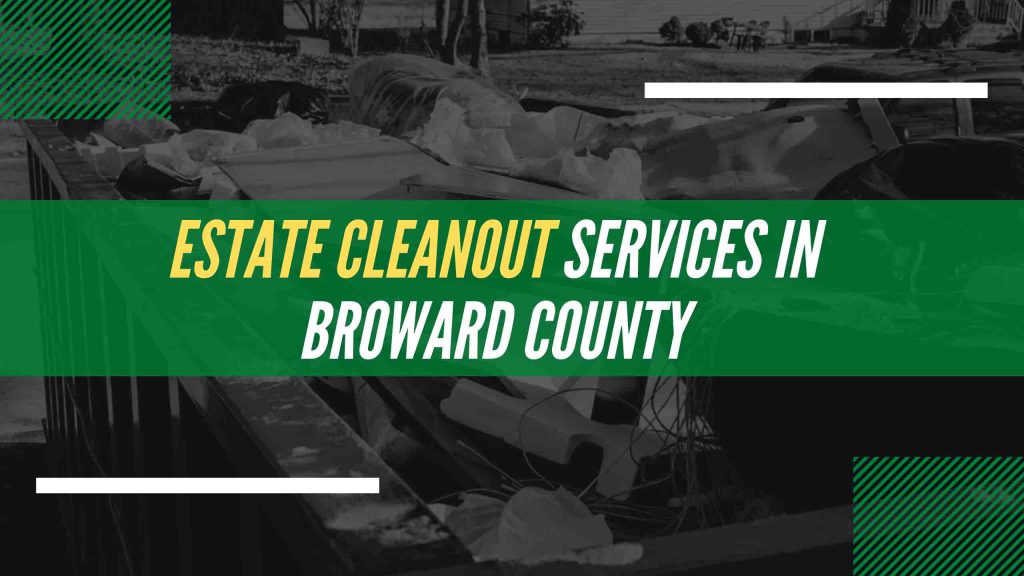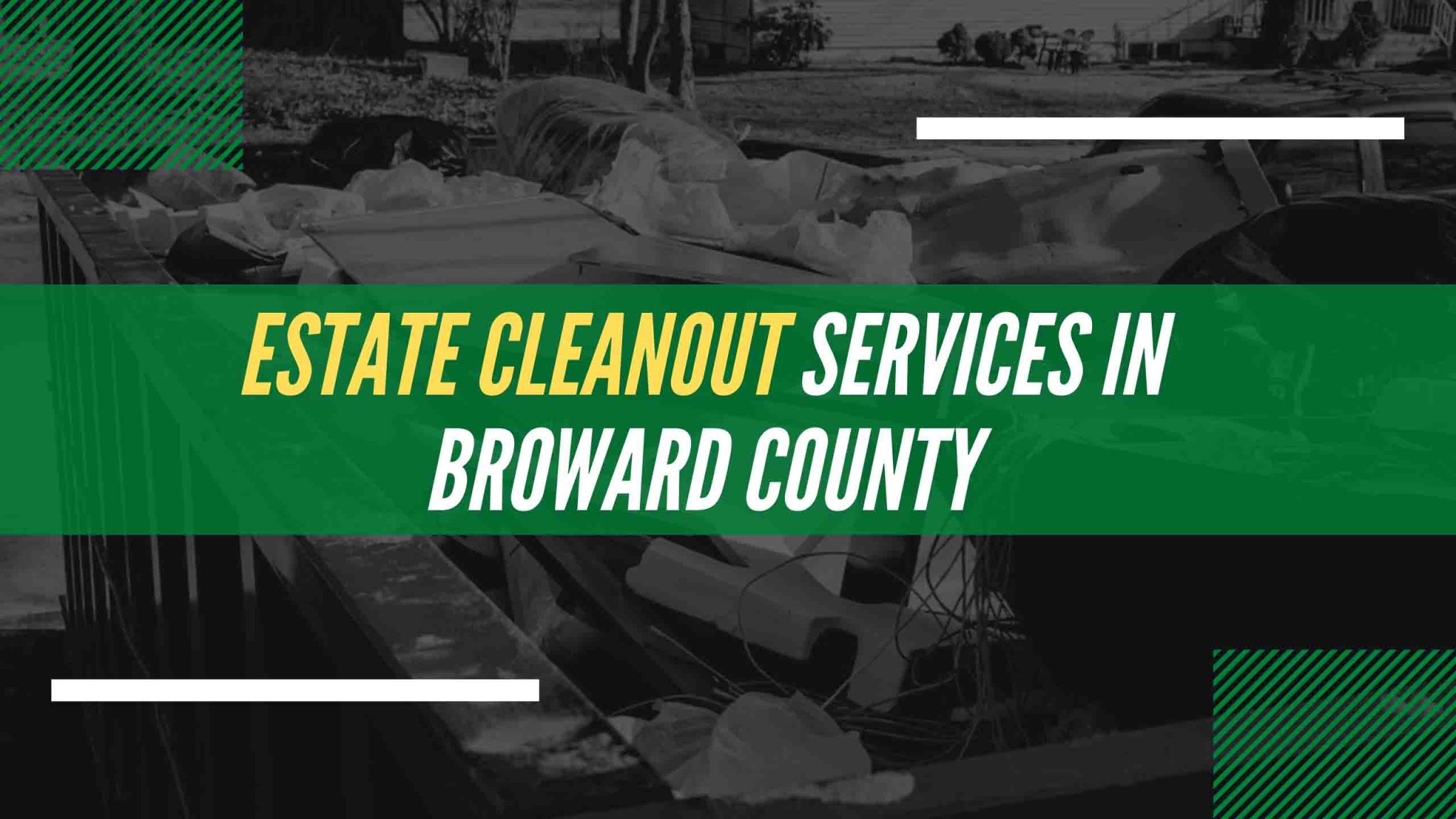 Estates are very big and produce a lot of waste. If you own an estate you already know the amount of junk it creates regularly. Now keeping an estate clean and in tip-top shape is even harder with junk being spread around in a big area. Often a lot of things become junk due to accidents or just by reaching its expiry date. Anything can become junk like broken garden or lawn ornaments to broken furniture to tree and plant debris to furniture big and small to defunct appliances like refrigerators. Now getting rid of such a vast amount of trash requires meticulous planning and it might take days or even weeks to clear out properly. This is where Jiffy Junk steps in. Our experience in estate cleanouts ensures that you don't have to do anything. When you call us we will make sure that it's the only thing you do about the cleaning. We will plan the clearout, we will sort the trash out, we will make sure that we separate different types of junk so that they can be disposed of properly. After that our team will start working on removing everything you want to be removed from your estate. Now you and your family and friends won't need to waste your weekends hauling the trash from your estate. Because of the level of quality we provide, we have become one of the favorite junk removal service providers amongst estate owners in Broward county. With a long list of satisfied Broward residents, we can safely say that if you need fast quality estate junk removal services then Jiffy Junk is the perfect place to call.
Commercial Junk Removal Services In Broward County
Broward has a thriving economy with a booming population. This means that new businesses are popping up and other businesses are growing. Now regardless of how much we try our offices haven't been able to become a zero-waste workplace. Commercial entities create a lot of different waste that often needs special attention when disposing of them. Commercial junk can be a lot of different things from unwanted stationeries, defunct furniture, to malfunctioning electrical appliances along with the ever-present paper waste. Now your average janitorial staff cannot get rid of these types of junk because most of them require special disposal methods. Here is where we step in. We here at Jiffy Junk are perfectly equipped to deal with and get rid of commercial junk that your business produces. Over the years we have been helping businesses large and small dispose of all types of junk. Whether you are moving to a larger office or just need to get rid of the trash that has piled up we are there to help you out. It doesn't matter if you are situated in the basement or the 46th floor of a multiplex, our team will go wherever you need us to go. This is why we have been able to build up a reputation with the locals in Broward county. So if you need help removing trash from your office then give us a call and we will help you out.
Construction Junk Removal Services In Broward County
One of the largest industries in Broward county is real estate and development. Lots of business and people mean lots of construction work. With so many construction projects going on the amount of junk created is immense. An average construction site creates a lot of junk and most of it needs to be disposed of specially. So business owners, real estate companies and developers from all over the county call us to help them out with cleaning out the construction site. Now you can ask your workers to clean the site, but that will increase the risk of injuries and damage and not to mention the additional costs. So Jiffy Junk comes in to provide fast and efficient construction junk removal services. We have been providing our construction junk removal services to the people of Broward county for some time now and they love our dedication to quality and professionalism. Whether you need to get rid of rubble or large chunks of material from your construction site then you know who to call. Jiffy Junk is ready at hand to provide you with the service you need.
Storm Junk Clean Out Service In Broward County
Florida is a coastal area and storms are frequent. Every year there are millions of dollars worth of damage incurred by storms in the area. With the storms passing, the residents of counties like Broward are left with a lot of trash that flew through the storm. Now, this can get overwhelming for you. Getting rid of the junk that the storm made can often be tiring and can take a long time to do, preventing you from getting back to your regular life. This is where Jiffy Junk comes in. We understand the need for a storm junk cleanout service. So we created a service specially designed to serve the people of Broward County to help them get back to their regular way of life as soon as possible. There are a lot of different types of junk that can pile up in your home after a storm. From things like rubble that blows in, broken plants, and trees, destroyed furniture and many other types of debris can affect the way you live in your house. So Jiffy Junk comes in and clears away everything as fast as possible while also ensuring that we clear away everything. We ensure that you get back to your regular life as soon as possible after enduring a storm. So whenever you feel overwhelmed after a storm remember Jiffy Junk is always there to lend a helping hand and ease your burden.
Eco-Friendly Junk Removal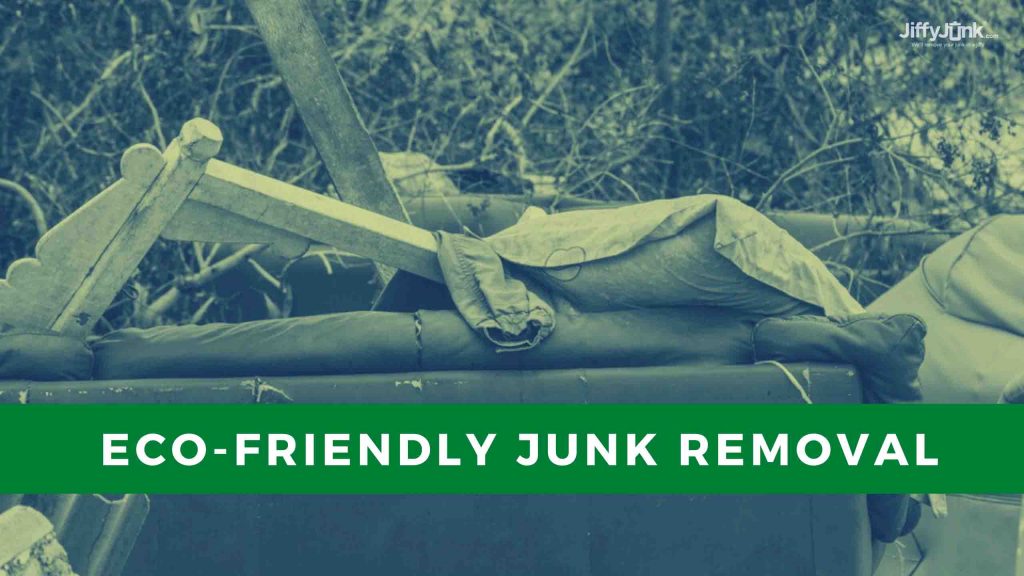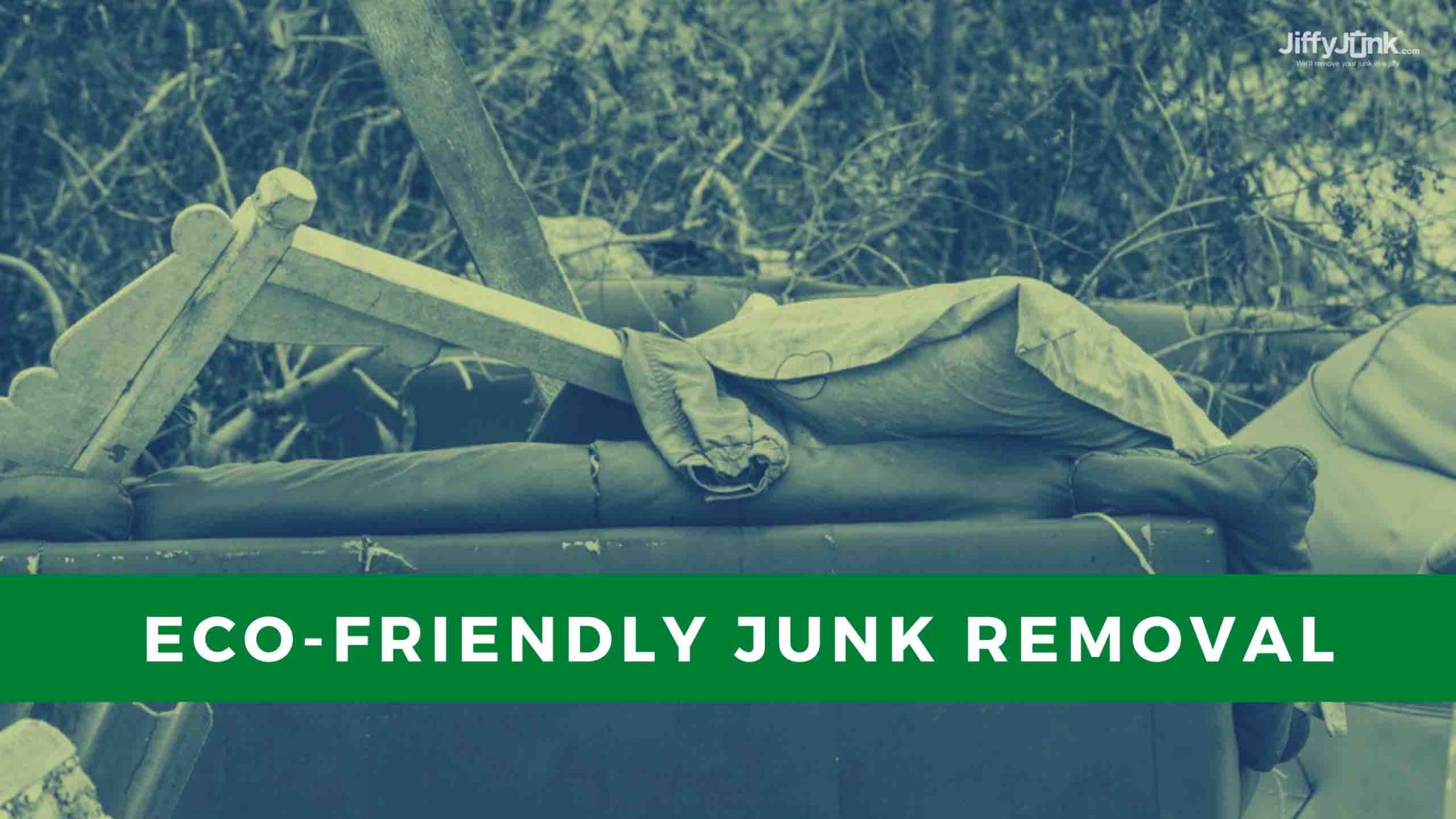 Pollution is a big problem we are facing right now and junk created by humans is one of the major pollutants in the world. However, the worst problem is that the junk created is not disposed of in the right way. Now we here at Jiffy Junk love our planet and we know you do too. So we offer exclusive eco-friendly junk removal services to our clients and ensure that the Junk we haul has little to no impact whatsoever in the environment. We believe in being socially responsible and our specialized services are designed to help out the eco-friendly effort. Our specially trained green team is capable of delivering high-quality junk removal services while ensuring that the junk isn't harming the environment. We are very serious about our environment conservation efforts. Our green team will ensure the quality you require so that you don't have to worry about the junk from your home or business harming the environment.
Junk Removal Services For Everyone
People in Broward county deserve the best junk removal services and Jiffy Junk is primed to provide that to the good people of the county. Our long-standing presence in the community working with the locals for the locals to aid in properly disposing of the junk from the community keeping it clean. Our services are designed to help all people from all walks of life. We serve everyone from households, small businesses to national enterprises. Our friendly staff and unquestionable professionalism and impeccable service have made us a mainstay in Broward county. We will help you with every sort of junk removal service you need, so if you have junk to haul then give Jiffy Junk a call!
Jiffy Junk Broward County Junk Removal




5

/

5

based on

1083

reviews. Review Me