December 1, 2021.
One of the most stressful things a family can experience with their home is a renovation. Well, kind of. Worse than the renovation itself is the removal of all that junk and debris. If it's not planned for ahead of time, you can start drowning in junk piles that regular garbage removal just won't cover. We're going to cover some very important money and time saving renovation tips as well as how you can and should rely on debris removal services to lessen the stress.
How to Get Started With Your Home Renovation
This home renovation guide will walk you through tips and tricks for a smooth home reno project. The secret is planning, planning, planning. Have a plan A, B, and even C! Even this home renovation guide will probably get derailed. You may find your plumbing isn't up to code when renovating your kitchen – or even worse – you may be so unlucky to find asbestos or mold during a big reno project. Not fun. And yet, we budget accordingly and keep on moving forward. So we put together this guide to help you avoid the unnecessary challenges, now let's dive in!

Set Your Goal
Part of the planning process is knowing where you're headed. Of course, no one in their right mind would start a renovation project without any plans. But, we're not talking just your average planning – we mean specifics, down to the very last detail. You'll find we mention below that Pinterest is your friend. Indeed, it is, because it helps you visualize the end results. Beyond the layout, the appliances, the paint, and the furniture – what are you going to place on that top shelf in the corner of your living room? Every detail should be accounted for in the planning stages and the budget as well – this is the best way to avoid disappointment.
1) Break the Process Into Small Tasks
Small tasks means breaking down the renovation per room, then per task per room. The layout, the design, the budget, the clearout, the build, the cleanup, and finally, the polish. Give yourself ample time for each task and consider what could go wrong and ensure you have all the materials you're going to need before rolling up your sleeves.
2) Create Realistic Goals
School, work, family – be realistic when setting your renovation goals. Expect the unexpected so when or if the schedule goes wrong, your stress won't skyrocket! Debris removal services will play a big part in helping you keep your cool because there's only one thing worse than going through a renovation – and that's going through a messy renovation. Our team helps keep the process moving smoothly by removing the junk as soon as it's labeled as such.
Most Popular Room Renovations
If there's any room you're thinking about renovating right now – we likely cover it in our guide to home renovation below. We've put together a list of the most popular rooms to renovate to help you navigate this potentially super stressful undertaking.

The Kitchen
A pillar room in any household – kitchens require certain upkeep and styling to adopt to the ever changing modern design landscape and innovation. With Jiffy Junk to help, you won't have to worry about safely disposing of materials and appliances, and we're always just a phone call away. Until then, here's everything you need to know about renovating this VIR – very important room!
How long does a kitchen renovation take?
A full kitchen remodeling, including electrical, plumbing – the works – can take up to five months depending on the size. More simple renovations to countertops, backsplash, and counters can finish as fast as 3 weeks. It's a wide range, but if you break down the kitchen renovation into tasks with time stamps, you may get a better idea of the length of time you'll have to wait to dine in your new kitchenette.
How much does a kitchen renovation cost?
A kitchen remodel can cost anywhere between $10,000 to $35,000 – even more depending again on the complexity and size of the project.
Contractor and DIY Kitchen Renovation Tips
1. Set Goals
From gathering pictures of your inspiration to envisioning your final kitchen, you have to think about everything. Do you want to replace appliances and floors as well?
2. Budget
Setting a budget will help you work in the right direction. Furthermore, you'll avoid spending money on unnecessary things when you set a budget.
3. Measure
To set realistic expectations, you should measure your kitchen for accuracy.
4. Consult
Yes, you have a clear design in your mind about the project. However, you should consult with a kitchen designer as well. They may give you a few tips from experience that will save you a lot of effort and money.
5. Get Permits
When you decide to make structural changes, you often need a building permit. If it is a DIY project, you need to get the permit yourself. Otherwise, your contractor will take care of it.
In addition, it can take some time to obtain the permit. Hence, you should apply as soon as possible.
6. Get Samples
If you are planning to change cabinets, order a few samples. It will allow you to choose the flooring and countertops accordingly – give yourself some extra time for back and forth here.
7. Invite a Junk Removal Company
The amount of debris that comes from renovating a kitchen can wreak havoc on your garbage day. We can help make this process an easy one, call in for a free in person price quote. Jiffy junk debris removal services are fast, easy, and we leave your space spotless. We also recycle – ask about our environmentally conscious efforts!
Where Will You Eat and Cook?
A kitchen renovation can be daunting – so good planning goes a long way. Plan ahead with a temporary mini kitchen that will help your family get through the stress with some home cooked meals. That's why good weather is the best time for this kind of home reno project because you can always plan to use an outdoor grill. Having an accessible microwave, fridge, and sink for cleaning dishes is always a good idea as well.
Plan, Plan, Plan
Now, let's face it – sometimes you can plan for a DIY kitchen renovation months ahead and something still manages to go wrong. It's just the nature of the beast – issues hidden under the surface can make for a reno nightmare. That's why planning doesn't necessarily guarantee a polished kitchen renovation, but it sure helps avoid unnecessary time wasted and avoidable mistakes or forgotten to do's.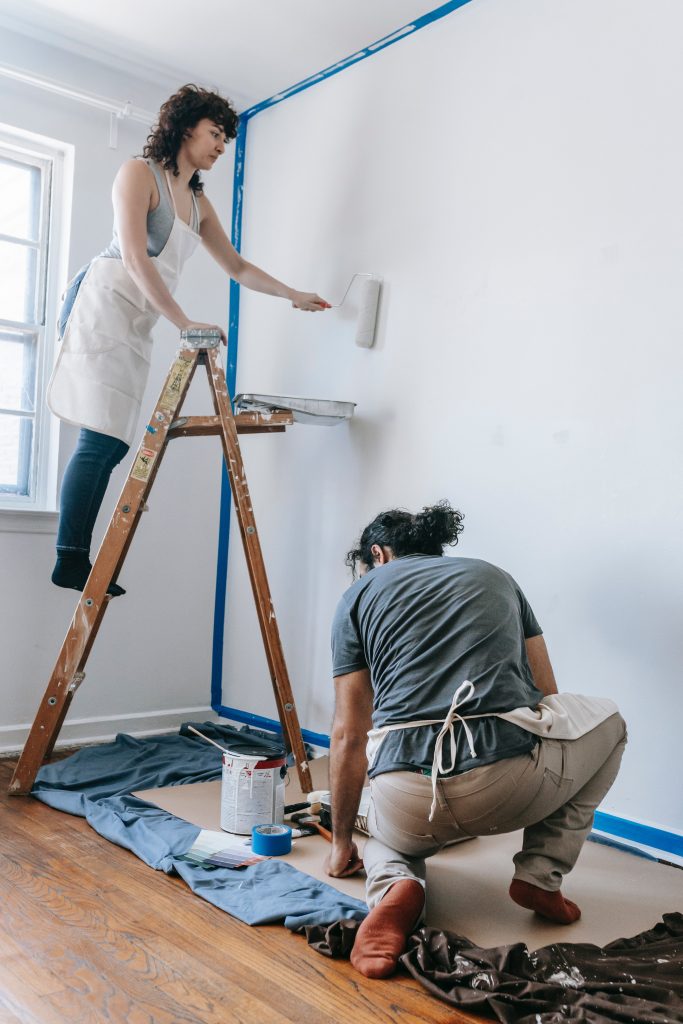 The Living Room
The centerpiece of your home will always be your living room – apart from the kitchen. As the most important room, it may help to revamp it every now and then to breathe some new life into it. You may notice you'd like to pull some items out for a fresh new look and well, toss out the old to make room for the new!
How long does a living room renovation take?
Simple cosmetic repairs could be completed over a weekend, whereas a full living room overhaul could take three months or more. As with the kitchen renovation timeline we mentioned above, be sure to break it down by task as opposed to just by room – that'll provide a more accurate timeframe.
How much does a living room renovation cost?
Budget for between five thousand and twelve thousand dollars.
Living Room Renovation 5 Musts
These simple changes to your living room can make a big difference. You may even consider making these small renovations to your room before taking the leap into a full blown renovation: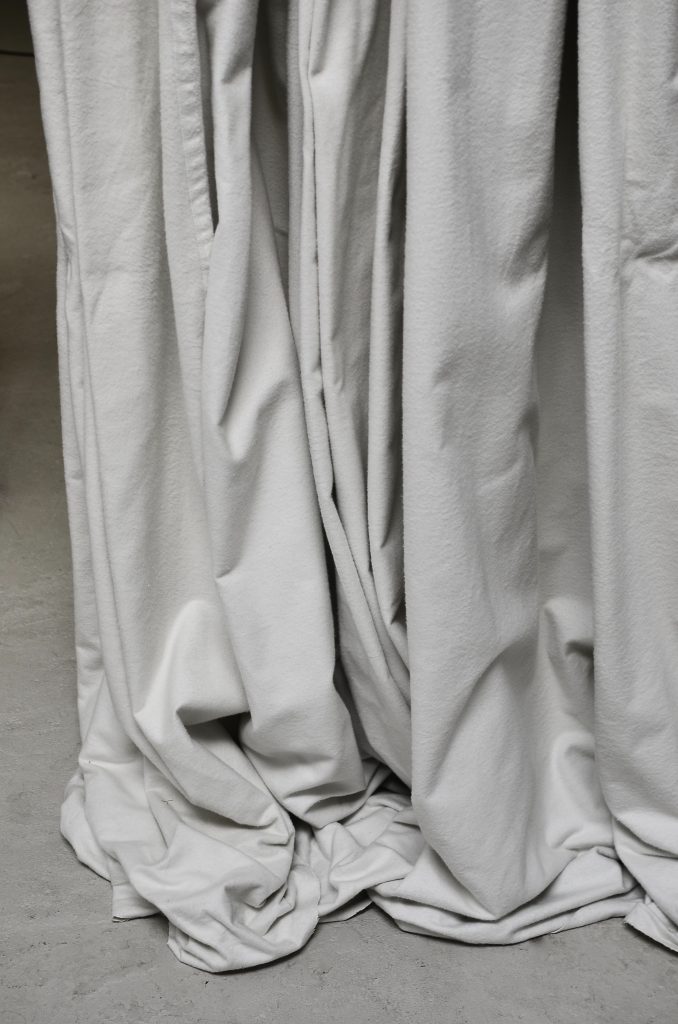 1. Take Down the Curtains
The good thing about curtains is that you can change them at any time. Take them down and put them in the laundry. Or do you really want to keep them? Could you do with a new set or change the entire look with wooden blinds?
Wooden blinds tend to provide your living room with a more natural and cozy look. Or you could actually take advantage of both. As your curtains are in the wash, you could attach some blinds and think about adding another set of curtains. If your curtains have seen better days, you'll probably want to consider debris removal services along with all the other junk you're going to want to get rid of.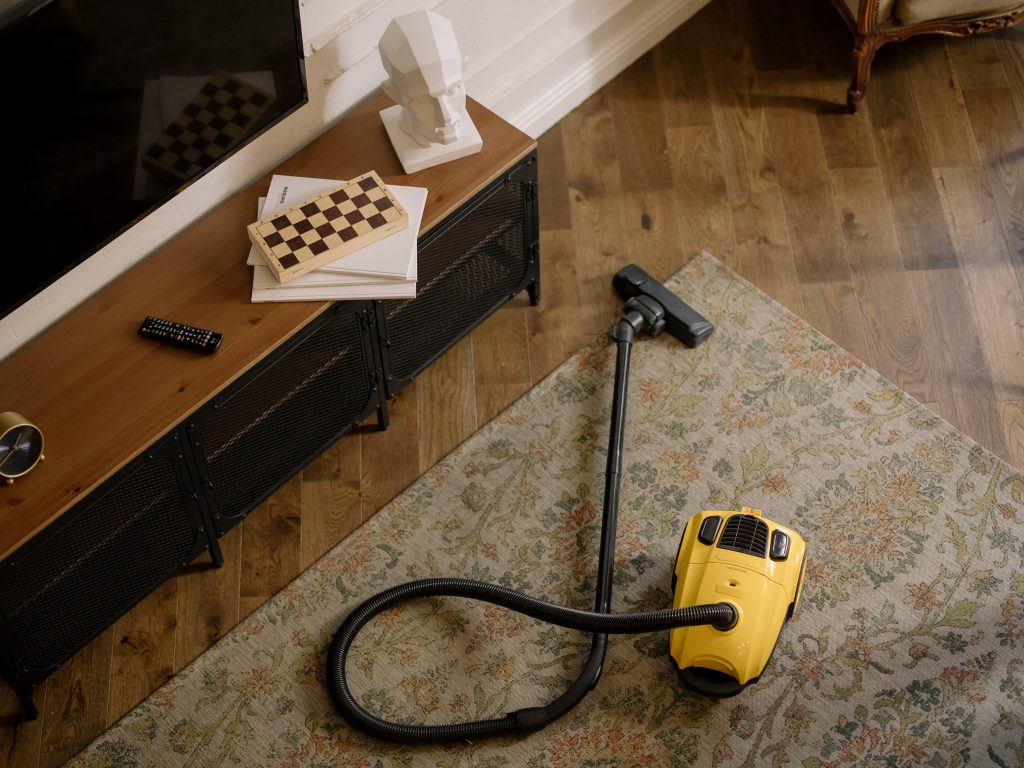 2. Carpet Care
You can make your carpet last a little longer if you keep to a strict cleaning regimen. A deep clean of your carpet should at least be done every quarter – but it's not often we actually stick to this schedule. Carpet is very absorbent and tends to trap all the dust, smells and allergens you can think of.
Sprinkle it with some water and baking soda. Let it rest overnight and vacuum it thoroughly the next morning. Some people swear by this technique, while others claim it left a big white spot on their carpet – so be attentive and check on your carpet every couple of hours or less. In those areas where it's lost its fluff, you could use an ice cube. Just place an ice cube onto the affected areas and use a fork to fluff up the nap.
However, the best cleaning strategies will not help your carpet forever. As a rule of thumb, you can expect to change it every ten years. If it's been a carpet of good quality, it may last a few years longer.
Think about how much a new carpet or a completely new flooring might change the whole appearance of your living room. You could take it out and replace it with laminate. It's very easy to care for and will last decades.
3. Declutter Shelves
Bookshelves tend to gather a lot of dust. The easiest way to deal with it is to take out everything. Use the horsehair brush attachment of your vaccuum to remove all dust. Give the shelves a wipe with a wet cloth and consider taking a good look at all the items you've taken out.
Do you still read those books? Which books would you read again in an instant at any time? Which other items have you had in your bookshelves that you might be able to let go of?
Taking out all the items from your bookshelves is the perfect opportunity for some decluttering. The less you've got on those shelves, the less you'll have to clean.
4. Throw Pillow Makeover
Just like flooring and carpets can change the look of your living room in an instant, throw pillows do the same. Do your throw pillows fit your current style? If their cover is washable, put those into the laundry first.
Check if you can find new pillow covers to go with your curtains and area rugs. Throw pillows lose their fluff over time – if that's the case, it may be time for a new set. Don't just toss these in the trash though, one person's trash may be another person's treasure. Our debris removal services team knows this well and we recycle or donate whenever we find the opportunity.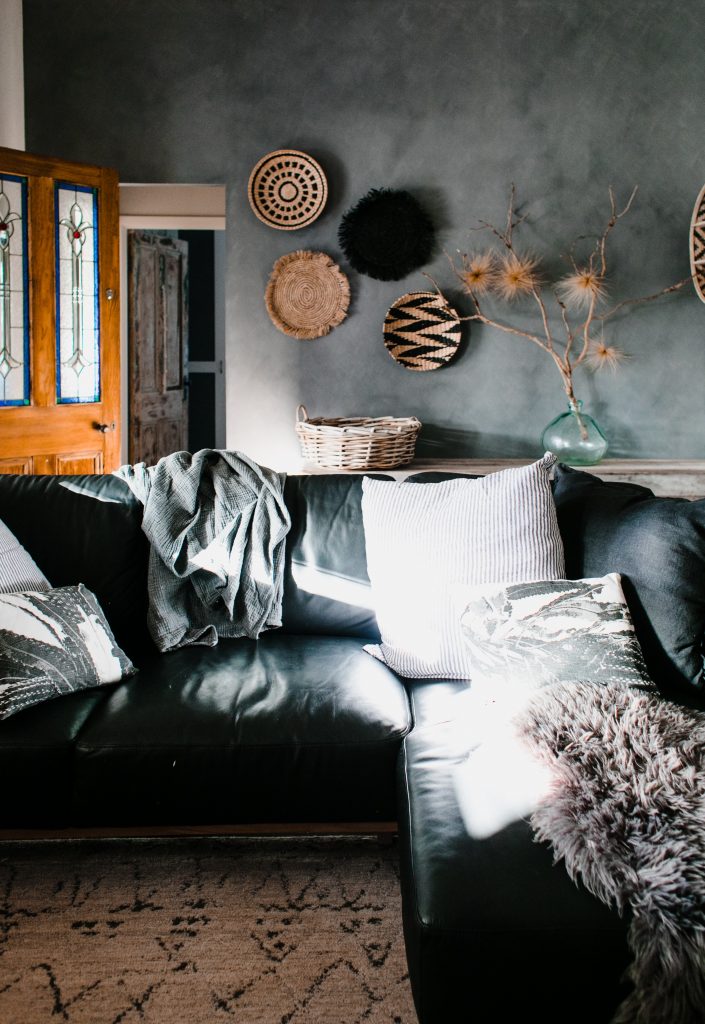 5. New Couch
Sofas also tend to gather quite a lot of dust which many don't realize. Use a steam cleaner to clean it properly. Sometimes, steam cleaners can work like magic even on stains that are hard to remove.
Take a rubber glove and slide your hand across the sofa. It works a lot better than other tools to remove pet hair. Avoid more pet hair accumulating on your sofa with a throw. It'll make your sofa look as if it was a brand new model. If it's lost its comfort, you may also go for a new one altogether.
Choose one with PU leather or microfiber fabric to make it easier to clean even from pet hair. Couch removal is another service we do very well – our staff is well trained in order to make sure we get your couch out safely and carefully not to scuff or damage your walls & door openings.
The Bedroom
Your bedroom should be a place where you can fully relax and start a fresh new day. If that's not the case anymore or if your bedroom is just outdated, you're certainly up for a renovation. Before you start though, there's a bit more to a renovation than coming up with layout and design ideas. You'll also have to consider if you're doing it all on your own or taking on contractors. Even if you plan on doing the renovation by yourself, you will hit a wall at some point. Keep in mind, it's always OK to look for professional help – especially debris removal services for an easy cleanup.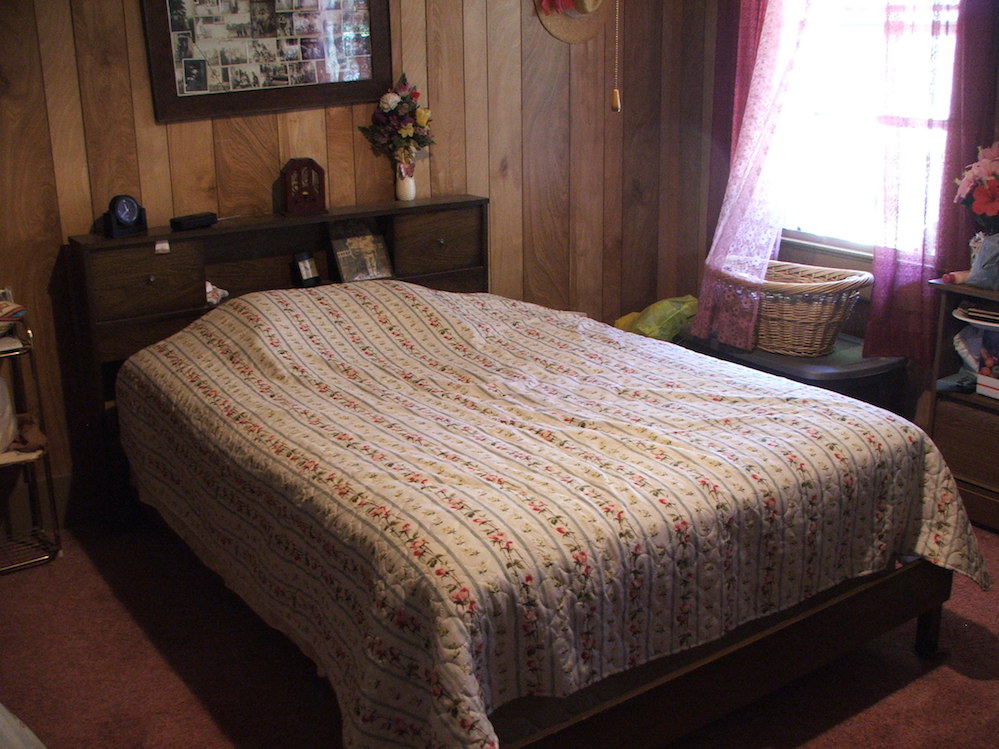 Avoid a DIY Catastrophe with these Tips
Bedroom Budget
It may look like your bedroom renovation would be a walk in the park at first. We tend to think about the final steps, such as adding new paint. Paint doesn't cost that much and the new curtains won't break your bank either. Although it certainly depends on what brand and quality you're going for. Will you update your furniture? And what about the floor?
The number one tip is to create a list and get quotes for how much each of these items will cost.You may decide you need to go the second hand route via Craigs List or other similar platforms to save money on furniture. By understanding the undertaking at hand, you may also decide to bring in some professionals for the harder parts of the reno, like flooring. Knowing how much each of these are bound to cost you will save you lots of time and money!
Be Ready with Designs – Pinterest is Your Friend
At present, as your bedroom is still furnished, you may have a hard time imagining what to do with it. The only thing on your mind might be colors and some furniture. But those ideas might not work out as well in reality.
Take a blank sheet of paper and scribble some layout ideas. Just take some measurements of your bedroom and put down the floorplan. On a blank sheet of paper, you'll turn your bedroom into a blank canvas with dozens of opportunities.
Take another sheet of paper and cut out some pieces that have the measurements of a bed and other furniture you might want to have. It's important to stick to ratios here. Use apps like Pinterest for inspiration – they're a great place to collect ideas and gather inspiration from. Don't plan too little space beside your bed and try to keep a good amount of space between furniture and your door. You'll appreciate having the space to move around in your bedroom conveniently.
Clear the Room
After your layout and design is all set and done, you can move on to the next step. This means you'll have to clear the room. It may look like a huge task at first, but it's usually easier than sorting out your kitchen, living room or office. Most people don't have as much stuff in their bedroom. The majority of your focus will probably be in your closet and drawers. This would probably be a good time to start thinking about hiring debris removal services – why leave all this junk sitting around in your basement or garage?
Take care of your nightstand first. The nightstand is easy to clutter with a bunch of books we intend to read. Drawers in nightstands tend to be utter clutter drawers with all sorts of knick knacks. Take a garbage bag and pull out what you don't use any longer for junk removal.

Under the Bed Storage
It's certainly the perfect place to store clothes that are out of season. Or shoes. Or bedlinen. Don't just pull out those boxes and put them into another room for temporary storage. Check each storage box for stuff you may no longer require. Label three boxes – one for sale items, one for donations, and one for junk removal. Any item you haven't used in at least a year you're unlikely to use again.
Continue to your closet. Pull all of your clothes out and declutter them like your storage items under the bed. Too often we buy clothes for that one event but never wear them again. Categorize your clothes into three boxes as well. Afterwards, you move ahead with your chest of drawers.
The Floor is Lava
Removing the carpet or laminate isn't as tricky as you think. As long as you don't have a radiant floor system or cables running underneath your old floor, there's little to look after to avoid damage. Carpet removal does require some strength though and creates a lot of junk. We can help with that and make your DIY life a lot easier. The fun part of renovation is the doing – not the cleaning up.
Bathroom
Some would consider a bathroom renovation one of the smaller home projects, but what a big difference they make! Revamping your master bath can make for a much more comfortable home escape – a serene spa-like feel for soapy baths and long hot showers can do wonders for self care. Not only that, bathroom renovations are notorious for being the perfect weekend DIY project. They can be as easy or as complicated as you want them to be. The most important part is ensuring you get the plumbing and electrical right, as well as count on the right crew for debris removal services – getting a toilet or bathtub removed is no easy feat.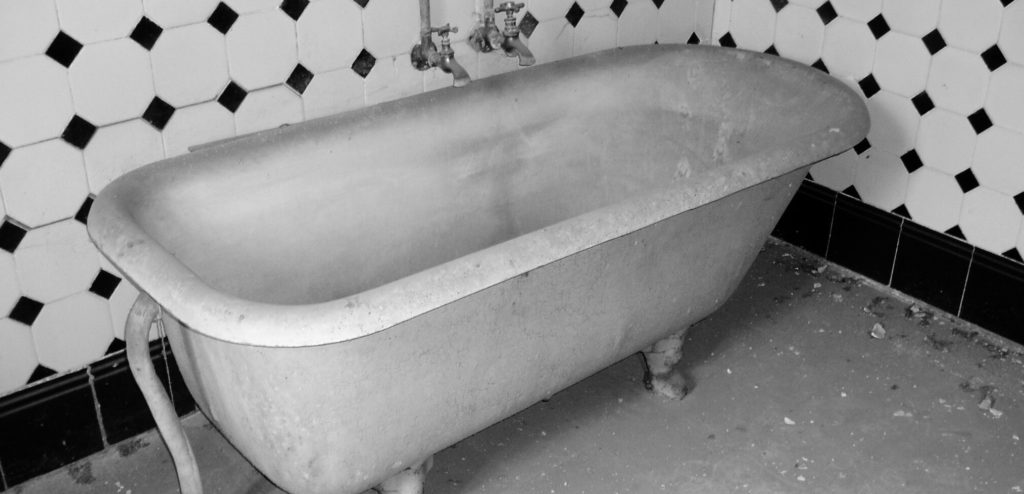 How long does a bathroom renovation take?
We've had debris removal service clients complete a bathroom renovation over a weekend's time – and it looked great! Depending on the complexity of work you're expecting it could take up to three or four weeks for a contractor to complete the project. Be sure to assess which parts of the renovation require professional help and take on a little DIY bathroom renovation for areas you can handle yourself – it could save you thousands of dollars.
How much does a bathroom renovation cost?
On average, home owners spend between five thousand and sixteen thousand dollars on bathroom renovations. However, as mentioned above, you can cut down costs by taking on smaller and more manageable tasks.
Big, Yet Simple Changes
Yes, bring on the bathtub removal, bring on the toilet removal – it's time for a new modern look and what you have now may be so old they're not even worth reviving! All those years of gunk and funk is a bathroom renovation nightmare! Imagine having all new tiles, sinks, cabinets, beautiful fresh paint or wallpaper, and then…a greasy tub or toilet. Gross.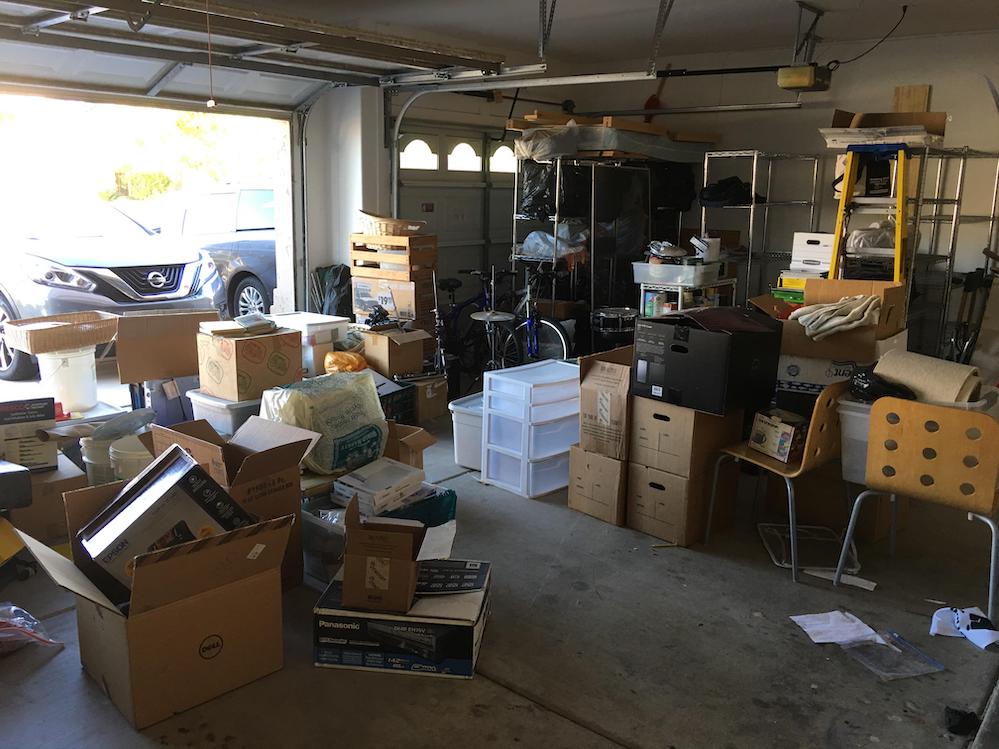 Garage
Did this one shock you? Yea, we thought so. A garage may seem like the last place you would care to renovate, but this storage room alone is worth the effort. A garage can be turned into anything – it's considered by many as extra space that's underappreciated and under utilized. With the right insulation, plumbing, and electrical work, a garage can be turned into anything – the options are endless! A home office (very much in demand at the moment), an exercise or yoga studio, a workshop, a lounge, or simply extra space for well, anything!
But first, consider this: Are you courageous enough for a DIY garage renovation? Will you be looking for garage door removal to replace it with something a little more aesthetically pleasing? Will you require some extensive garage cleanup services first?
Planning ahead on this venture will help you keep in check and ensure you don't miss a thing. Let's dive in a bit deeper to understand what a garage renovation really looks like.
How long does a garage renovation take?
A full garage renovation can take up to one and a half months. This time frame includes a quality job for a mid sized garage cleanup and reno. Of course, a DIY garage renovation could take more or less time depending on the frequency of hours being put into the project and the level of expertise of those putting in the hours.
How much does a garage renovation cost?
One of the biggest expenses for this home improvement is the garage door renovation cost. You want to make sure your garage door seals appropriately so you can keep warm in the winter and cool in the summer. Other than that, the cost can be anywhere from $8,000 USD to $23,000 USD depending on the size of the garage renovation and the type of work involved such as electrical, insulation, raising the floor etc.
Garage Doors
A word to the wise – do not attempt to remove your garage door alone at home, as it can be very dangerous if a tension spring lets go or a door panel falls down and hits your head or other body parts. This is one project that either requires a couple friends to help or professional garage door removal service to avoid any heavy lifting and backaches. If you're looking for a price tag, garage door removal cost can be anywhere between a few hundred dollars to one thousand dollars for just a single door. A double door means that maximum number can reach about $1500. Now, assuming you want to put in a new garage door, those figures are accurate. But, what if you wanted to turn your car space into an extension of the home? That means drywall, possibly concrete and wood paneling – which also means the price will most definitely go up.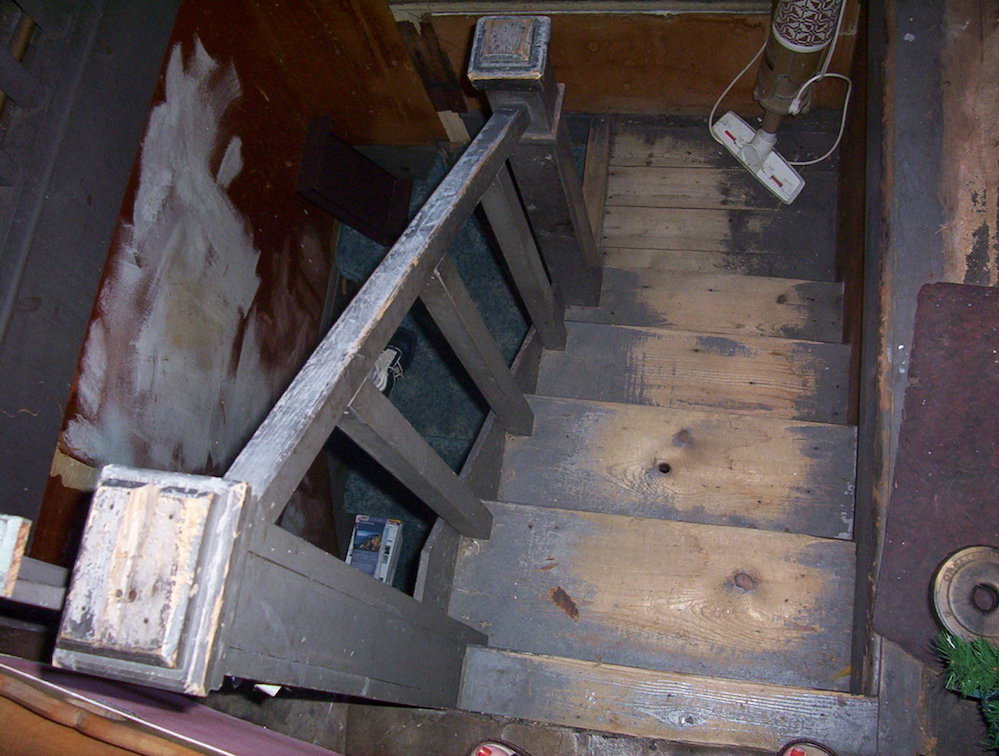 The Basement
Before you begin the renovation, you need to get rid of unnecessary items. Our debris removal services take care of the heavy lifting, safe disposal, donations, recycling, and more.
Once you remove the junk, you will have a clear picture and can plan your remodeling easily.
Build an Emergency Exit
The first and most important thing to consider is an emergency exit route. There must be a window big enough for a person to move through. Moreover, it should be close enough to the ground that it can be reached.
Sometimes, you have to cut the foundation and create a window well. While being an escape path, this window also brings a lot of light. You can also consider building an entire stair exit – which can come in handy should you decide to rent out the basement suite in the future.
Build a Storage Room
A storage room in the basement might seem unnecessary, until you build it and realize just how necessary it actually is. Furthermore, you don't need to finish it like the other rooms. Ultimately, it will save you a lot of money and heartache when attempting to store things like holiday decorations.
Consider building a few simple storage solutions as well – it will help you organize the items. Eventually, you will not have any trouble finding your belongings.
More importantly, it is an excellent attraction for buyers. If you are planning to sell the house after the renovation, you should build a storage room.
Fix any Moisture Issues
Is there any water or moisture coming in the basement? Never ignore it. Don't try to cover it up with insulation.
Fix the issue and stop the moisture to avoid more bills and stress in the future. The last thing you or any homeowner wants is imperfect floors in the basement due to this problem.
Ceiling Height
Some people disregard the basement as an important area of the house and end up with low ceilings. That's a big no-no that will lower the value of your home if not planned properly. If possible, normal ceiling height will help you sell your home in the future or even turn it into a home office or exercise room for the family.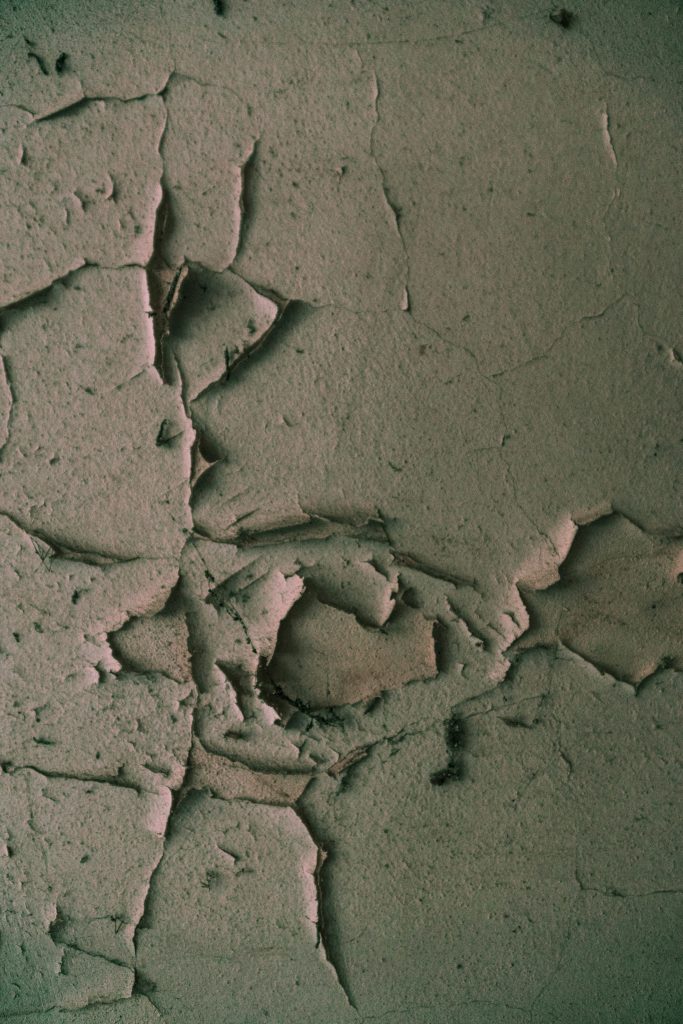 Get Prepped for Proper Drainage
One of the biggest concerns about a basement is the drainage. If you don't ensure perfect drainage, it can turn your renovation into ashes.
If you are planning to make a kitchen or bathroom in the basement, you need proper waste lines. You have to ensure fall or slope for the waste to move easily. Otherwise, you need an electric pump to remove the waste.
Remove Dangerous Materials
Unfortunately, basements are often packed with dangerous materials. To finish the ductwork, people used asbestos in the past. Moreover, people used lead paint as well.
Talk to your contractor about these concerns. You may need to collect samples to analyze in a lab. If you find any trace of asbestos, our debris removal services are a great way to get rid of this junk, and fast. We have trained professionals to take care of hazardous materials.
Protection Against Earthquakes
Yes, seriously – even if where you live isn't prone to them – the climate is changing rapidly and who's to say what kind of natural disasters we can expect in the coming decades. Talk to your contractor and ensure they are building quality walls. Make sure that you build a shear wall to support the structure. Moreover, it reduces the chances of story-drift or displacement of the structure.
Plan Ahead
Do you have any future projects in your mind? For example, if you want to build a bathroom in the future, make sure that you install waste lines now. Moreover, you can install a few electric circuits for future remodeling. It's the worst idea to remove the floor again just because you need extra pipelines.
Noise Reduction
While renovating your basement, you need to consider the rest of the house as well. Are you building a playroom or a mini cinema in the basement? It can disturb the entire house.
If you are expecting any noisy activity in the basement, you should install sound insulation in the ceiling of the basement. Moreover, contractors recommend using the RC (resilient channel) as well looking into STC (sound transmission class).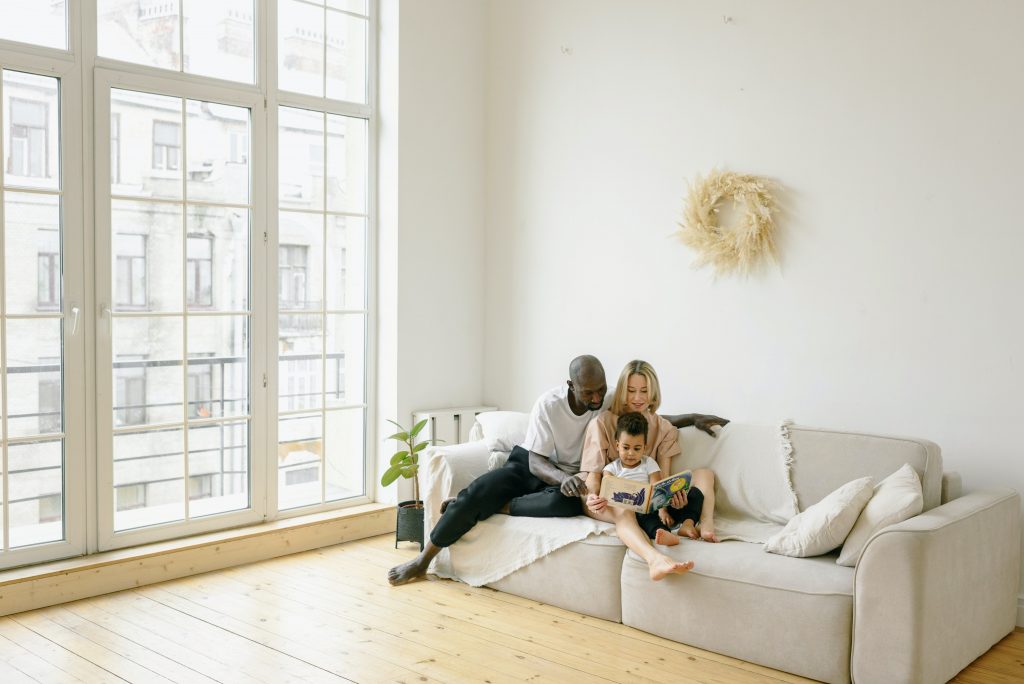 Renovating for Minimalism
The minimalist style has certainly become the buzzword of the decade. It's promoted by countless design gurus and urges you to get rid of all unnecessary items. For example, instead of showcasing a bunch of pictures on your walls, there'd just be one as an eyecatcher. But how do you achieve the minimalist style? The answer could hardly be any easier than this: declutter. And don't worry – decluttering is our middle name. Not only will we walk you through the process below but we can also take the load off your hands with our debris removal services. Our clients love how easy we make the decluttering process. Let's dive into how to become a minimalist with junk removal.
First, What is a Minimalist Style?
The minimalist style isn't a new invention at all. When exactly it was created might be a topic for design historians to argue about. However, its first origins can be traced back to the De Stijl movement in the Netherlands at about 1917. It received further appreciation by the Bauhaus style which emerged in Germany in the 1920's at the Bauhaus design school.
The idea behind minimalism has been to get rid of all the decorating ornaments each home used to be covered with in the centuries before. At the same time, it aims at using well-designed furniture becoming the main attraction of a room. It's quite a mix of using as little furniture and decorative objects as possible while also using unique furniture shapes.
Steps to Create Minimalist Style
Taking advantage of a few furniture and other items also highlights the functionality of your furniture.
However, the minimalist style doesn't stop at just using a few furniture items. This is where junk removal services come in handy. If you redecorate your home in the minimalist style you also use very few colors. At best, you choose just two colors that harmonize with each other.
Most of the time these two colors would be based around white and creamy tones. Going for rather drastic contrasts such as white or creamy white with black or ebony can also be part of a minimalist concept.
Of course, you can also choose two different colors, but those might get your minimalist approach out of whack. If you went for blue and a creamy white, you'd have to keep the colors of your furniture within the same color range. As such, the colors of your walls might already determine your color concepts with your furniture. Patterns are also only sparsely used.
An exception can also be styled for the minimalist style if you just keep your rooms as empty as possible after a thorough junk removal. Wood paneled walls can create a focal point while you use light colors for furniture and area rugs or curtains.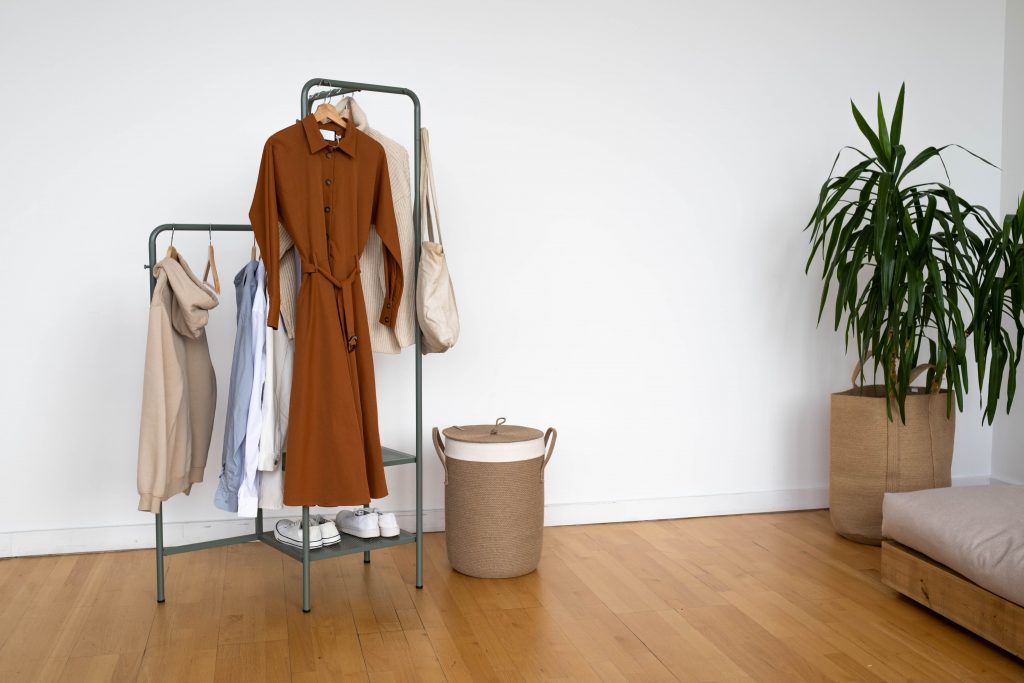 Below, we've listed some epic tips to create the perfect minimalist style:
Capsule Wardrobe
If you look around in your home, you may notice you've got a lot of stuff. Your living room is lined with endless bookshelves and covered in decorative items like lots of throw pillows. As 'less is more' is quite the motto of the minimalist style, so you'll have to get rid of lots of stuff – even some things you may still love.
Pick a room you'd like to start with. Your bedroom might be the easiest to go for at the start since bedrooms usually don't have as much furniture. The centerpiece of your bedroom would be your bed while there'd be no other furniture but a nightstand and your closet. To go full minimalist style you may want to declutter your clothes first.
Ultimately, your closet would turn into a capsule wardrobe. Pull out all the clothes you've got and only choose those items you wear regularly to go back into your closet. Take out clothes you haven't worn in ages and consider donating them.
Think of clothes you'd wear in summer and in winter to keep. You can wear T-shirts under a thick jumper in winter and wear the T-shirt as it is in summer. With all the new space you'll find in your closet, you can most likely let go of your chest of drawers. Give a junk removal team a call to pick up the items you let go of. Choose a main color and only blinds for your windows.
Goodbye Furniture
Does your furniture suit the minimalist style? The minimalist style mainly uses straight lines for furniture as you'd find it with Scandinavian furniture designs. But you can certainly keep one item that's more embellished and of an unusual design shape. With less clutter, you automatically turn it into an accent for your room. Choose only one unique furniture item and let go of all the others. For each room, you'd only leave the most necessary furniture.
Obviously, it'd be a bed and a closet in your bedroom. Your living room would have nothing but a sofa, a coffee table, a TV stand and just one bookshelf for books as well as a selected few decorative items.
The easiest way to get all this stuff out of your way is our debris removal services. When you're trying to de-clutter, the worst thing you can do is keep a pile of it hanging around just waiting for you to change your mind!
Keep Your Favorites
Even though the minimalist style doesn't promote decorative items as much, you can certainly keep some. If it comes to photos, find a place to store the majority and only hang up to three of the same size on the wall. You can switch them out at any time and thus create new accents with every season. Or you'd just go for one with a unique picture frame.
Go easy on throw pillows and other throws. The minimalist style wouldn't promote having dozens of them. Pick just a few that are most necessary and try to keep these items in the same color palette. If you have too much, just hand them to our team when we come around to haul out your surplus furniture – we donate and recycle every chance we get!
Final Thoughts
Home renovation is a big undertaking -and can get even bigger when planning isn't done right. One of the biggest mistakes homeowners make is not considering the construction debris removal cost in their budget. When that happens, they end up having a huge pile of junk in the garage or on the driveway because debris removal services teams are fully booked – so be sure to plan ahead of time to avoid that big mess!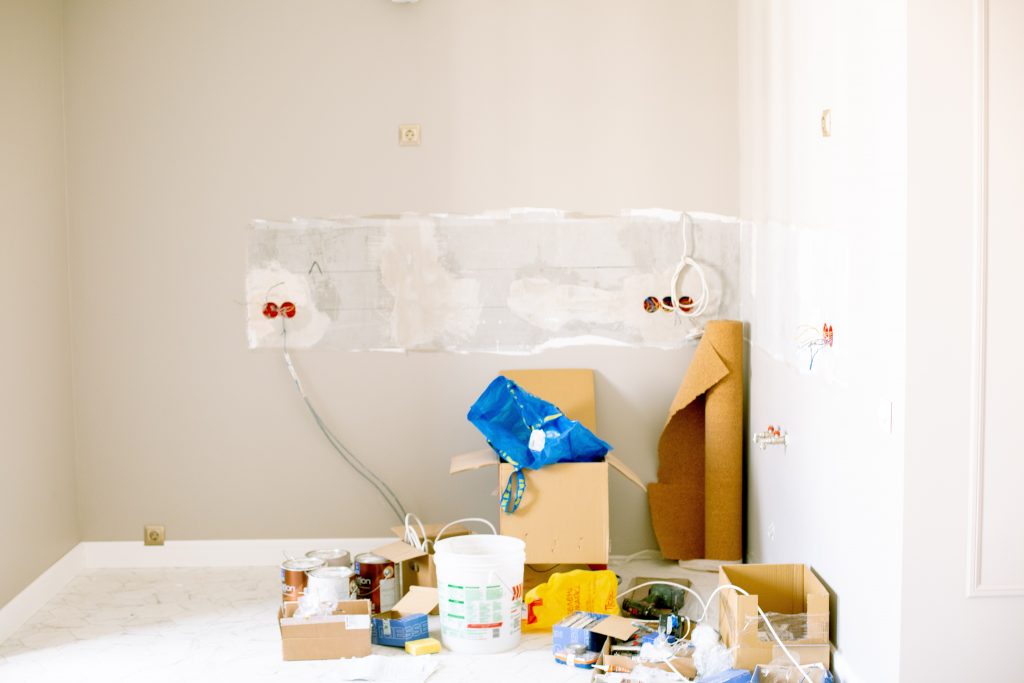 Frequently Asked Questions
How long does home renovation take?
A full home renovation means no stability for quite some time – usually between 7 to 16 months. This includes everything from the design phase to completion of the construction phase.
How much does a home renovation cost?
A full home remodel can cost anywhere between $17,000 to $75,000 depending on the size of the home, the complexity of the build, and the materials being used.
How to calculate debris removal costs?
On your own, you may just get fluff for numbers – getting a quote straight from our debris removal services team is the best way to ensure there are no surprises.
How to estimate home renovation costs?
It's not about estimating how much renovation will cost, more than it's about estimating how much you should actually spend. The rule of thumb is to not spend any more than 10 to 15 percent of your home's value on a renovation. More than that and you may be losing on your home's value as a whole.