Miami-Dade County is the third-largest county in Florida and is one of the most populous counties in the US. With over 2.7 million people residing in the county it is one of the most bustling places to live in the country.
A tropical area, Miami-Dade County has a diverse population. Where there are people there is trash and with such a huge population the Miami-Dade county area produces a lot of it. This is where we come in. Jiffy Junk has been providing quality junk removal services to the people of Miami-Dade county for several years now.
Not all junk is the same, there are different materials within it and each needs to be carefully disposed of. We here at Jiffy Junk help the locals of Miami-Dade county get rid of their trash without fuss. We will haul away any junk you need to be removed from your premises. There's a process for junk removal. You need to carefully plan the process and decide where and how to get rid of the trash that you have accumulated and what not.
Now with the help of a professional junk removal service, you don't need to think about all this. You can simply carry on with your normal routine and you will have no disruption in your life because of the trash at your home or office. Alone, getting rid of the junk may take you days, weeks and sometimes even months.
Now why waste your time like that when you can have us take care of the problem for you. Whether you need your house, estate, office or apartment we will be there to help you get rid of your trash removal problem. Due to our impeccable adherence to quality, we have become one of the best junk removal companies in Miami-Dade county.
We work with the locals for the locals to get rid of the junk and make sure that we don't harm the environment while doing it. If you are looking for an efficient junk removal company that provides quality service in your area then Jiffy Junk is who you want to call. We will take on the problem so you don't have to, so you can enjoy your weekends with friends and family at peace.
Who Are We
Now with years of experience working with the people of Miami-Dade county, there is a big chance you have already heard of us. If not then let us tell you a little bit about ourselves. We are Jiffy Junk. We are a professional junk removal service provider that provides high-quality junk removal services to residents of Miami-Dade county.
Jiffy Junk is a nationally operated junk removal service provider that specializes in providing quality junk removal service throughout the country. We here at Jiffy Junk think always put the needs of the people. This has allowed us to put together a junk removal team that consists of a diverse group of people specializing in many different forms of junk removal.
Our professionally trained team can provide a wide variety of specialized junk removal services that may be required. Because of our diverse set of skills, we have acquired a list of clients as diverse as the people of Miami-Dade county.
Our list of clients includes everyone from simple home owners, estate owners, office managers, to even construction site managers and owners. We are dedicated to provide the Miami-Dade county locals with quality junk disposal services and help keep the environment clean and clear.
Junk Removal Services In Miami-Dade County
One of the defining traits of Jiffy Junk is our meticulous working process. Our attention to detail and efficiency in getting the work done with minimum fuss is what our customers love about us. With our work ethic and quality service, we have established ourselves as one of the best if not the best junk removal company in Miami-Dade county.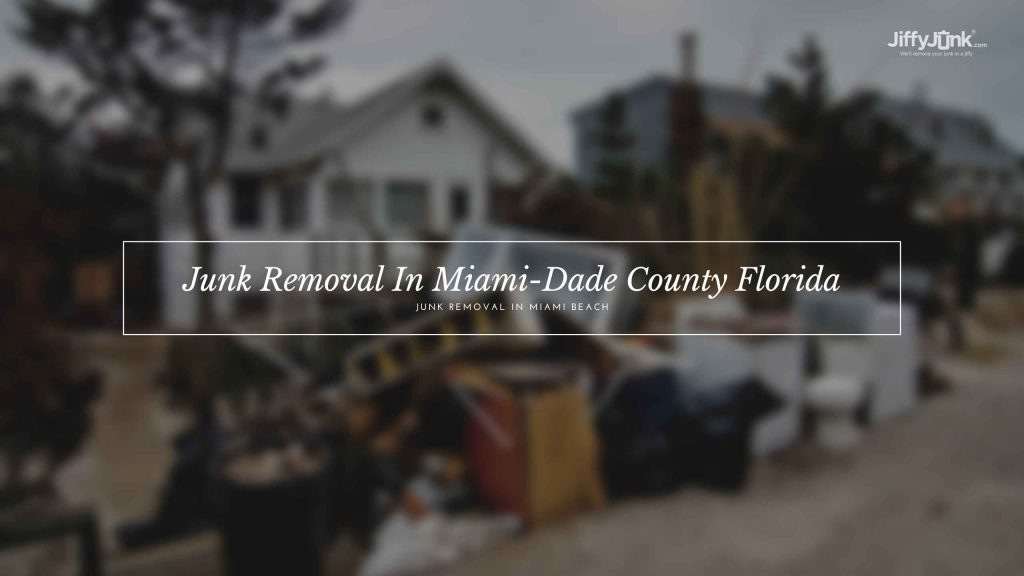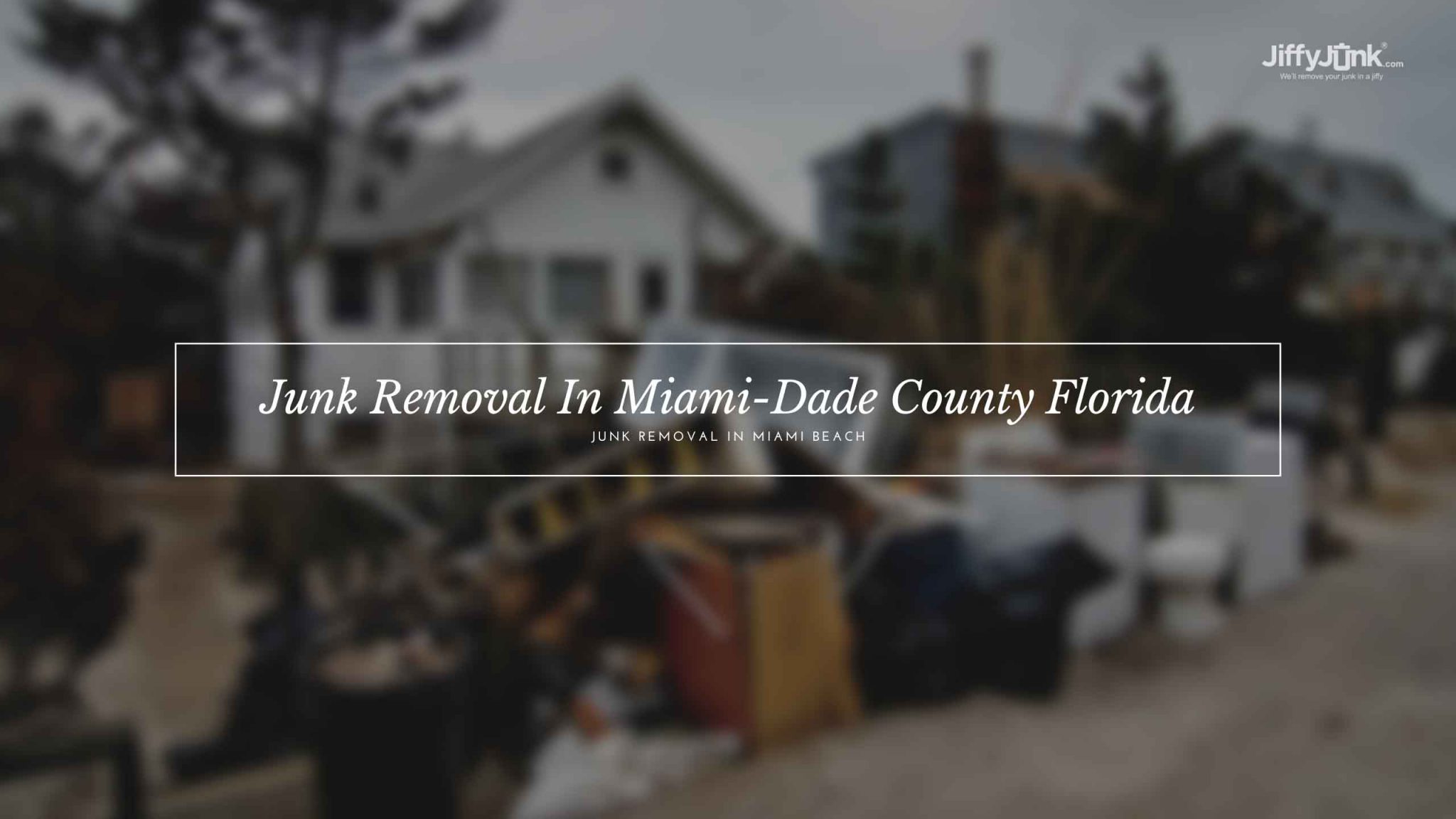 Our team of professionals has a diverse set of skills for junk removal that are uniquely suited for the Miami-dade county locals. It doesn't matter what type of trash you have, we here at Jiffy Junk will take care of it in a jiffy. We are a company that values the needs of the people so no job is small for us no type of junk removal is hard for us.
Whether you are on the 7th floor or the 27th we will be there to remove and get rid of your junk. If you need something more like estate cleanout or old furniture removal we can help you out with that as well.
We have an extensive list of services that we offer for our clients in Miami-Dade county and our quality of service has quickly made us a favorite amongst the locals. For your convenience here is a list of some of our services tailor-made for Miami-Dade County residents:
Scrap Metal Removal
Yard Waste Removal
Old Clothes Removal
Storage Cleanout
Lawn & Garden Debris Removal
Electronic Waste Management
 Eviction & Foreclosure Cleanup
Natural Disaster Cleanup
Plant And Tree Debris Removal
Roofing Materials
Damaged Boats
Patio Furniture
And Many More.
Home Junk Removal Services In Miami-Dade County
As time goes along the amount of junk in your home increases as well. From old clothes, broken furniture, malfunctioning appliances to leaking old refrigerators there might be a lot of things that you might need to get rid of.
Now you can get rid of the junk on your own but that would mean you taking time out from your breaks and holidays. With us here you don't have to waste your time on hauling junk, we will do it for you. We provide one of the best home junk removal services in the country and our track record here in Miami-Dade county proves that.
We specialize in providing every sort of home junk removal service you need. Our team of professionals will even get rid of that old couch from college or the mattress that's been collecting dust in the attic. From appliance removal to broken refrigerator removal, we do it all and we do it in a way so that you don't have to worry about it.
Our team of specialists are highly skilled and will finish clearing out the trash with the utmost efficiency. So if you have a house that needs junk removal in a jiffy, then Jiffy Junk is who you call.
Estate Cleanout Services In Miami-Dade County
Now those of you who are estate owners, you know how hard it is to keep an estate looking perfect. Whether you want to or not trash just seems to pile up all around the estate. If you want to keep your estate in pristine shape then you need to invest in some time or people in estate cleanouts. Meaning you need to get rid of the trash from the estate.
Now having your friends and family do it is going to be a hard task. Depending on the size of your estate it might take you anywhere from a few weeks to a month to clean your estate. Also when handling junk from estates it's better to let professionals deal with the trash. This is because a lot of different types of trash can be found in an estate and not all have the same disposal method. Some require specialized methods so calling an estate junk removal company like Jiffy Junk will help you a lot.
You can have trash like broken lawn or yard ornaments to patio furniture, broken trees, and plants, to garden furniture and many others. You may also need to get rid of in-house furniture that's very old and any malfunctioning electrical appliances. This sort of junk requires special attention and care when disposing of so it is always better to let a professional handle the junk removal process.
Since Florida is a coastal area you might incur damage on the estate during stormy seasons. Jiffy Junk even has a specialized estate junk removal service for estates that suffered through a recent storm. You don't have to be overwhelmed with cleaning the estate; We will do it for you without hesitation in the fastest possible time while maintaining the quality of service. All you have to do is give us a call and set a date; The rest will be taken care of by our team of professionals.
Commercial Junk Removal Services In Miami-Dade County
Miami-Dade County has a bustling economy with a big population. This means that a lot of businesses are opening up shops here in the county. Now, as much as businesses want to be, there is still no zero-waste business, and with an influx of new businesses, the amount of commercial waste produced is unprecedented now.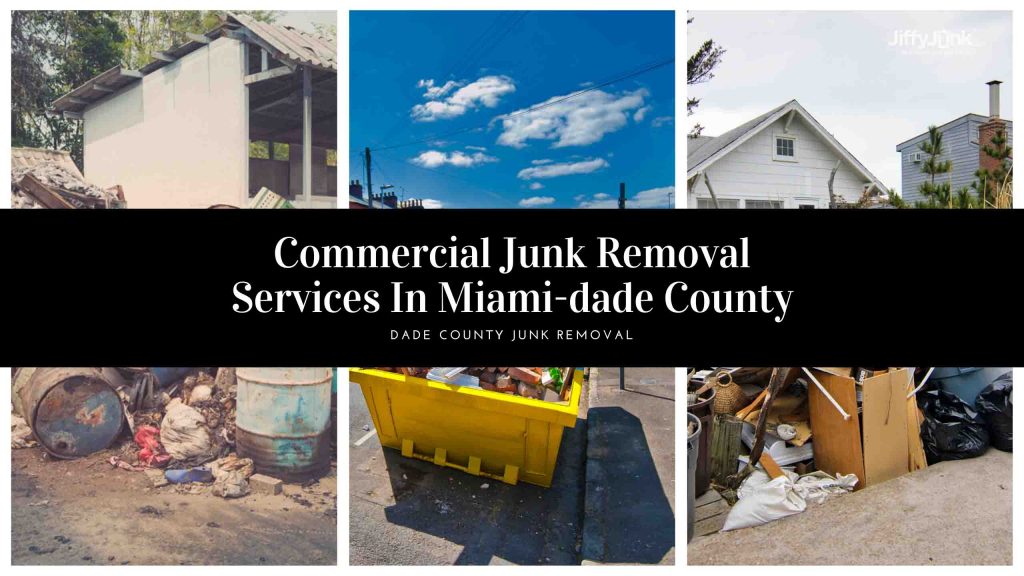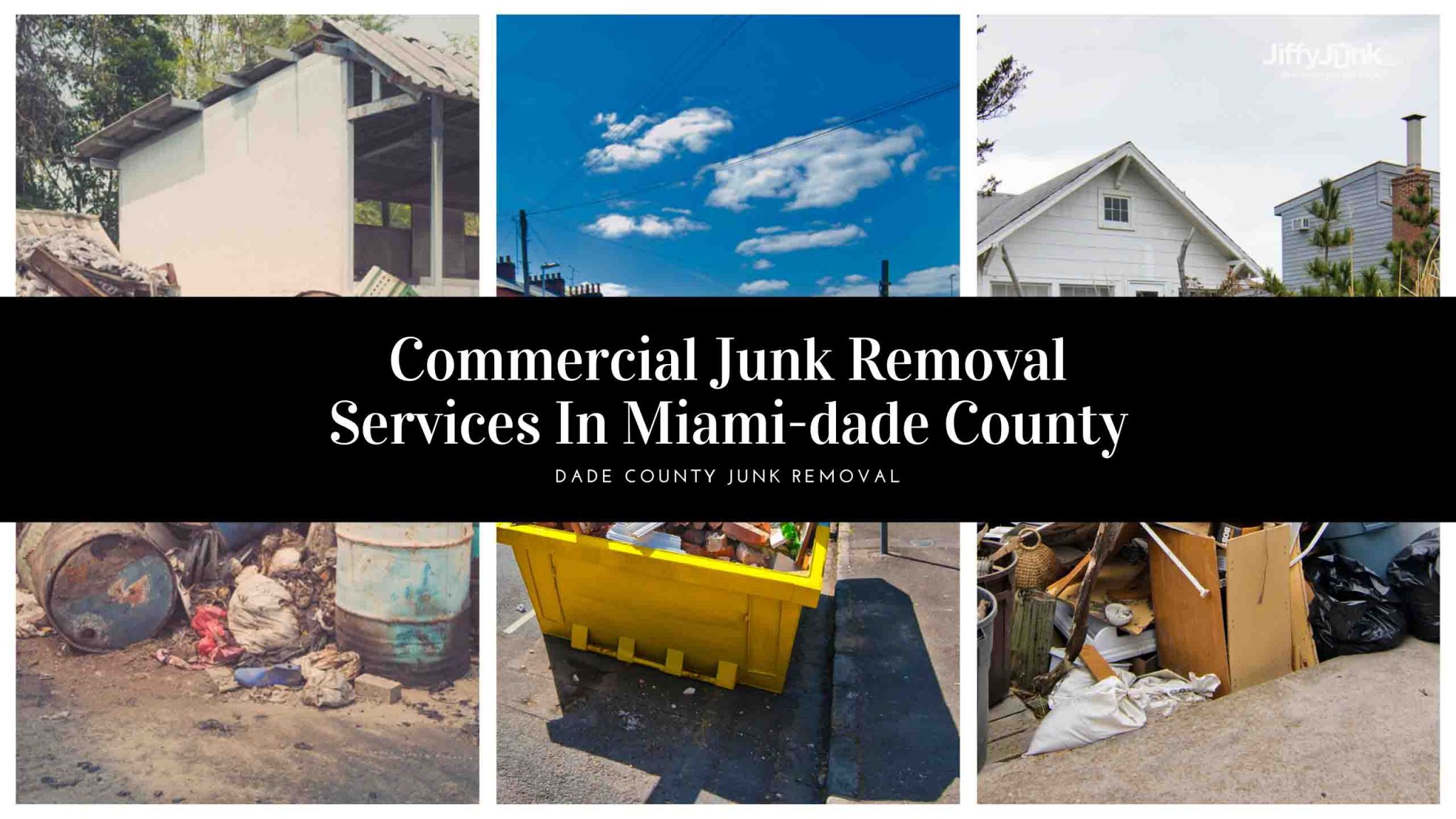 Other than the usual paper waste there are plenty of other things that can become trash in a short period. Things like unwanted stationeries, defunct furniture, to malfunctioning electrical appliances all are junk that can come from an office.
Now your average janitor cannot get rid of these as most of the junk produced by any commercial entity requires specialized skills. This is where Jiffy Junk comes in. With our highly skilled team, we have proved ourselves to be one of the best commercial junk removal companies in Miami-Dade county.
We have helped small businesses move into a larger office and even helped enterprises shift their junk. No job is too small for us and we maintain the quality of service for everyone. We will haul away large pieces of furniture and appliances that your office doesn't need anymore and dispose of it in an eco-friendly way for you.
Whether you need assistance when moving locations or you need to just get rid of some junk we will be there for you every step of the way. It doesn't matter if your office is on the 4th floor or the 45th, you will find us anywhere you need us. So if you need commercial junk removal services you know who to call.
Construction Junk Removal Services In Miami-Dade County
Now with a booming economy, Miami-Dade county has become a breeding ground for development and construction. With new houses, condos, estates, and businesses popping up everywhere. This means a lot of construction junk is created within the area that needs to be disposed of properly. Here is where we come in.
Jiffy Junk has one of the most comprehensive construction junk removal services in the country. Construction junk is different from the average junk you find at home. It consists of a lot of rubble, small fragments of broken material to large chunks of unusable material.
Now getting rid of these without professional help can be a costly endeavor and is frankly even dangerous. So construction site managers and development companies from Miami-Dade county contact us to get rid of the trash the right way.
Asking the construction workers or some other team to get rid of the junk usually results in injuries, damages to the property and a hefty bill. With Jiffy Junk you don't have to worry about any of these. Our team of professionals will handle and clearout your construction site with the utmost efficiency.
If you consider all the things involved, you will find that Jiffy Junk is the best and most cost-effective solution to your construction junk problem. So what are you waiting for? Let's set up a date and let us help you clean out your construction site!
Storm Junk Clean Out Service In Miami-Dade County
Being a coastal area, weather storms are something the residents of Miami-Dade county are used to. Every year millions of dollars worth of damage are incurred from storms. This means that storms create a huge pile of junk for homes to get rid of.
Things like rubble that blows in, broken plants, and trees, destroyed furniture and many other types of debris can pile up in your home after a storm. Clearing all this out right after a big storm can seem like a daunting task at times.
This is why Jiffy Junk offers exclusive storm junk removal services to the residents of the Miami-Dade county locals. Our team junk removal experts have the skills to deal with junk from natural disasters.
We will remove every sort of junk from your premises as efficiently as possible so that you can return to your routine as fast as possible. So when you are overwhelmed after a storm give us a call and we will take the burden of cleaning junk debris for you.
Eco-Friendly Junk Removal Services In Miami-Dade County
Trash has been a problem for our planet for a long time. The environmental effect of human trash is felt all over the world. This is why Jiffy Junk takes a special interest in providing quality eco-friendly junk removal solutions to our clients.
We understand the social responsibility that we must share as a junk removal company and we take the responsibility to heart. Our specialized green team is highly skilled to deal with all sorts of junk in an eco-friendly way. We make sure that the impact of your junk on the environment is nothing to negligible.
Our eco-friendly junk removal services have been designed in a way to have a minimal impact on our environment. Whether the junk comes from your office or house we make sure that we deal with the junk in a way that has little to no impact on the environment.
We are very passionate about our eco-friendly initiative and will handle your trash with the utmost care so that no environmental mishaps occur. So if you need the best eco-friendly junk removal service in Miami-Dade county then Jiffy Junk is the place to call.
Your Local Junk Removal Service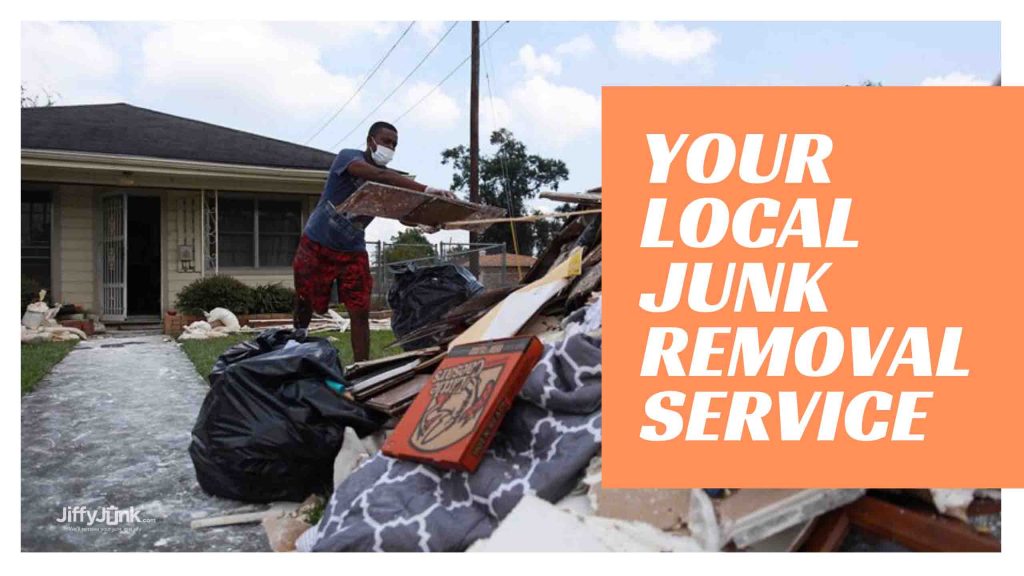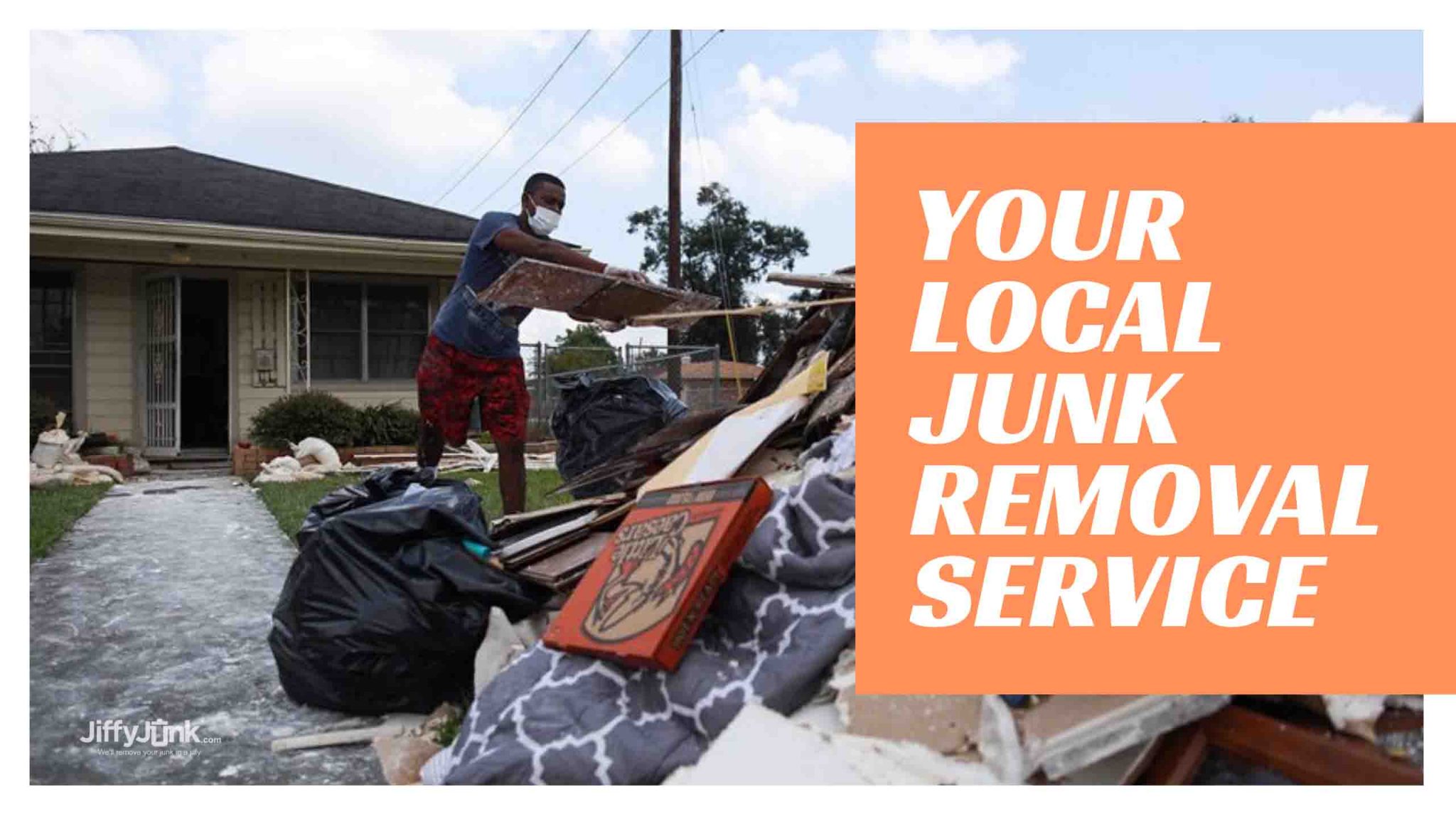 If you need junk removal services in Miami-Dade County then we are the perfect people to call. With our meticulous working process and an eye for detail, we can safely say that we are one of, if not the best junk removal companies in Miami-Dade County. Our services are for everyone in the county and you can find it in places like:
Miami
Miami Beach
Coconut Grove
Coral Gables
Key Biscayne
Hialeah
Along with every other area of the county. So if you want a local company that has a national reputation, friendly faces and quality service then give us a call. We are waiting to help you out with your junk removal problem.
Jiffy Junk Junk Removal In Miami-Dade County Florida




5

/

5

based on

1083

reviews. Review Me