Refrigerator Removal

Services
Professional and trusted refrigerator removal across the United States since 2014.
Refrigerator Removal

in a Jiffy
Jiffy Junk fridge removal is fast, stress-free, and efficient. Old refrigerator pick up service by our team with years of experience can't be beat. Choose our White Glove Treatment add-on for removal of fridges that's leaves your space broom-clean. If you want it done right, trust our team.
Our

Refrigerator Removal

Process
Get in touch with us by calling (844) 543 - 3966, click 'Get Pricing' below to go through our online booking system, or chat with one of reps via our website chat service.
Our highly rated customer service team will answer any questions you have about our fridge disposal services and offer you a free quote. Next, choose a date and time that works for you.
On the day of your old refrigerator pickup, our expertly trained team will be on time, fast, and leave your space broom-clean if you choose our White Glove Treatment add-on!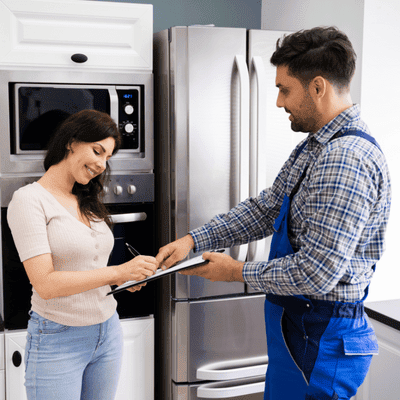 Expert

Fridge Removal

Since 2014
For almost a decade, Jiffy Junk experts have been offering fridge disposal and recycling that our clients can rely on. Our client's safety and their property's integrity are both our top priority.
We ensure that your old fridge removal service goes smooth from start to finish. No need to leave your fridge on the curb, our experts will ensure they remove it carefully from its current location.
With over one thousand high rated reviews, our clients love our commitment to quick and quality service for fridge disposal jobs both big and small. No matter if you're calling for fridge removal from a residential or commercial property, we've got you covered!
All of our expert fridge removal team members are both licensed and expertly trained. Your safety is our number one priority!
We follow all local, state, and federal laws when it comes to old refrigerator pick up and all of our other professional services.
Each time we pick up an old refrigerator, our team assess the appliance for recycling. Any parts that can be reused are sent to a recycling facility because we're committed to being Earth conscious whenever possible.
Aside from recycling, giving back to our community is a top priority. If your job for refrigerator pickup can lead to another family gaining a useful item - we're all for it!
What Makes Our

Jiffy Junk

Different
Fast Services
We're in and out in less than 24 hours
Flexible payments
All payments are 3D secured
Nation Wide
We serve USA and Now Canada
Interested in

Getting Started?
Have an old refrigerator removal job that needs to be done right away? Contact us today. We'll get rid of your junk in a jiffy!
What Our

Customers

Are Saying
We're proud of our reputation for excellence, fairness and professionalism. Read what customers say about working with us.
Refrigerator Removal

Questions?
Get in touch with the Jiffy Junk team for all your fridge disposal questions.
Frequently Asked Questions
The only prep we recommend our clients take on is removing all items from the appliance. This helps make the refrigerator haul away job go faster. It's also recommended to unplug the fridge at least 6 to 8 hours before moving it. Leave the door open for it to air out as well, that way if the fridge removal leads to a donation - the new family doesn't experience that 'old fridge smell'!
Taking these measures allows our refrigerator haul away to be done in a jiffy!
Yes - Jiffy Junk knows how and where to dispose of refrigerators in an Earth-friendly manner. Fridges can't be hauled away with household trash. We work with several recycling centers to ensure appliance parts don't end up in landfills whenever possible.
Choosing to dispose of a refrigerator is the only option if all else fails. If you notice any of the following issues, contact our experts who can pick up broken refrigerators.
• Unusual noises
• Consistent running and cooling problems
• Not getting cold enough inside
• Frost buildup in coils
After refrigerator removal, Jiffy Junk may:
• Donate - If the fridge is fixable, then we'll donate the appliance once it's in working condition
• Recycling - A fridge may be taken apart to be recycled - common for old refrigerator pickups
• Landfilling - Depending on its condition, a fridge may be compacted and disposed of at a landfill. This is a last resort as we'd prefer not to fill up our landfills!