Whether you're decluttering or tackling a mid-sized renovation, our 20 yard dumpster can handle it all.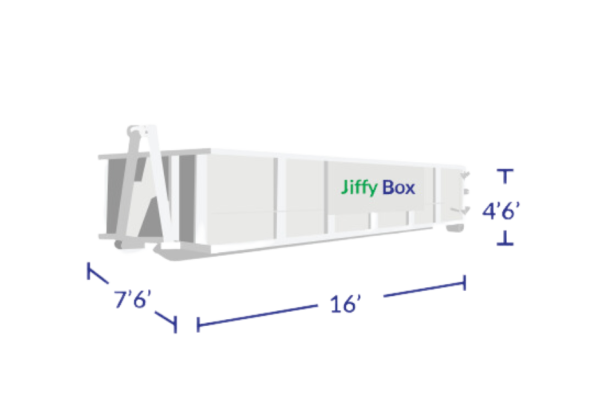 An Overview of Our

20 Yard Dumpsters
At Jiffy Junk, we provide trusty services across the US and Canada. Our 20 yard dumpster rentals aren't our only service. Besides offering different dumpster sizes, we provide recycling and clean-up services.


20 YARD DUMPSTER DIMENSIONS: 16 ft x 7.6 ft x 4.6 ft
CAPACITY: 110-130 Trash Bags
WEIGHT LIMIT: 4000 LBS Included


*Disclaimer: All dumpster dimensions may vary slightly but volume is accurate. Prices and availability are subject to change without notice.
Capacity estimates are based on the volume of a 33 gallon trash bag. 20 Yard Dumpster

Overview
20 Yard Dumpster Projects:
Partial Home Cleanouts
General Construction
Roofing Projects
Basement Cleanouts
Our 20 yard dumpster service offers versatility for many projects along with convenience of flexible pick-up and drop-off options for your schedule, all backed by our 5-star customer service.
What Goes Into a

20 Yard Dumpster
Below is a list of some of the items you can put in your 20 yard dumpster rental:


Household Junk: non-refrigerant appliances, flooring, mattresses
Renovation Debris: drywall, tiles, bricks and roofing materials
Yard Waste: branches, fruit and vegetable scraps, mulch, straw
General Waste: paper, plastic, glass, and waste from cleanouts. Why Rent

20 Yard Dumpsters from Jiffy Junk
Jiffy Junk is committed to eco-friendly disposal solutions. We strive to reduce the levels of pollution. What sets us apart with our 20 yard dumpster rentals, is our commitment to responsible junk handling and recycling.
Nothing is more frustrating than a late pickup or delivery. Count on our crew to be there in a jiffy with a 20 yard roll off dumpster. We'll ensure that your project stays on schedule, no matter what.
Our cost to rent a 20 yard dumpster is transparent. We offer competitive pricing with no hidden fees in our 20 yard dumpster cost. Call us today for a free estimate on your projects. What Doesn't Go Into a

20 Yard Dumpster
When you rent a 20 yard dumpster, there are some things you should never toss into them:


Hazardous Waste: batteries, fluorescent bulbs, and toxic materials such as mercury containing devices.
E-Waste: electronics like TVs and computers.
Appliances with Refrigerants: fridges, freezers, and AC units containing refrigerants
Other: rubber tires, concrete.
20 Yard Dumpster Rental

Questions
Get in touch with the Jiffy Junk team for all your 20 yard roll off dumpster questions.
What Makes

Jiffy Junk

Different
Interested in

Getting Started?
Have a big cleanout job that needs to be done right away? Contact us today. We'll get rid of your junk in a jiffy!
What Our

Customers

Are Saying
We deliver and pick up your 20 yard dumpster on-time. See what our clients have to say about our dumpster rental services.
Frequently Asked Questions
A 20 yard dumpster is typically 22 feet long, 7.5 feet wide, and 4.5 feet tall (the volume will always be 20 cubic yards). A 20 cubic yard dumpster is ideal for mid-sized projects. It works well for construction debris, household junk, and yard wastes for tasks like garage cleanout or small renovations.
There are a few distinctions to make between a 15 yard and a 20 yard roll off dumpster. Some of the key differences to keep in mind with a 15 cubic yard and 20 cubic yard dumpster rental include their size, capacity, and suitability for different projects.
At Jiffy Junk, you can rent a 20 yard dumpster for a length of time that suits your needs. Contact us for details on rental periods and discuss any applicable 20 yard dumpster rental costs per day.
The weight limit of a 20 yard dumpster can vary. They typically hold between 2 to 3 tons (4,000-6,000 pounds) of debris. Jiffy Junk's 20 yard dumpster dimensions allow a weight limit of 4,000 pounds, as mentioned above.
Prices for a 20 yard roll-off dumpster can vary from $450-$900. The cost to rent a 20 yard dumpster depends on the rental period, weight limit, and the disposal fee for the type of debris. Jiffy Junk offers competitive pricing. Contact us today.