Furniture Removal vs. Donation – Which Option Is Better?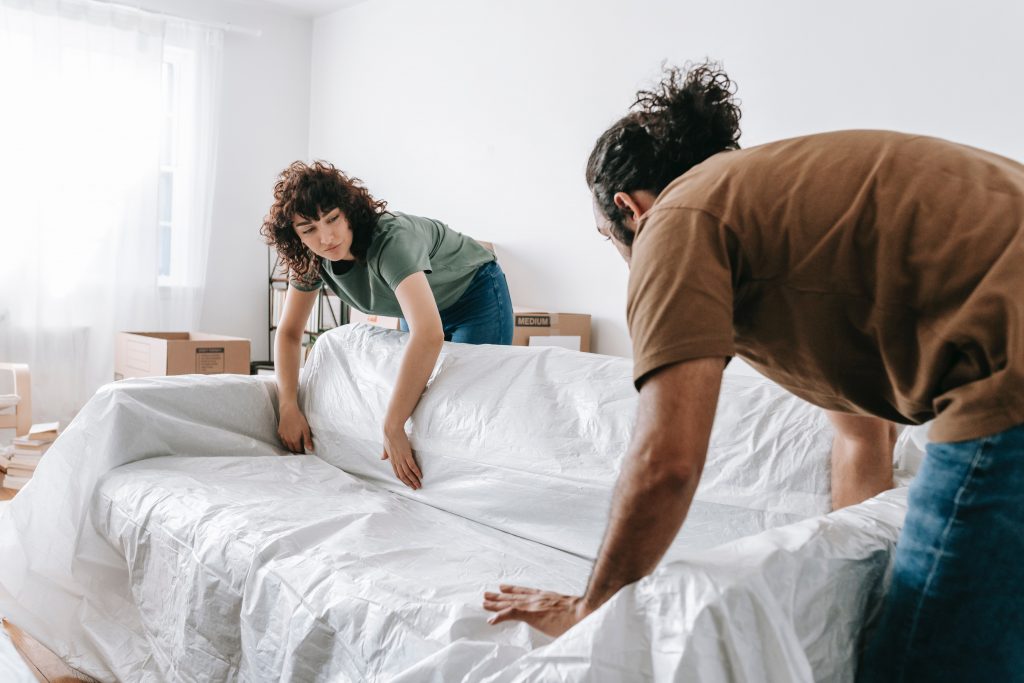 If you feel guilty sentencing your furniture to a life of decay and destruction in a landfill, click here to find out your options. When it comes to furniture removal, you have much more options than simply junking your stuff away. Since your local community is always in need of donations, call us at Jiffy Junk so we can give your old furniture to someone in need. With our help, we can give your precious belongings a second life. Furthermore, you will feel good knowing you've helped someone. 

After all, there will truly come a day when your furniture pieces have officially overstayed in your home. When these non-trendy pieces have worn out their welcome, tossing them to the curb with a free sign may come to mind. Sadly, this is not the best option because your neighbors will resent this massive eyesore. It can stay stuck there for days even if it's free. 

If you leave it with your general trash, your sanitation company may not get it because it's too bulky. Besides, if it does get picked up, it will most likely rot in the landfill. Thus, if you're decorating or thinking of upgrading, choosing between furniture removal or donation may just be on your mind. Should you be weighing which of the two to pick, continue reading to see what's the best option. 
The Option That Makes Your Life Easy
When it comes to these two, both furniture removal and donation actually have the same goals. At Jiffy Junk, we don't throw away furniture if they have a lot of life left in them. We also worry about the state of landfills. Hence, we give out furniture pieces to our affiliate charities. With this method, we know that your rejected things will be used by people who are struggling to make ends meet. 

Our team follows safe environmental protocols, so our Jiffy Junk team doesn't randomly throw things. After we pick up your stuff, we evaluate how it can be reused, re-purposed, or recycled. As much as possible, we do everything in our power to avoid sending needlessly to a landfill because that's just a big waste. We value the planet, so we want to be good stewards of the earth. Furthermore, we place huge importance on the community who have also supported us and placed us in this position as a leader in this unique niche. Apart from furniture, we donate many things like:
Books
Clothing
Old sports gear
Exercise equipment
Bikes 
Electronic appliances
Mattress 
Old carpet and rugs
The list actually goes on because the community always searches for donations. A lot of people actually need help, so using our furniture removal method means your items will get donated properly. Besides, our Jiffy Junk process is so much simpler than you donating it yourself. Though we may charge a minimal fee for the furniture retrieval, you will save your gas, time, and effort in looking for a charity that is willing to accept your furniture.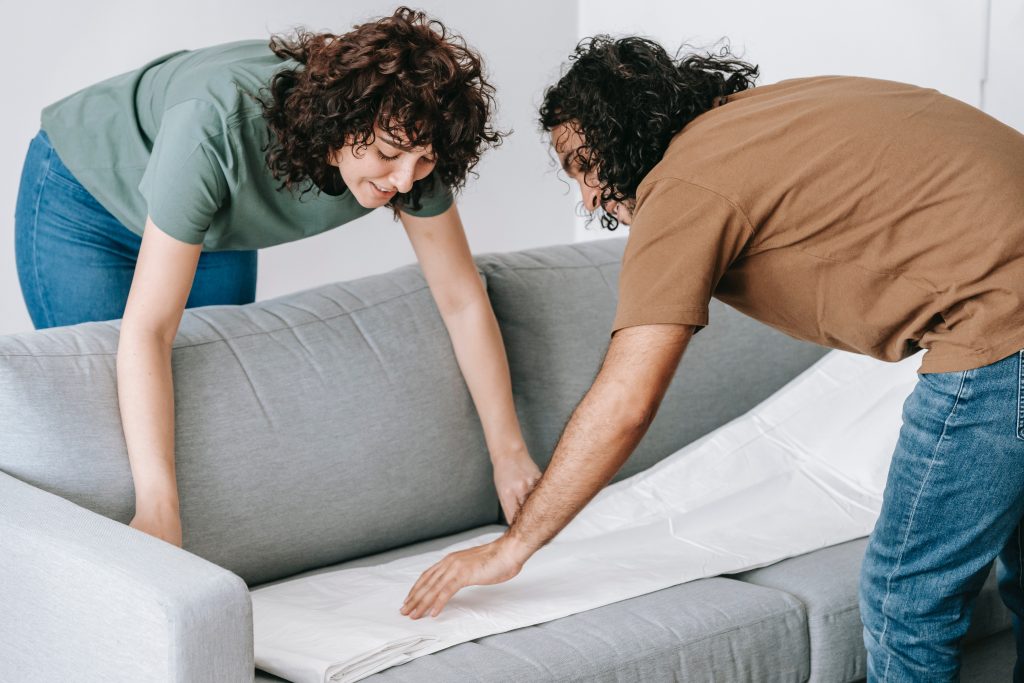 The Benefits of Professional Furniture Retrieval and Removal
Moving big pieces of furniture is no mean feat. The last thing you need is a pulled spine because of attempting to move your bulky pieces! If you are finally willing to let go of old furniture that doesn't add value to your home, you will reap multiple benefits. It is a gift that keeps on giving because you will make life easier for those who need them. Consider the following benefits of using a furniture removal service to donate your items.
1. Avoid unnecessary injuries 
When you call us at Jiffy Junk for furniture and junk removal services, we have the equipment to handle bulky and heavy items. We have pulleys and other motorized equipment to take out anything from your home. If you want to discard a heavy, hardwood armoire or an old grand piano, our team can do it in a jiffy. We live up to our name to do things for you, so you can relax. Besides, our professional crewmen are trained in the art of lifting, so they know what to do without throwing out their backs. With our premium service, you can avoid injuries. We take the furniture out of your house and donate them for you. Consequently, you can preserve your strength and energy. 
2. Save lots of time
Time equates to money. When you don't know what to do with bulky furniture pieces, you end up feeling frustrated. As a result, you end up wasting a lot of time attempting to move your stuff. However, if you leave the work for our team to handle, we can streamline the process for you. We have been doing this for years, so we are super-efficient. Our crew has systems in place to speed up the process. You may be even surprised that we're in and out of your home in a flash. We live up to our brand name and do things in a jiffy. 
3. Take advantage of an appropriate vehicle
If you try to do the donation yourself, you will not only have a hard time carrying the items down; you may even have issues because your vehicle is too small. As a result, you end up wasting gas and make several trips to successfully donate all your furniture. However, with our furniture removal services, we have giant trucks where everything can fit. Even if you do a whole home renovation, we can accommodate your things. Just give us a call to help you remove those items. We'll assess what kind of truck you need and how many crewmen. From there, we can schedule the pickup and donate everything after. 
4. Save on your taxes
If you want to save money this tax season, just keep your receipts. We will indicate that we have donated your items. You will find that donating your household items becomes an excellent way to cut down on your tax returns this April. Be sure to keep the itemized list of donated furniture along with their current market cash value. You can even take a photo of each item to keep track of what you have donated. It will make it easy for you to organize your donation receipts later on. 
5. Create a comfy and calm space
With our furniture removal services, we can also help offload some of the other items you've hoarded. Our professionals will help you cart off the junk. You can rent a dumpster for easy sorting at your own pace. You can also try our full-scale service so we can help you with the sorting. This is a service that donating on your own cannot give you. When you take out unnecessary items in your home, you can morph your messy abode into a more calm environment for everyone to enjoy. Many studies actually indicate that clearing your space will increase your happiness. Go ahead and embrace the art of minimalism by creating an organized space for yourself and your loved ones. 
6. Feel motivated to clean and maintain your house
A cluttered space equates to a cluttered mind. When you finally free up your home with our furniture removal and junk hauling services, you will be more motivated to clean regularly. After all, you are getting a fresh start with less junk and more clean space. As a result, you feel inspired to set up a cleaning routine to keep your home spic and span. After purging unused furniture and things, it becomes easier to find everyday items because you no longer trip over clutter. 
7. Disregard paying for storage space
When you decide to go with furniture removal, you can finally let go of the storage unit you've been renting or thinking of renting to accommodate all your stuff. Though these self-storage units come with affordable price rates, the cost will compound over time. It is not cost-efficient to rent these spaces for long-term use. If you go with professional help, we can help you clean this storage space. However, if you decide to donate everything on your own, all the burden will be left for you to bear alone. 
8. Enjoy a cheaper move 
If you are moving to a new house and want to donate all your furniture, calling our team for help is the better option. We come with our crew and trucks to ensure a seamless transition. As a result, you will enjoy a cheaper move. Remember, the more stuff you haul, the more expensive the costs will be. After all, the price of a long-distance move is actually based on the weight of your items. Similarly, the price of a local move works with an hourly rate. The more things you have, the more time and money it will take. If you seek our furniture removal and junk hauling services, you cut back on the price of the move and the time to get it done. 
9. Assure you don't annoy your neighbors
Leaving your unwanted furniture in your driveway with a free sign will annoy your neighbors, especially if you live in a high-end area. These days, no one dares to pick up free stuff because we live in a more dangerous world. If you want a surefire way for those furniture pieces to be put to good use, call our Jiffy Junk team for swift furniture removal. 
10. Help people in need
Finally, we save the best for last. Furniture retrieval and removal services also donate your belongings to a good cause. Thus, you help others in need. Apart from furniture, you can also offload many other things, from toys to seasonal apparel. We also do commercial cleanouts if you feel like decluttering and donating stuff from your business. Take note of the places in our community that is always seeking donated items, especially furniture:
Churches
Hospitals
Animal shelters
Police departments
Public daycare centers
Charity or non-profits
Schools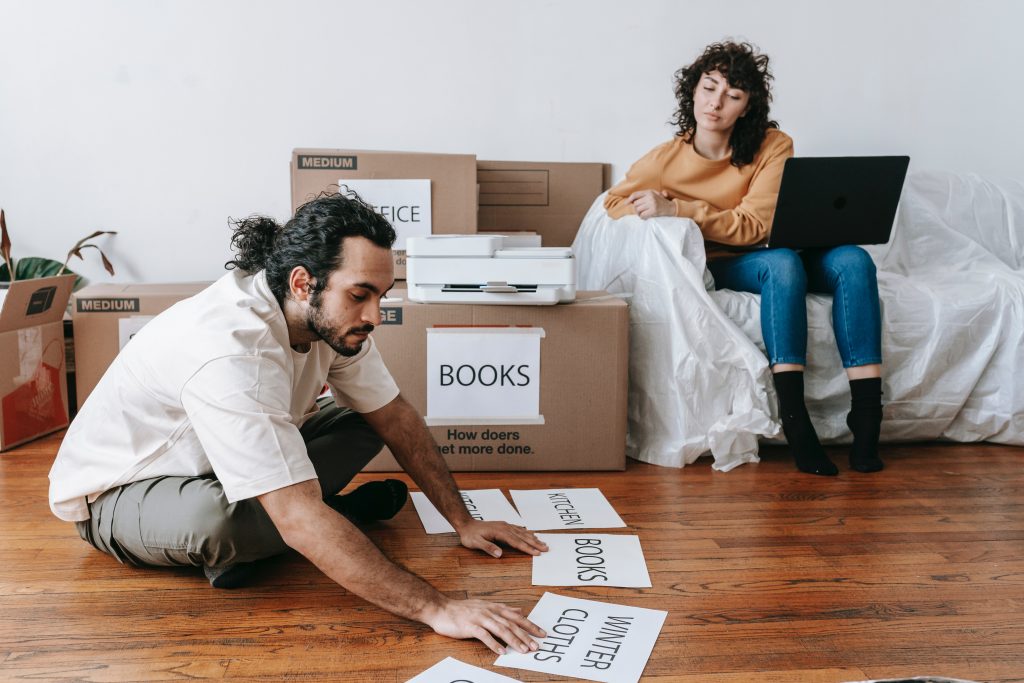 What Not to Do When Letting Go of Furniture
Whether you're an expert or a newbie in letting go of stuff, here are some helpful tips. Do avoid these practices when you're discarding furniture for donation. 
Don't give dirty and broken pieces
This should go without saying but broken, and dirty furniture are a no. Put yourself in the shoes of the recipient. You won't feel thrilled over something that's excessively used. Better yet, fix minor issues and do a quick clean before calling for professional removal. It may be quick fixes, but it makes a huge difference for the receiver. 
Don't forget to keep records
Donating helps you get a tax break, so be sure to keep receipts. Take note of the donated item, its value, and the charity. Keep the receipt to help you out during tax season.
Don't make blind decisions
To get the most out of your donation experience, you must have a full grasp of your options. Instead of doing the legwork yourself, some charities in your local area do pick up donations. This saves you a trip. However, big pieces work better with furniture removal. The team will go to your location and pick the things up for you, assuring utmost convenience. 
Don't commit lifting mistakes
Donating old furniture and junk involves lifting heavy items. Ensure your act of kindness doesn't land you in the ER. Use proper form when lifting and moving things. Better yet, hire a junk removal specialist like our team at Jiffy Junk. We have moving gear like pulleys, dollies, and straps to make everything a breeze. 
Don't limit yourself
The list of what you can let go of is immense. You can donate old furniture and many unwanted household items like TVs, computers, sports equipment, etc. Research your options so you can get rid of everything and pass it on to people who need it. 
Final Wrap Up
As you can see, many people will benefit from your donated things. However, donating is not always easy because you don't have the manpower, vehicle, and equipment to do so. Thankfully, working with our Jiffy Junk team assures you can avoid those pitfalls. As a result, you keep your donation experience super comfy and stress-free. With our help, you can rest easy knowing all your donated items will go to the right people in need. Call us for donation help so you can get rid of unwanted items without sacrificing your sanity, spine, and savings in the process. 

Sometimes you just need to get rid of a few items, and sometimes you need something a bit more comprehensive. Managing the estate of a departed loved one, handling a full-scale hoarding mitigation project or working to purge before a big remodeling project all require a bit more attention to waste management. When you need more in-depth junk removal and home cleanout services, it's not always easy to know where to turn. Still, a lack of planning for waste management has the potential to totally derail your project. From interfering with productivity to creating safety hazards, unwanted items and castoff debris are no laughing matter.

Making the right decision for your project means understanding all your options, from municipal bulk collection to white-glove private hauling. Find out what you can expect from large disposal in Broward County, and how you can make the most efficient choice for even the most overwhelming junk piles.
Weighing Your Options for Junk Removal & Home Cleanout Services
Managing household waste is easy; you drop things you no longer want into a bin, and wheel it up to the curb for weekly collection. But when your junk pile grows, municipal service options become a bit less clear. Regulations can be confusing, as can schedules and the ethical implications. We all must work to protect the planet for future generations, and municipal hauling is far from the greenest option.

Solid Waste and Recycling Services of Broward County provides municipal bulk collection to residents of unincorporated Broward County once each month. Before you even dive into the rules, regulations and limitations, you'll have to face the potential scheduling conflicts. Once-monthly pickup can present a very real problem when you're facing a tight deadline. Whether you need to vacate a property ahead of a hard and fast moveout date, or you're trying to clear away detritus as part of a time-sensitive remodel, you can't always wait for municipal bulk collection dates.

If you are able to make your schedule work with that of Solid Waste and Recycling Services, you'll still need to consider the inherent limitations. Not all waste is considered acceptable for bulk collection, and this includes any and all construction or remodeling debris. Haulers will also not accept any waste resulting from commercial operations, including hired landscaping or lawncare services. It's important to note that collection technicians will not move unacceptable items in order to reach ones they deem acceptable. Anything left behind is still your responsibility to manage, and remaining waste must be removed no more than twelve hours after scheduled collection.

There are also environmental implications, as most of what is collected by Solid Waste and Recycling Services will eventually end up in the nearest landfill. This even holds true for items in usable condition, like furniture and household goods, as there is simply no existing system to separate and transport them to local donation centers. This not only means usable items are taken out of rotation when they could be useful to less fortunate members of the community, but also that they're contributing to an already overburdened landfill.

While its official name may be Monarch Hill Renewable Energy Park, the Broward County landfill is also widely known as "Mount Trashmore." Towering more than 200 feet, it has the dubious honor of being one of Florida's tallest manmade landforms. It's quickly running out of space, as a 23-acre tract is the last space which can accept waste before existing buildings would have to be demolished. We all must do our part to minimize landfill impact, and piling unwanted items at the curb for bulk collection is not helping.

Environmental concerns aside, there's also the labor investment required to take advantage of municipal services. You must do all the removing, sorting and dragging heavy items down to the curb yourself; the county does not offer junk removal and home cleanout services. When your to-do list is a mile long, the last thing you want is to also assume responsibility for the manual labor. This is where working with a private hauler can be more efficient and more effective.
Choosing a White-Glove Service Provider with a Cleaner Approach
Working with a private hauler who shares your commitment to more ethical disposal can also simplify your entire project. So many items on your to-do list are difficult or impossible to outsource, but waste management isn't one of them. When you choose a conscientious service provider, you're able to take all the time you need to manage everything else.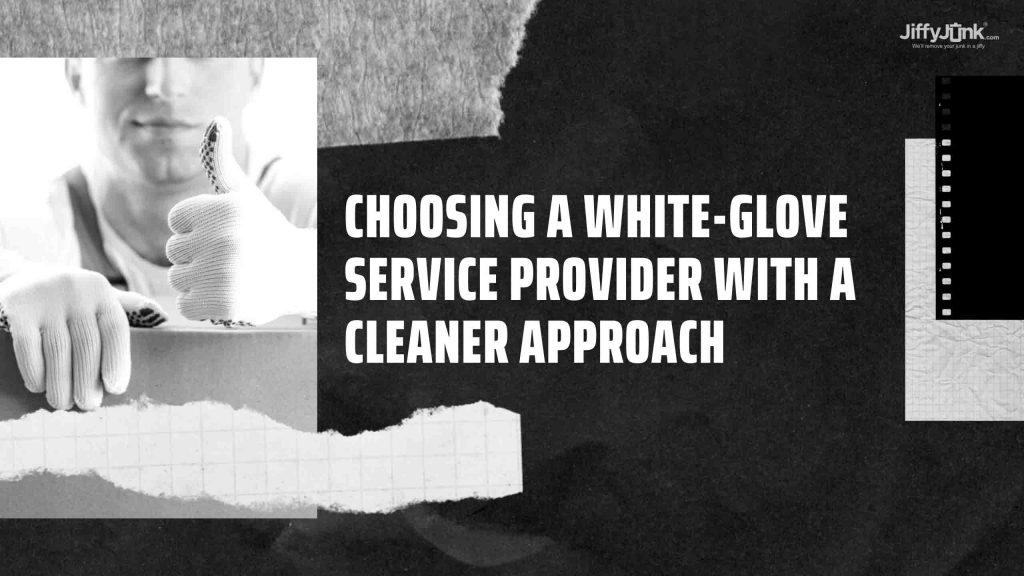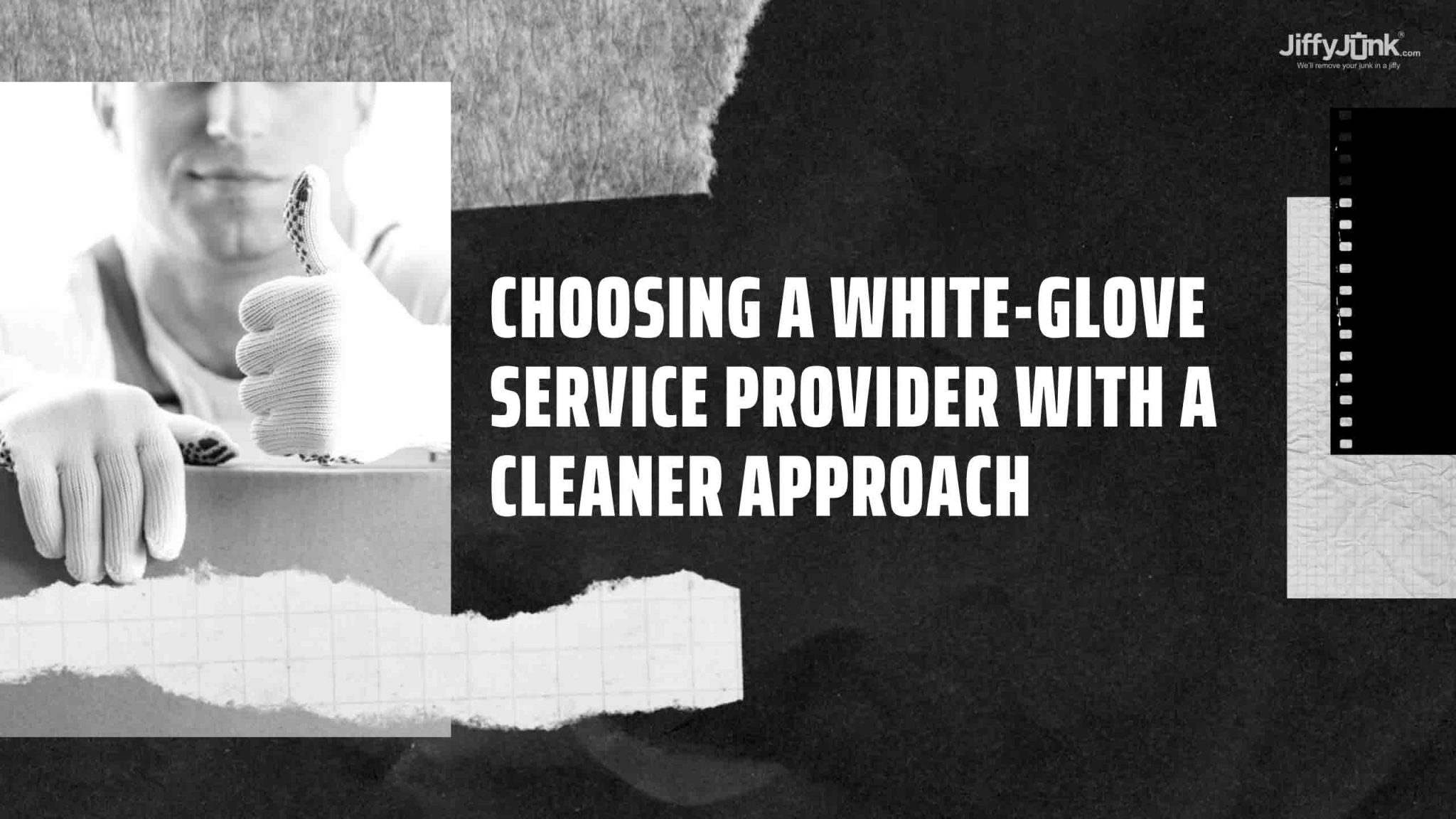 At Jiffy Junk, we understand that time really is money, and manual labor is a huge investment. When we come to your home or place of business to provide junk removal and home cleanout services, we go the extra mile to do all the heavy lifting. We'll uninstall appliances, remove old carpeting marked for disposal and haul everything away while you focus on all the aspects of your project no one else can manage. Items in usable condition are immediately separated for transportation to local donation centers. Everything else, we work hard to find a sustainable disposal solution, which does not include adding to the burden of an already struggling landfill.

Whether you need one-time pickup or ongoing collection for a large job, we're here to help. We'll make quick work of even the most overwhelming piles, helping you to reach your goals in a timely manner. Forget about missing deadlines or stressing about the environmental impact of your job, we've got you covered. We work around your schedule and we handle it all, so you never have to worry about what's going where or how to dispose of it correctly.

Call us today to learn more about our greener, more ethical approach to junk hauling and home cleanout services. Together, we can turn your discard pile into nothing but a memory. When we're finished, we'll even go over your space with a broom and dustpan to ensure there are no lingering dust bunnies or cobwebs, leaving you a truly blank slate ready for whatever comes next.
Interested in

Getting Started?
Have a big cleanout job that needs to be done right away? Contact us today. We'll get rid of your junk in a jiffy!
What Our

Customers

Are Saying
Thousands of satisfied customers across America have shared their Jiffy Junk Experience.