The Legal Side of Garbage: NYC Rules and Laws
 

When you toss out things you no longer want or need, breaking the law is probably the last thought on your mind. While you're not likely to run afoul of the authorities with your regular household waste, there are some projects that could generate problematic waste. Whether you're cleaning out an estate, purging before a big move or just trying to reorganize your living space, it pays to do a bit of research before you tip everything into a bin.

For some types of garbage, NYC rules and an assortment of laws do apply.

 
Sorting Your Garbage: NYC Rules for Recycling
 

While there's no doubt recycling is the right thing to do for the planet and the environment, there's more than just the ethical implications to consider. Laws on the local, state and federal level do exist.

For instance, most electronic devices are required by New York state law to be recycled properly. This means you can't toss an old DVD player into the trash; it must be separately handled for recycling. Old appliances you no longer want? DSNY programs for special pickup do exist, but you'll have to make sure you're following several guidelines to not only assure pickup, but also to avoid fines or other penalties.

Mattresses are another area where it's easy to inadvertently break the law. You must make a special appointment for a mattress larger than 4 feet by 3 feet, and all mattresses must be sealed in specialty bags designed to prevent bedbug infestations. Old futons are considered mattresses, too. Forget the bag, and you're facing a $100 fine. DSNY does not provide these bags, either, so you'll have to purchase your own before the collection date.

Paint, flammable liquids and bicycle waste come with a host of rules you must follow, which can make all but the very smallest projects seem quite daunting. How are you supposed to make real progress when every type of garbage you encounter must be processed differently?

 
Saving Time and Money with Pro Pickup
 

At first blush, hiring professional waste management can seem like an extravagance. Once you balance the value of your time and labor against the demands for both when you attempt a DIY disposal project, you may be surprised to find out just how expensive it can be to do it yourself.

Our trained and experienced Jiffy Junk technicians provide the very best in true white-glove waste management to residential and commercial clients throughout the five boroughs, Nassau County and Suffolk County. We'll come to you, removing all your waste with a single phone call. Because we pride ourselves on our commitment to the environment, we'll go the extra mile to avoid landfill dumping at every opportunity. We'll drop off any usable items at charity centers, then seek out even nontraditional recycling programs for the rest.

You're able to get rid of anything you no longer want while maintaining a clean conscience and no worries about the legal implications of NYC garbage rules.

Call today: 844-543-3966.
Interested in

Getting Started?
Have a big cleanout job that needs to be done right away? Contact us today. We'll get rid of your junk in a jiffy!
What Our

Customers

Are Saying
Thousands of satisfied customers across America have shared their Jiffy Junk Experience.
White-Glove Junk Removal & Home Cleanout Services in Broward County
Sometimes you just need to get rid of a few items, and sometimes you need something a bit more comprehensive. Managing the estate of a departed loved one, handling a full-scale hoarding mitigation project or working to purge before a big remodeling project all require a bit more attention to waste management. When you need more in-depth junk removal and home cleanout services, it's not always easy to know where to turn. Still, a lack of planning for waste management has the potential to totally derail your project. From interfering with productivity to creating safety hazards, unwanted items and castoff debris are no laughing matter.
Making the right decision for your project means understanding all your options, from municipal bulk collection to white-glove private hauling. Find out what you can expect from large disposal in Broward County, and how you can make the most efficient choice for even the most overwhelming junk piles.
Weighing Your Options for Junk Removal & Home Cleanout Services
Managing household waste is easy; you drop things you no longer want into a bin, and wheel it up to the curb for weekly collection. But when your junk pile grows, municipal service options become a bit less clear. Regulations can be confusing, as can schedules and the ethical implications. We all must work to protect the planet for future generations, and municipal hauling is far from the greenest option.
Solid Waste and Recycling Services of Broward County provides municipal bulk collection to residents of unincorporated Broward County once each month. Before you even dive into the rules, regulations and limitations, you'll have to face the potential scheduling conflicts. Once-monthly pickup can present a very real problem when you're facing a tight deadline. Whether you need to vacate a property ahead of a hard and fast moveout date, or you're trying to clear away detritus as part of a time-sensitive remodel, you can't always wait for municipal bulk collection dates.
If you are able to make your schedule work with that of Solid Waste and Recycling Services, you'll still need to consider the inherent limitations. Not all waste is considered acceptable for bulk collection, and this includes any and all construction or remodeling debris. Haulers will also not accept any waste resulting from commercial operations, including hired landscaping or lawncare services. It's important to note that collection technicians will not move unacceptable items in order to reach ones they deem acceptable. Anything left behind is still your responsibility to manage, and remaining waste must be removed no more than twelve hours after scheduled collection.
There are also environmental implications, as most of what is collected by Solid Waste and Recycling Services will eventually end up in the nearest landfill. This even holds true for items in usable condition, like furniture and household goods, as there is simply no existing system to separate and transport them to local donation centers. This not only means usable items are taken out of rotation when they could be useful to less fortunate members of the community, but also that they're contributing to an already overburdened landfill.
While its official name may be Monarch Hill Renewable Energy Park, the Broward County landfill is also widely known as "Mount Trashmore." Towering more than 200 feet, it has the dubious honor of being one of Florida's tallest manmade landforms. It's quickly running out of space, as a 23-acre tract is the last space which can accept waste before existing buildings would have to be demolished. We all must do our part to minimize landfill impact, and piling unwanted items at the curb for bulk collection is not helping.
Environmental concerns aside, there's also the labor investment required to take advantage of municipal services. You must do all the removing, sorting and dragging heavy items down to the curb yourself; the county does not offer junk removal and home cleanout services. When your to-do list is a mile long, the last thing you want is to also assume responsibility for the manual labor. This is where working with a private hauler can be more efficient and more effective.
Choosing a White-Glove Service Provider with a Cleaner Approach
Working with a private hauler who shares your commitment to more ethical disposal can also simplify your entire project. So many items on your to-do list are difficult or impossible to outsource, but waste management isn't one of them. When you choose a conscientious service provider, you're able to take all the time you need to manage everything else.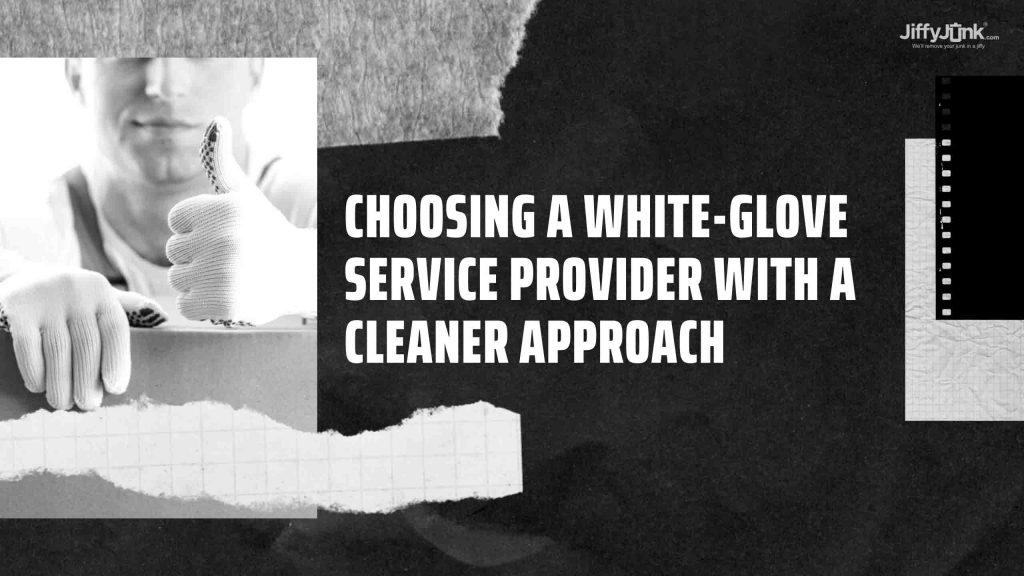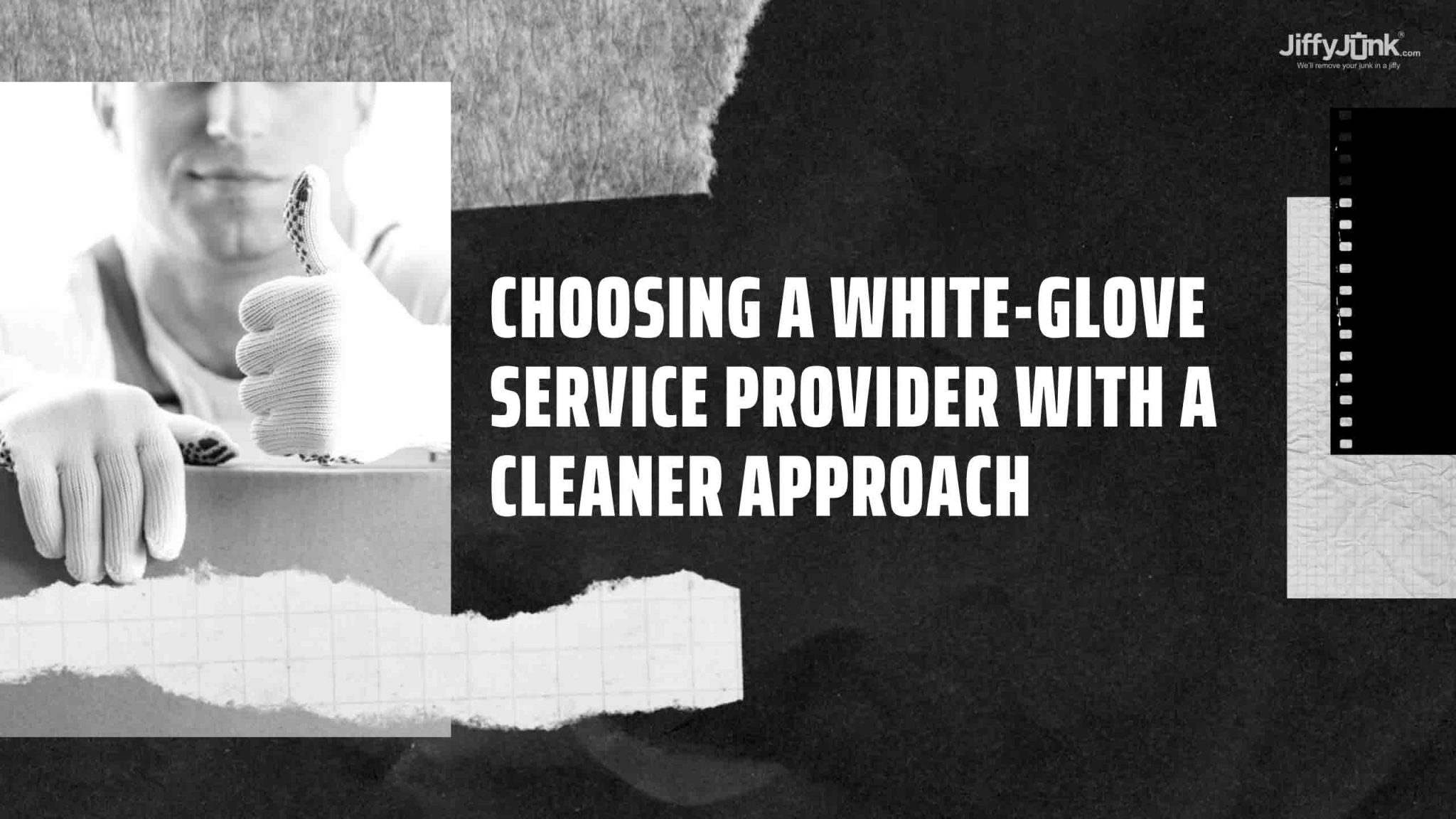 At Jiffy Junk, we understand that time really is money, and manual labor is a huge investment. When we come to your home or place of business to provide junk removal and home cleanout services, we go the extra mile to do all the heavy lifting. We'll uninstall appliances, remove old carpeting marked for disposal and haul everything away while you focus on all the aspects of your project no one else can manage. Items in usable condition are immediately separated for transportation to local donation centers. Everything else, we work hard to find a sustainable disposal solution, which does not include adding to the burden of an already struggling landfill.
Whether you need one-time pickup or ongoing collection for a large job, we're here to help. We'll make quick work of even the most overwhelming piles, helping you to reach your goals in a timely manner. Forget about missing deadlines or stressing about the environmental impact of your job, we've got you covered. We work around your schedule and we handle it all, so you never have to worry about what's going where or how to dispose of it correctly.
Call us today to learn more about our greener, more ethical approach to junk hauling and home cleanout services. Together, we can turn your discard pile into nothing but a memory. When we're finished, we'll even go over your space with a broom and dustpan to ensure there are no lingering dust bunnies or cobwebs, leaving you a truly blank slate ready for whatever comes next.
Interested in

Getting Started?
Have a big cleanout job that needs to be done right away? Contact us today. We'll get rid of your junk in a jiffy!
What Our

Customers

Are Saying
Thousands of satisfied customers across America have shared their Jiffy Junk Experience.