February 14, 2020.
There's so much to keep in mind when you're working on a big cleaning or organizing project, you may not have even considered the environmental implications. No one wants their newly clean space to come at a high cost for the planet, but ambitious Zero Waste by 2040 goals put Austinites in a particularly confusing spot. With such a focused, citywide effort to minimize landfill impact, it's easy to believe that municipal bulk collection is the best and most ethical choice. The truth is, junk removal places a serious burden on landfills and the environment as a whole when it's not handled properly.
Before you tie yourself in knots working to meet Austin Resource Recovery's timeline and guidelines, it's a good idea to explore municipal bulk collection a bit more thoroughly. What you find just may be a surprise.
How Austin Junk Removal Places a Burden on the Environment and Residents
Unlike other municipalities, which often offer monthly or even on-demand collection for bulky items, the City of Austin operates a bit differently. Austin Resource Recovery provides bulk collection only twice per year, and on their schedule. For residents with a high volume of waste and a firm deadline, working to plan your project around the designated bulk collection schedule can present a serious issue from the outset. Dig a bit more deeply, and timing isn't the only thing that might give you pause.
With the exception of metal items and passenger vehicle tires, items collected by Austin Resource Recovery during bulk collection week are not recycled. ARR collected more than 12,000 tons of bulk waste in 2017, and the majority of collected items end up in the landfill. This even applies to items which are still in usable condition, as there is currently no infrastructure in place to transport them to donation centers.
This isn't the only complication associated with municipal bulk collection. Purging items you no longer want or need means dragging even the heaviest and most ungainly down to the curb. Once everything has been wrestled to the side of the road, you must separate items into three distinct piles: metal (including appliances), passenger vehicle tires removed from rims (limit 8 per household) and non-metal items. These piles must be at least five feet from all fences, walls, parked vehicles, mailboxes, water meters and telephone or cable connection boxes. Piles must also be clear of any low-hanging power lines or tree limbs.
Because bulk collection is intended specifically for items too large to fit into a container, forget throwing household trash and smaller items into containers. Any bagged or containerized items are considered extra trash, and are subject to extra trash fees. Construction and demolition waste are not accepted, nor are automotive bodies and chassis, motorcycles or boats, sheet glass or brush and yard waste. Any items deemed not acceptable by collection technicians will be left at the curb, which means you may still be on the hook for finding a disposal solution, even after waiting for bulk collection week to roll around again.
If you want to make sure your disposal project is as ethical and sustainable as possible, you're left with two options: do-it-yourself hauling, and working with a private hauler who shares your commitment to sustainability. DIY hauling means taking responsibility for not only all the manual labor, but also the logistics. You'll need to plot the most efficient route to donation and recycling centers, likely making multiple trips to each location. If you don't have access to a truck, you'll also need to budget for rental, administrative and insurance expenses, as well as fuel and any fees collected at recycling centers.
Handling disposal yourself means taking time away from all the other items on your to-do list that only you can manage. Unlike many other tasks associated with large-scale cleaning and organizing projects, disposal can be outsourced to free up more of your time, so you can focus on your overall project.
Where to Find Ethical and Sustainable Disposal
You need waste management you can count on and feel good about, which means you'll need to look for a hauler equally dedicated to greener practices.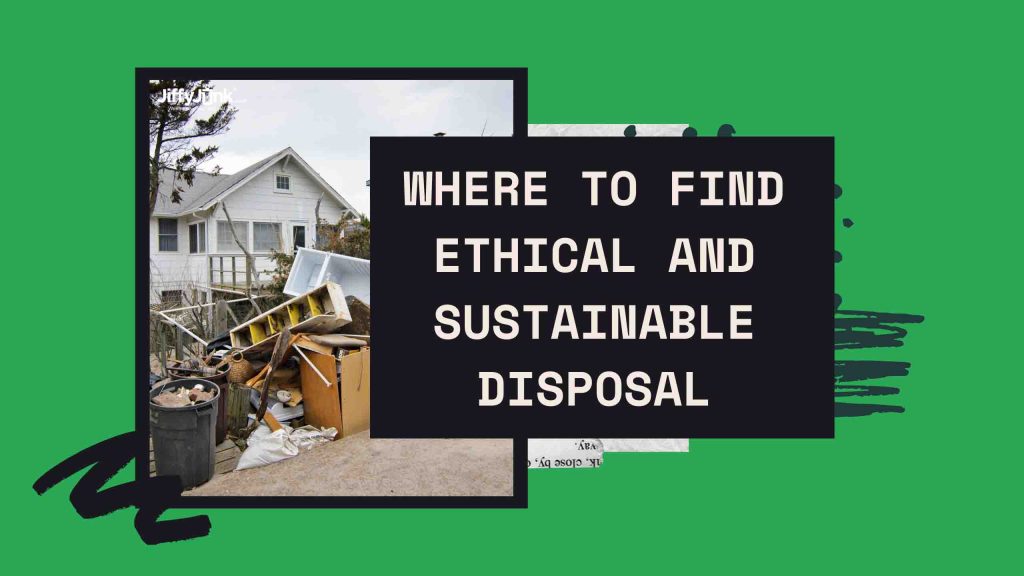 At Jiffy Junk, we understand just how quickly a lack of proper waste management planning can derail an entire project. We also know how important it is to protect the planet for future generations, so we take a different approach to junk hauling. Places across Austin, residential and commercial alike, are left cleaner in our wake as we work to mitigate our environmental footprint and minimize landfill impact.
When we come to your home or place of business to get rid of things you no longer need or want, we immediately separate furniture and household items in usable condition. These are transported to local donation centers, keeping them out of the landfill and in the community where they can be of assistance to those in need. Everything else, we dispose of as sustainably as possible to ensure your conscience is left as clean as your space.
Our white-glove service promise means we do all the heavy lifting, even uninstalling appliances and tearing out old carpeting you want to remove. When we're finished, we'll go over your space with a broom and dustpan to be sure there are no lingering cobwebs or dust bunnies. You're free to manage all the other aspects of your project without having to worry about the things you're trying to throw away along the way.
Best of all, we work on your schedule. No waiting for twice-yearly windows of opportunity, or worrying about meeting ARR guidelines. We'll remove just about anything you need to dispose of, and we'll do it quickly. Call us today to learn more about our greener disposal practices, our white-glove service and all the ways we work to make waste management a stress-free experience. Together, we can make quick work of even the most overwhelming project.