Dumping Old Furniture: Places, Methods & Other Important Information
Over the years, like everything you have, furniture will wear down. Whether your furniture is old or you just need a change, you will need to dump your furniture. Get the service you need from Jiffy Junk.
Removing big furniture from your home is a difficult job. Heavy, awkward furniture is often hard to maneuver and is nearly impossible to move by yourself. Now, you may be convinced that you can do it on your own and we won't object, you can. But for that, you need extra hands and tools, such as a dolly to remove the heavier pieces.
So what should you do about your old furniture? You may be wondering, "Where can I dump my old furniture?" Or, "What do I do with my old furniture?" Well, Jiffy Junk is here to help you with this problem.
First of All: Should You Dispose of Your Old Furniture?
The average lifespan of a sofa, upholstered chair, or recliner is 7 to 15 years. A dining room table? Anywhere from 5 to 20 years, depending on its quality and materials. Coffee table? It ranges from 5 to 20 years as well.
But when do you know that it is time to get rid of old furniture? Some good ways to tell if you need to replace your sofa is if it's gotten noisy and uncomfortable, making you feel as if you are sinking into the seat when you sit down, it has noticeable fraying, holes in the fabric, or there is damage that can no longer be fixed. If you have a table that is wobbly and has unstable legs, or noticeable wear and tear, it's time to buy a new one.
Here are a few tips on what to do with unwanted furniture.
Choosing the Right Disposal Option for You
How to get rid of old furniture? Well, there are several ways. If you aren't on a time crunch to get the furniture out of your home, you could consider donating or selling it. These are great options for anyone who has extra time on their hands and wants to give back to the community or make a few extra bucks. Leaving it on the curb or dumping it in the nearest landfill are also some of the options you might want to consider.
We can take care of picking up old furniture for you, including moving it, recycling it, donating it, or disposing of it completely to make the process quick and easy!
Who Will Pick Up the Old Furniture?
If you cannot find a way to dispose of your old furniture yourself, then there are a few things you could do.
One is to check if your city offers large item pickup services. Many cities offer to help out their locals with the disposal and dumping of old furniture. Regulations vary from city to city, so check with your local city's website or call their office to verify the process.
You can also sell your old furniture and have the new owner pick it up from your home. You can also do this even if you are just giving the furniture away.
Donating to a charity is a great way to get rid of old furniture. There are charities that will offer to pick up the furniture from your home. Otherwise, you can drop it off at their location or hire movers to pick it up from your home and deliver it to the charity's location.
You can also drive it to the dump yourself. If you have a truck and you can organize and fit all the parts of the dismantled furniture in it then you can drive it throw away furniture yourself.
But the best option is to hire a professional junk removal service like Jiffy Junk, which specializes in old furniture disposal, so you won't have to do any heavy lifting.
Preparing an Old Couch for Disposal
When you want to dispose of an old couch or furniture, you need to take it apart for easy transport.
Here is a step-by-step guide on how to dismantle before dumping a couch. The ideas are basically the same for disposing of other furniture, though some may be harder to do.
Step 1: Remove the Cushions
The first step is removing the cushions, pillows, and all easily removable pieces from the couch and putting them to the side.
Step 2: Remove the Legs
Turn the furniture onto its back or side, so the legs are easily accessible, and then remove them.
Step 3: Remove the Upholstery
Removing the upholstery of your old couch is a necessary step. Before taking furniture to the dump, you will need to disassemble it and take the upholstery off allows you to see the frame of the couch and the fasteners that attach the arms to the base.
For this step, flip the sofa over so that its backside is upright. Remove the fabric or leather from the back using a heavy duty staple remover or a flathead screwdriver. Pull up the staples around the perimeter that holds down the upholstery, then pull the fabric or leather back until it's removed completely.
Step 4: Begin Dismantling the Wooden Frame
This might be the most time consuming step, depending on how your couch was manufactured.
Step 5: Prepare the Sofa for Disposal
Once you have taken apart the entire sofa, take inventory of all of the pieces to see if are any within the size requirements to be accepted by your municipality's recycling program or curbside service. For large and bulky pieces of furniture, rent a dumpster or call a junk removal service such as our team at Jiffy Junk to pick it up for you.
Why Old Furniture Should Be Disposed of Properly
Do you ever drive through and see old furniture lying around that road? Yeah, don't ever be that guy. That is not only bad for your environment and community but in some places its a finable offense.
If you have flame-resistant or lightweight furniture then they most probably are made of treated wood or other material that is hard to breakdown naturally. This is why you should never just dump them.
The cushions on your sofa are toxic to nature so finding a proper way to dump them is imperative. Never make compost out of particle board or composite wood as these have chemicals that will either kill the plants or make for a toxic garden.
If you are not careful, the harmful chemicals can get into your water or in your system in various ways. So, help out your community and your environment by disposing of your old furniture properly.

Throwing a Couch in a Dumpster?
At best they can handle couches that are broken down into several separate parts. So throwing away entire couches would cause more harm than good." places to dump furniture
Which Kind of Furniture Should You Dump in a Landfill?
More than 12 million tons of furniture waste is generated by Americans each year, according to the Environmental Protection Agency (EPA), with 80.2% of it ending up in a landfill. So, there is almost always a better option than dumping in a landfill, and with Jiffy Junk the process will be just as easy. To properly access contact your local landfill to determine how they take old furniture, if you need to dismantle it beforehand, and to ensure it takes furniture at all, as rules vary by each city and location.
What You Should Know Before Taking an Old Couch to a Dump
When it comes to furniture dumping, you need to do your homework before you dispose your old couch.
Landfills vary in terms of disposal rules, items they accept, and fees they charge, depending on individual regulations as these facilities are owned by different entities, such as private companies, the government (local, state, or federal), and individuals.
We recommend researching a few of the closest landfills near you to check which one will take your furniture in a way that is most convenient.
Pros and Cons of Disposing of Your Furniture in a Landfill
The use of landfills to get rid of furniture may seem like the cheapest, and easiest option, but most of your items can be just as easily recycled with the help from Jiffy Junk. It's not only better for the environment, but the majority of furniture is made up of valuable materials that are in need, such as wood, fabric, and leather.
Sell Your Old Furniture
Now, you may have no use for your old furniture but that doesn't mean that nobody else would either. Unless your furniture has some crazy bed bug infestation, there will always be people who will gladly take your old furniture from you.
You can try using Craigslist to sell your old furniture. When you post an ad for your old furniture, indicate a low price to attract buyers. You can also use Facebook Marketplace as it is also a great platform for reaching potential buyers for your old furniture.
Grab the Buyer's Attention
As we eluded to earlier you should always try to play on the psychology of the buyer. Make sure you put a price on the product so that they understand that it has value.
But remember you are selling old furniture so make sure you price competitively. Upselling things in this situation should be controlled.
Make Your Furniture Look Enticing
Seeing is believing. Buyers need to see the product before they can assess whether it's something worth buying. So, make sure that you take quality photos of your old furniture before you put up your ad. Without photos, the chances of your old furniture being sold are next to zero.
Add All Important Information to Your Listing
Customers online are pretty choosy. They look for every detail possible before making a decision to buy anything.
For this reason, when you list your ad for the old furniture you are disposing, make sure that you add all the important information, including the brand, when it was bought, and the materials it's made of. Presenting these details can influence a potential customer to buy your furniture.
Be Honest with Your Potential Buyer
This is a must. Most people who look at used furniture for sale are aware that it may have imperfections. And so, when someone inquires about the furniture you're selling, it is important that you tell them of any damage, such as stains, scratches, etc. This way, the buyer would see that you have integrity and would trust you, increasing your chances of making a sale.
Arrange for the Best Delivery Solution
Now this is not usually suggested but ensuring delivery to the buyer is a great way to make sure your furniture disappears.
But unless you have a ton of furniture to give away I don't think it will be worth your time.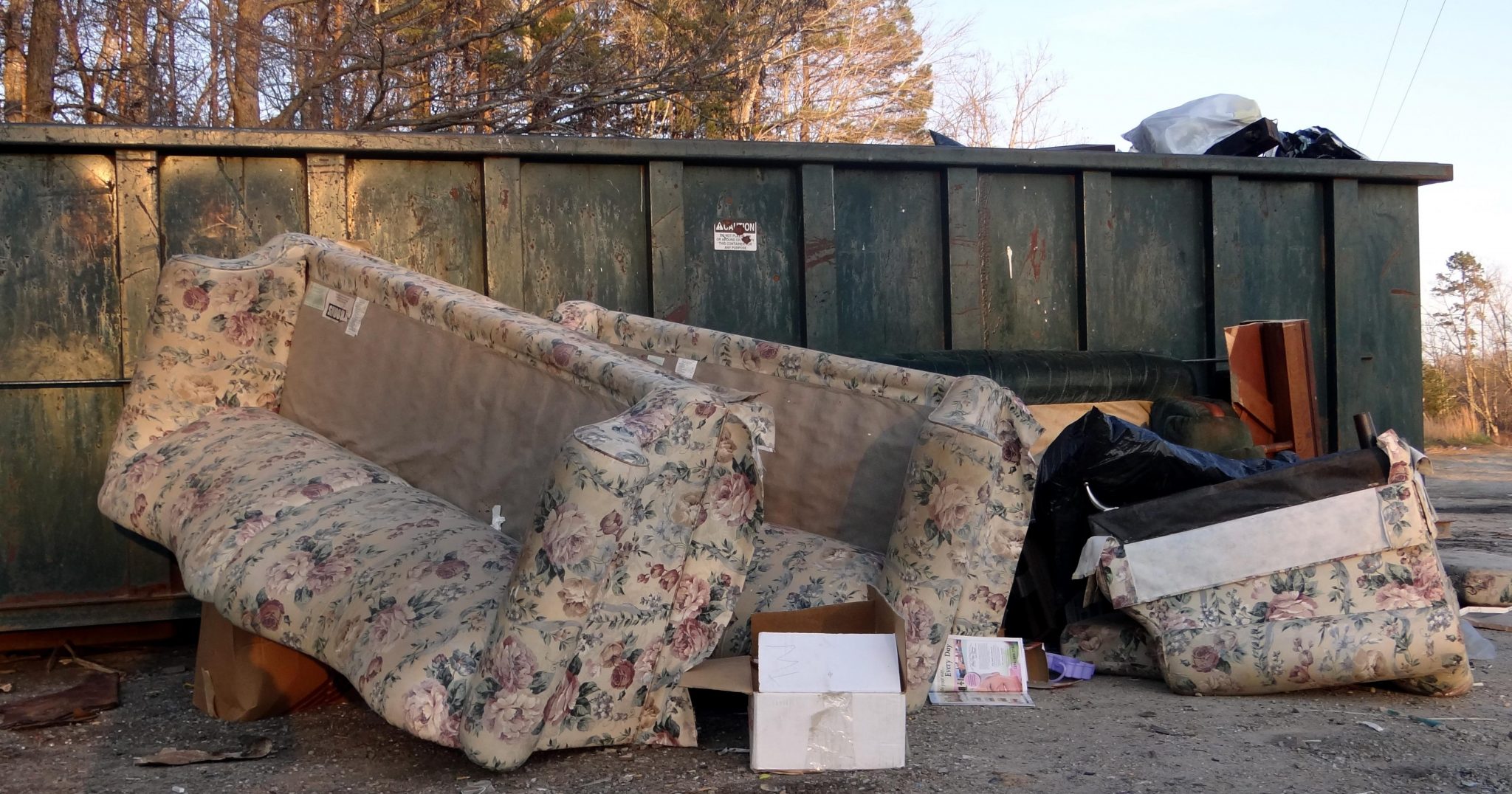 Donate Your Old Furniture
There are plenty of charities and organizations that will gladly take that old furniture that you are looking to dump out of your hands.
So this may be a good place to start. There is a way to make sure that your product gets sold online easily. So what do you do? The following are steps that will maximize your returns when trying to sell your old furniture online:
Check the Condition of Your Furniture
Your old furniture may look like trash to you, but a free piece of furniture could be life-changing for low-income families and those in need if it still has structure, balance and functionality. Post a free listing on Facebook Marketplace or Craigslist if you are ready to give it away to someone who in need or can make use of or fix and refabricate it to their desire.
Which Charity Should You Choose?
Furniture banks are always looking to take in old furniture that can be put into their new homes. Goodwill, Habitat for Humanity, Vietnam Veterans of America, AMVETS National Service Foundation, and Salvation Army are great options that have donation centers nationwide. Locally, there are plenty of organizations that need furniture donations, including homeless shelters, local women's and family shelters, schools, and community theatre groups. Do some research to find the most meaningful charities for you and give them a call.
Contact Jiffy Junk and Count on Us to Get the Job Done
Here at Jiffy Junk, not only do we provide professional junk removal and recycling services, we also offer competitive prices. For old furniture removal or to haul away any old items for donation and disposal, schedule a pickup with us by calling (844) 543-3966.
At Jiffy Junk, you have a few options when it comes to old furniture pick up: We offer roll-off dumpster rentals as well as one-step junk pick-up services. We will come to you to take any old items off your hands to drop-off at the right places to dump old furniture, recycling, and donating all items that can be reused or repurposed.

FAQs
How Do You Prepare an Old Couch for Disposal?
When you want to dispose of any couch or furniture you need to take them apart for easy transport. Can you take furniture to the dump as is? No, you need to dismantle this first.
Here is a step by step guide on dismantling a couch for disposal. The ideas are basically the same for other furniture disposal but some are harder to do.
The first step is to remove the cushions.
Secondly, you need to put the sofa on its back and start taking off its legs.
Then pick apart the upholstery with either a staple remover or screwdriver.
After that, you should slowly start dismantling the wooden frame.
And then you are done and the couch is ready for disposal.
Is Recycling Wood an Option?
It is, but it depends on the type of wood that was used in the furniture. You can recycle any wood that is untreated. Items that like these can be broken down to make compost or be recycled in many different ways.
But most furniture is made of treated wood which contain toxic chemicals and these cannot be recycled. You should be very careful when dumping old furniture made with treated wood.
If you have furniture that has been pressure treated, stained, painted or varnished then these are made from treated wood. Those made with particleboard and chipboard cannot be recycled as well. The best thing to do with this type of wood is to reuse it or dump in a landfill.
Can You Take a Couch to the Dump?
If you have large flatbed truck or are able to rent a moving truck like Jiffy Junk, then you can take your couch to a local dump site. Every landfill location has different hours of operation, rates, and protocols for dropping off an item, so be sure to call ahead or do the due diligence for the dump you've chosen so that you know what to expect and you don't get hit with extra fines or fees when you arrive.
Where Can I Dump a Couch?
The easiest way to dump or dispose of a couch is to schedule an appointment with Jiffy Junk. We will haul it away to be disposed of, donated, or taken to a recycling center for you quickly and easily.
How Much Does It Cost to Dump a Couch?
Jiffy Junk offers competitive pricing and will take care of every single step of the disposal, recycling, and transport process for you. Call us today at (844) 543-3966 or visit jiffyjunk.com/booking to schedule a free estimate.
Interested in

Getting Started?
Have a big cleanout job that needs to be done right away? Contact us today. We'll get rid of your junk in a jiffy!
What Our

Customers

Are Saying
Thousands of satisfied customers across America have shared their Jiffy Junk Experience.