A Jiffy Junk 15 yard dumpster is great for remodels and landscape cleanup. Delivery and pickup are included!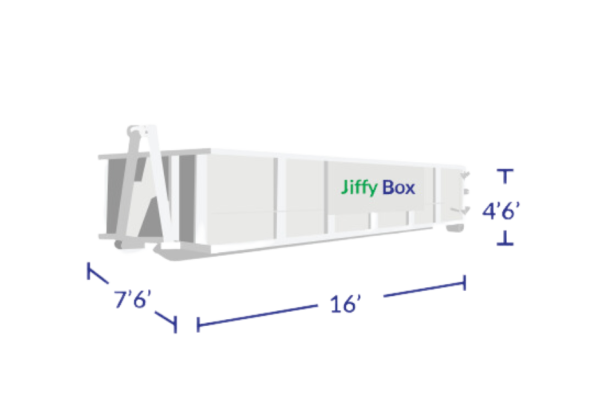 An Overview of Our

15 Yard Dumpsters
Our 15 yard roll off dumpster rentals are ready for your next project.
We always deliver and pick-up on time!


15 YARD DUMPSTER DIMENSIONS: 16 ft x 7.5 ft x 4.5 ft
CAPACITY: 80-100 Trash Bags
WEIGHT LIMIT: 2000 LBS Included
*Disclaimer: All dumpster dimensions may vary slightly but volume is accurate. Prices and availability are subject to change without notice.
Capacity estimates are based on the volume of a 33 gallon trash bag. 15 Yard Dumpster

Overview
15 Yard Dumpster Projects:
Landscaping cleanup
Room renovations
Attic cleanouts
Roofing repairs
Jiffy Junk can schedule your 15 yard dumpster rental drop off and pick up at your convenience. We've received many 5-star reviews from residential and commercial customers on projects of every size, and we'll give you 5-star customer service too!
What Goes Into a

15 Yard Dumpster
You can put non-hazardous waste from cleanouts and renovations in your 15 cubic yard dumpster. Some examples include:


Renovation Debris: old carpet, tiles, drywall, and roofing
Landscaping Waste: clippings, dirt, sand, branches, stumps
Household Clutter: furniture, mattresses, certain appliances, trash Why Rent

15 Yard Dumpsters from Jiffy Junk
We have extensive expertise in handling and recycling junk for residential and commercial customers. We have glowing reviews from customers who worked with Jiffy Junk on small and large projects, so you know you can rely on us for your 15 yard dumpster rental.
They call us Jiffy Junk for a reason. Give us a call and we can get a 15 yard dumpster to your site in a jiffy. When you're finished, we'll be there to take your debris away and dispose of it quickly, safely and legally.
When we quote you a 15 yard dumpster cost, we give you a transparent list of all fees. All estimates are free and there's no obligation, so get in touch and see what we can do for you. What Doesn't Go Into a

15 Yard Dumpster
Don't put these items in your 15 yard dumpster rental:


Hazardous Waste: chemicals, solvents, or paints.
E-Waste: computers, TVs, and any electronic item with batteries.
Appliances with Refrigerants: refrigerators, ac units, and freezers.
Other: rubber tires, concrete.
15 Yard Dumpster Rental

Questions
Get in touch with the Jiffy Junk team for all your 15 yard roll off dumpster questions.
What Makes

Jiffy Junk

Different
Interested in

Getting Started?
Have a big cleanout job that needs to be done right away? Contact us today. We'll get rid of your junk in a jiffy!
What Our

Customers

Are Saying
We deliver and pick up your 15 yard dumpster on-time. See what our clients have to say about our dumpster rental services.
Frequently Asked Questions
Jiffy Junk's 15 yard dumpster is 16' x 7.5' x 3.5 feet. With 15 cubic yards of space, it can hold 80 to 100 33-gallon trash bags or around 4.5 to 5 pick up truck loads. A 15 yard dumpster is good for medium residential and smaller commercial projects.
The 15 yard dumpster dimensions are 50% larger than a 10 yard dumpster. If you are not sure that a 10 yard dumpster will be enough for your needs, consider renting a 15 yard dumpster instead. A Jiffy Junk rep will give you an honest assessment of which rental size best suits your project needs.
We can provide you a Jiffy Junk dumpster for as long as you need it. When we give you a free quote for your project, we'll also provide the cost for extending your rental period. Call or contact us through our contact page and we can help make your project easier.
Given the 15 yard dumpster dimensions of 16' x 7.5 x 3.5, you should have no problem getting a mattress to fit. There may be additional fees for mattress disposal in your area, so check with your local Jiffy Junk representative to get an exact statement of those costs.
You don't want to run out of dumpster space in the middle of your project, but you also don't want to spend extra for a dumpster that's too big for your needs. 15 yard dumpsters are good for landscaping cleanup, renovations, and medium cleanouts. Talk to us to see which size works best for you.
15 yard dumpster rental prices will vary by location, but generally range from $500 to $1000 per week. At Jiffy Junk, our quote includes a breakdown of all costs, including local dumping fees, weight overages, and other items. We keep our pricing transparent so you don't get any nasty surprises.