Refrigerator Disposal Laws and Guidelines in NYC
 

What do you do when your old refrigerator finally kicks the bucket? It goes without saying that you'll need to replace it, but then you're still left to manage the disposal of your old one. Even if you're simply upgrading from an older model that still works, finding a destination for your discarded fridge can be a challenge. Heavy, bulky, and difficult to maneuver, refrigerators can be exceptionally difficult to dispose of.

In NYC, discarding any type of appliance containing non-flammable Chlorofluorocarbon gas (CFC—also known as Freon) like your old refrigerator would require that you call 311 or request an appointment online for the recovery of the CFC and pick-up for recycling of your fridge by the NYC Department of Sanitation or DSNY.

 

 
How to Know if You Should Dispose of an Old Fridge
 

The average lifespan of a refrigerator is around 12 years, depending on its quality, model, and if it has been in need of constant repairs. Some of the signs that you should be getting a new fridge are: you start seeing a lot of condensation or frost, your food goes bad way faster than it should, the motor is constantly running and it's loud, or the surface of the fridge is hot to the touch.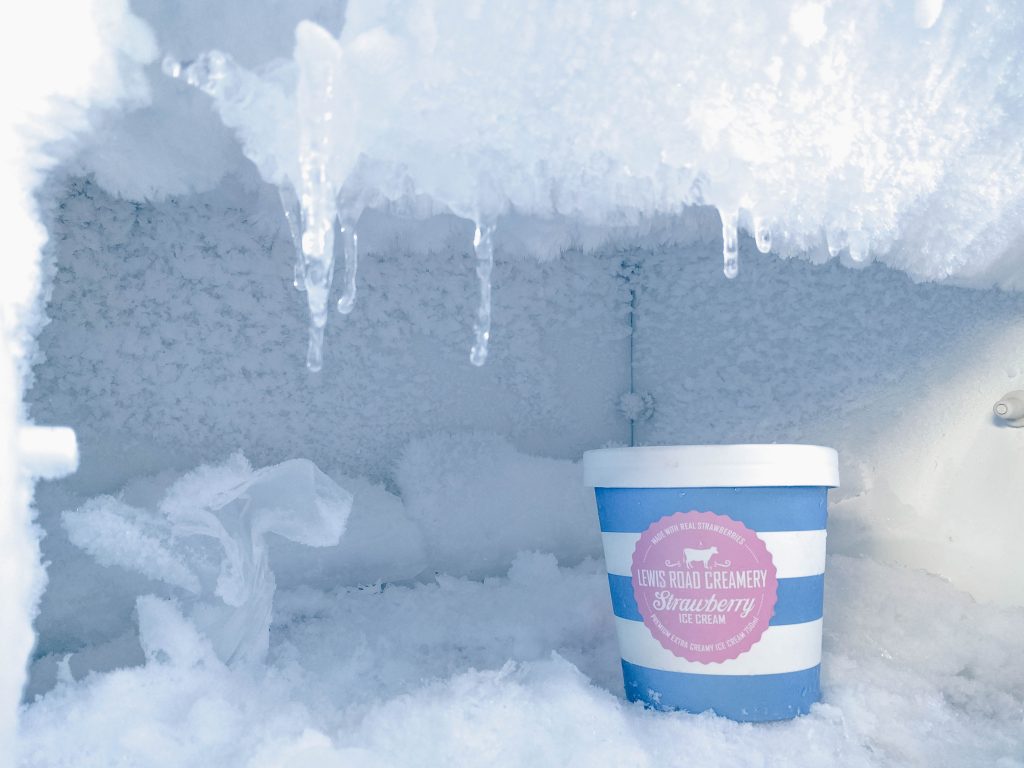 Refrigerator Disposal Laws and Guidelines in NYC
 

In NYC, there are regulations in place on how to get rid of old refrigerators properly. Owners should call 311 or schedule an appointment with DSNY online for the pick-up and recycling of this appliance. For safety reasons, DSNY requires owners to take doors off the refrigerator, as well as hinges and locks, before collection. CFC gases and Freon should also be removed. DSNY provides a free service for the recovery of CFCs and Freon.

 
Be Sure to Remove the Refrigerator Door Before Putting It on the Curbside
 

New York State law requires the removal of doors from refrigerators before disposal as a safety measure, particularly for children. Taking doors off refrigerators helps to prevent the entrapment and suffocation of children, who may be able to get inside an old fridge but unable to escape when the door automatically closes. Under the New York Penal Code, anyone who refuses to abide by the refrigerator door removal law will be charged with creating a hazard.

 
Environmental Concerns
 

Refrigerators may either contain chlorofluorocarbon (CFC) or hydrofluorocarbon (HFC) refrigerants. CFC is an ozone-depleting substance that, if released to the environment, destroys the ozone layer. HFC is ozone-friendly, however, like CFC, this is a potent greenhouse gas that contributes to global climate change. Refrigerators that are insulated with foam which contains ozone-depleting substances also contribute to ozone depletion and climate change. This is why it's important that these are removed by DSNY prior to recycling.

 
Foams
 

It wasn't until 2005 that refrigerators started being manufactured in a way that was climate and environmentally friendly. Refrigerators manufactured before 2005 used to be insulated with foam that contains ozone-depleting substances or ODS that contribute to both ozone depletion and climate change. This is why disposing of refrigerators should be done by professionals, such as DSNY personnel, to ensure that these substances are properly removed prior to the collection and recycling of old refrigerators.

 
Refrigerants
 

The improper handling of refrigerants when you remove an old fridge by yourself is hazardous to you and your family. These colorless liquids and gases are dangerous, sometimes life-threatening, and can lead to physical hazards. They can quickly lead to toxicity, flammability, and asphyxiation. Because of this, the United States Environmental Protection Agency (EPA) has strict regulations around the disposal of these appliances, so you can't just leave them out along with other garbage.

 
Other Hazardous Components
 

A household refrigerator contains many hazardous materials and chemicals, which is why removing refrigerants from your refrigerator should be done by a professional. Freon is a trademark that refers to several different refrigerants, including CFCs (chlorofluorocarbon) and HCFCs (hydrochlorofluorocarbon), which are slowly being phased out. Other hazardous components include polychlorinated biphenyls (PCBs), mercury (in the light bulbs), foam, and oil that has been used and contaminated with these chemicals and other ODS (ozone-depleting substances).

 
Don't Occupy Sidewalk Space
 

In NYC, you cannot simply leave your old refrigerator by the sidewalk. You are required to call 311 or request an appointment online on the DSNY site for the removal of the CFCs and tagging of the appliance for pick up. DSNY provides free curbside removal of refrigerators. Your fridge must be placed curbside for CFC recovery after 4:00 PM the evening before the CFC recovery appointment at the location where recycling is normally placed.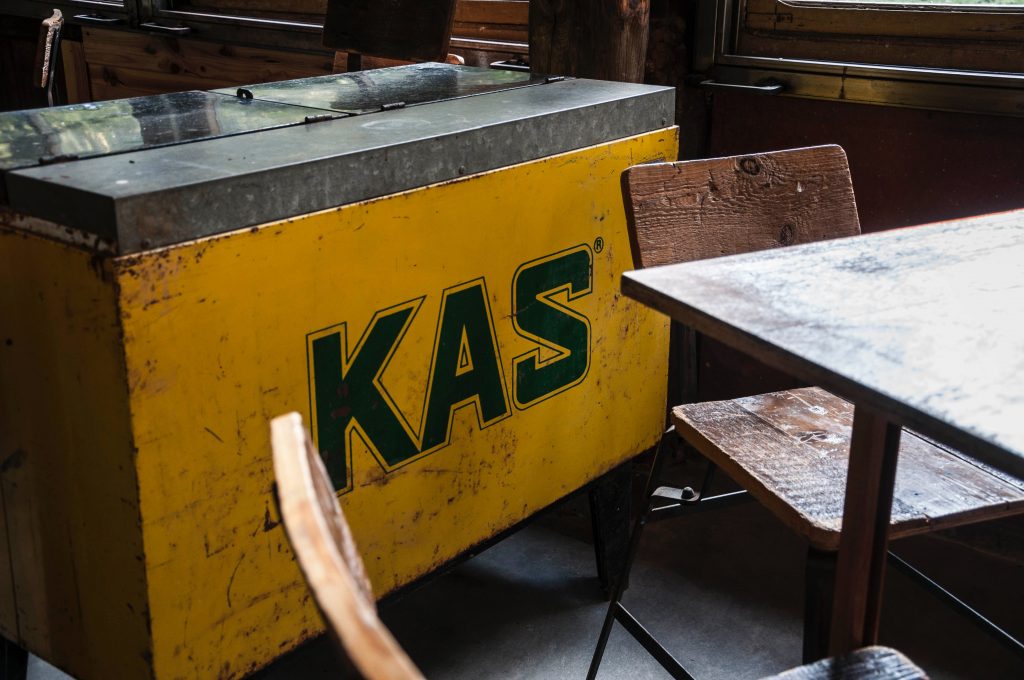 Why Should You Care About a Responsible Disposal
 

According to the EPA, about nine million refrigerators are tossed out by homeowners each year. Most of these contain ozone-depleting substances, such as CFCs which are potent greenhouse gases that accelerate the rate of climate change. Even newer refrigerators, which run on ozone-safe hydrofluorocarbon (HFC), should be properly disposed of because these are greenhouse gases.

If every homeowner knew how to throw away a fridge properly and followed the guidelines set by DSNY, we will be able to reduce energy consumption, save landfill space, allow for the reuse of valuable and durable materials, and save the ozone.

 
1: Avoid Releasing of ODS
 

It is illegal to release certain ozone-depleting substances (ODS) into the atmosphere, which is why you should dispose of your refrigerator properly. Reduced ozone levels result in decreased protection from the sun's rays and more exposure to ultraviolet B (UVB) radiation at the earth's surface.

Some of the adverse effects on human health include the development of non-melanoma skin cancer and cataracts. Moreover, the depletion of the ozone layer affects plants, marine ecosystems, and biogeochemical cycles.

 
2: Save Landfill Space
 

Following the NYC rules on the proper disposal of your old fridge is certainly beneficial as it helps to manage the city's waste in an environmentally responsible manner. When DSNY picks up your old refrigerator, it sends this for recycling, which reduces waste and conserves space in our landfills. The more we recycle, the more we reduce the need to build more landfills which take up valuable space and are a source of air and water pollution.

 
3: Reduce Your Household Consumption
 

When you replace an old refrigerator with one that has earned the government's Energy Star label, your household can look forward to saving roughly 700 kWh per year, which translates to $70 per year. You can also reduce energy demand if you have a second refrigerator in your basement or garage, saving you about 1,200 kWh per year, or roughly $120 per year. By reducing energy demand, you also help reduce emissions of greenhouse gases.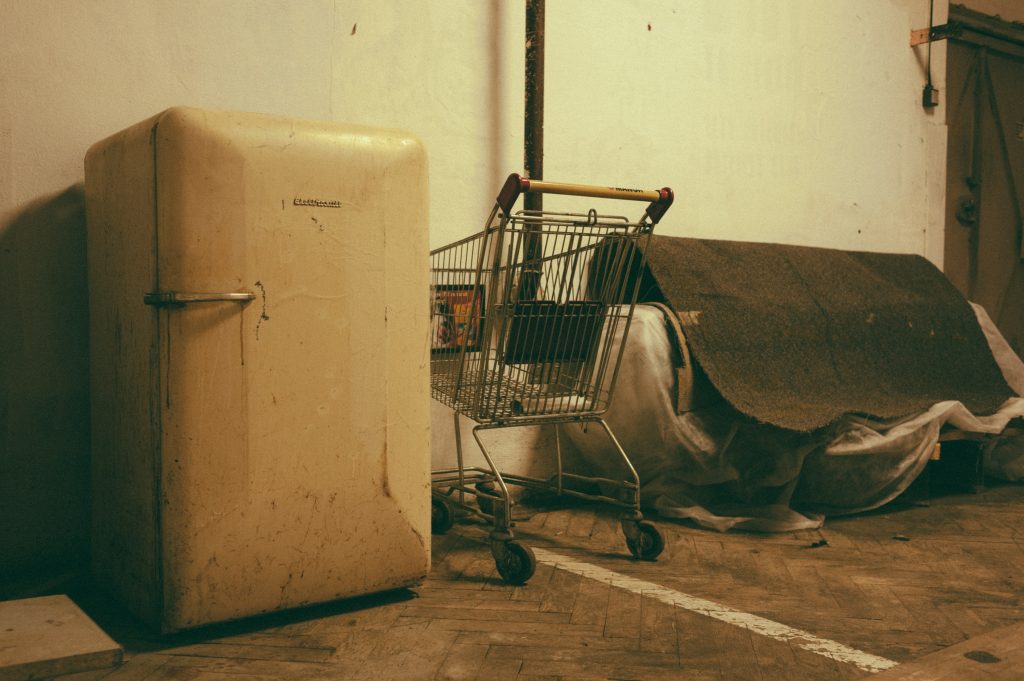 How to Dispose of a Refrigerator
 

To dispose of your old fridge, you need to call 311 or set an appointment online through the DSNY website. In NYC, the removal of harmful refrigerants like CFCs and HFCs is performed by DSNY. The city shoulders the refrigerant disposal cost. Before leaving your fridge by the curbside, make sure you remove its doors, hinges, and locks.

 
1) Contact an Appliance Removal Company
 

In NYC, DSNY typically handles the removal of old refrigerators and sends them for recycling. However, there are certain instances when sanitation cannot pick up refrigerators. For instance, if your fridge has a flammable warning sticker on it, you will need to contact the manufacturer or a waste removal vendor like Jiffy Junk to safely dispose of your appliance. Also, for refrigerators with the new type of Freon, DSNY will also not pick them up.

 
2) Remove All the Food Inside the Fridge
 

Before you leave your old refrigerator outside to be picked up by the Department of Sanitation, one of the things you need to do is take out all of the food and other items inside so that your fridge doesn't smell and attract pests, insects, or stray animals. Before DSNY comes to remove your refrigerator, you will need to remove the doors, locks, and hinges of your appliance. Leaving anything perishable inside would be unsanitary.

 
3) Unplug Your Fridge
 

Once you have taken all of the food, liquids, and other items from your old refrigerator, the next thing you will need to do is unplug it. Get a friend or family member to help you pull the refrigerator away from the wall so that you can unplug it and let it reach room temperature. Before doing so, be sure to check that every drawer or shelf in the fridge is empty.

 
4) Let it Defrost Before Moving the Fridge
 

At a minimum, defrosting a refrigerator could take about 8 hours, sometimes even longer. Don't move the fridge while it is still defrosting to avoid any leakage or water spills to your floor. You should give it a full day to get fully defrosted and allow the oils and fluids inside to settle. Take note that scrap yards will not be able to accept a fridge that has not been drained of the fluids.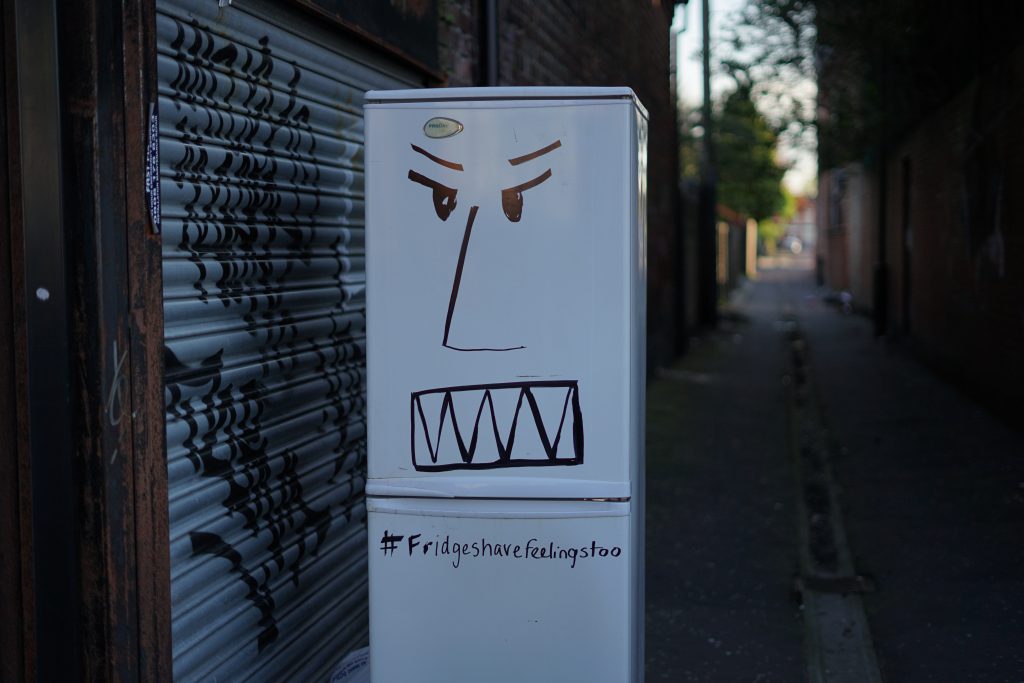 Other Disposal Options for Your Old Fridge
 

For disposing of your old fridge and other large items at home, call us. We can take the whole process off your plate in one visit. Our team is not only trained on the proper handling of old refrigerators, we are also experienced on other household items, like how to throw out a mattress.

 
1) Recycle Your Old Fridge
 

Did you know the average old refrigerator contains more than 120 pounds of recyclable steel? That's a valuable material that can be repurposed and reused. You can search for recycling programs and facilities in your area through the EPA's Responsible Appliance Disposal Program. There are also some landfills that have a recycling program. Simply get in touch with us and we will haul your old fridge away and safely send it for recycling.

 
2) Donate Your Fridge
 

If the reason you're disposing of your refrigerator is to upgrade to a newer model or a bigger fridge and the one you're letting go of is still in good condition, consider donating it so someone else or a family in need can benefit from your donation. Here are some of the places you can send it to:

• Habitat for Humanity ReStore

• Churches

• Thrift Stores

• Local Shelters

• Volunteers of America

• Local Salvation Army Office

 
3) Check for a Possible Manufacturer Trade In
 

One of the perks that manufacturers give their customers is a trade-in program. Instead of paying the full amount for a new refrigerator, you can trade in your old one for some credit and so you actually pay a discounted price. On the delivery day, they will remove your old fridge after unpacking, levelling, and connecting your new refrigerator. Some manufacturers do this for free while others may require a minimal haul away fee.

 
4) Contact Jiffy Junk to Handle All Heavy Lifting
 

If DSNY removal is not possible because of certain reasons, such as your refrigerator has a flammable warning sticker stating that your fridge contains a new kind of refrigerant called R600a, Jiffy Junk will help you safely dispose of this at no extra refrigerant disposal cost. Our technicians are well-trained to remove your old fridge, uninstalling it completely, and will even tidy up for you, leaving the space clean-swept and ready for the installation of your new appliance.

Call today: 844-543-3966.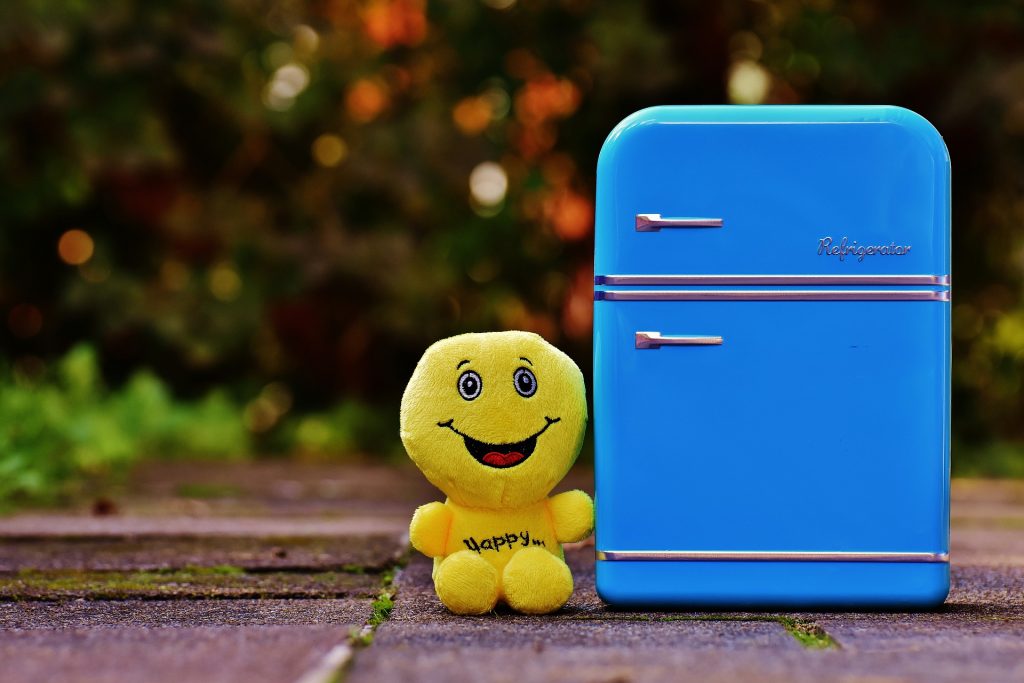 Frequently Asked Questions
Can You Take a Refrigerator to the Dump?
 

Most landfills and transfer stations accept refrigerators to be dumped for a cost. Before you get rid of your old fridge, you will need to remove all of its doors and drain it of all liquids and hazardous materials (i.e., refrigerants, mercury) first. Some landfills will take care of this for you. In case they don't, you can contact Jiffy Junk to pick up and dispose of your old fridge in an environmentally friendly manner.

 
Is it Illegal to Leave a Refrigerator Outside?
 

Yes. Under the New York Penal Code § 270.10, you will be charged with creating a hazard if you "discard in any place where it might attract children, a container which has a compartment of more than one and one-half cubic feet capacity and a door or lid which locks or fastens automatically when closed and which cannot easily be opened from the inside, and you fail to remove the door, lid, locking or fastening device."

 
How Much Does It Cost to Haul Away a Refrigerator?
 

If you're buying a new refrigerator from a big-box retailer, they may offer pick-up and recycling services for your older model. Be sure to look out for hidden fees, which may be greater than the cost of simply arranging your own pick-up privately. You can rely on Jiffy Junk to haul off your old fridge for you affordably, conveniently, and safely.
Interested in

Getting Started?
Have a big cleanout job that needs to be done right away? Contact us today. We'll get rid of your junk in a jiffy!
What Our

Customers

Are Saying
Thousands of satisfied customers across America have shared their Jiffy Junk Experience.