How to Save Cost on Estate Cleanout
An estate cleanout is definitely a daunting task. From furniture removal, appliances, household goods, and other items becomes challenging for the most part. This is due to the size of the average American household.
The average household here in the US is about 25,000 square feet and almost every single inch of the place is boarded up with belongings gathered over the years.
Don't worry. Jiffy Junk is here to guide you through the way. We have created an extensive list of things you should know about when planning an estate cleanout with professional services. So let's just dive into what you need to know
Contributing Factors for House Cleanout Cost
Size & volume of junk:

Larger items like furniture and appliances will require more labor and resources to remove, and will therefore increase the

clean out services pricing

.

Travel distance:

The farther the provider has to travel to reach the location of the cleanout, the higher the

estate cleanout services cost.

This may include additional fuel, labor, and time expenses.

Disposal costs for special or hazardous items:

Certain items, such as electronics or hazardous materials, may require special disposal methods and may result in additional costs.

Size of the provider: Larger companies may have more resources and therefore may be able to offer a lower price than smaller providers. However, smaller providers may have a more personalized service and may be more flexible in their house clean out prices and services offered.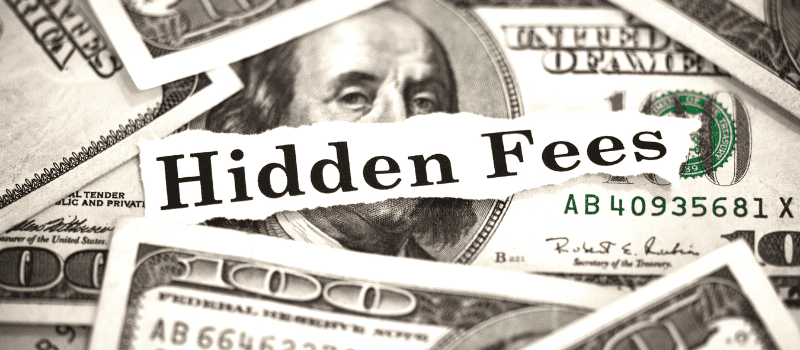 How Much Does an Estate Cleanout Cost on Average?
The average estate cleanout cost can vary widely, from a few hundred to several thousand dollars, depending on the scope of the task. Expect anywhere between $300 to $2000. Most jobs are on the lower end, but cleaning up a hoarder's estate can be more expensive.
The final price is determined by the time and labor required to complete the job. A job that takes one person half a day to load boxes onto a truck will be less expensive than one that requires multiple people to clean an entire estate.
At Jiffy Junk, we know that the cost factor can't be ignored. Many assume that all estate cleanout prices are high. However, our average cost of estate cleanout is one of the most affordable in the market. To make sure we don't over-promise, click here to schedule a free onsite estimate.
How to Save Cost on Estate Cleanouts
You should calculate the expenses and find out if you are more cost and time effective with or without the estate cleanout. When conducting an estate cleanout, you need to be agile in your execution because there are out of the pocket charges that tend to pile up with time.
Things like mortgages, taxes, repairs, maintenance, and house cleanout cost are some that you need to keep an eye out for. Now this all may seem a bit overwhelming to you but don't worry this post is here to introduce you to the wonders of estate cleanout benefits.
So let's see what some hidden charges you can incur when handling an estate cleanout:
So, you're in need of real estate cleanouts but still have plenty of memorabilia and other knick-knacks that you need to ship. Whether it is across town or across the country the shipping costs can become a great burden.
There are plenty of instances where the shipping costs were much more than the cost of goods being shipped. We know that the sentimental value of the products may not have a price tag but you should be looking thoroughly through the pile anyway.
See if you need everything available there and donate things that aren't really necessary or don't really hold any significant sentimental value for you. Shipping costs are a burden with many exceeding the capability of the receiver so have a clear plan for the payment as well.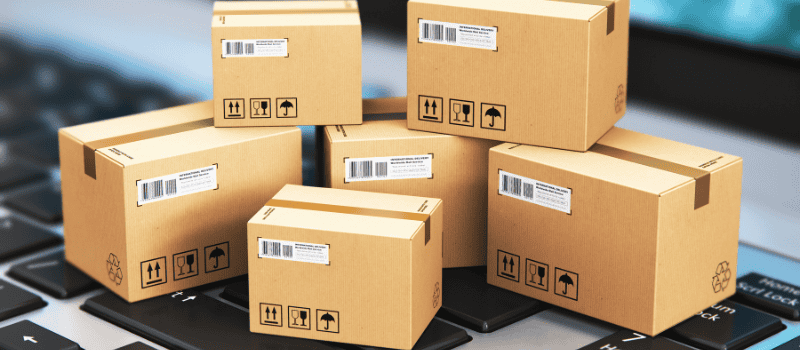 Say you have a loved one who has died and you have all their belongings. You don't want to sell for some reason. But it is also not possible for you to bring everything into your house.
So you decide you are going to rent a storage unit and store the additional goods there. Well, that would be a big mistake, to be honest. Depending on where you live, simple storage units with 10 X 20 dimensions the average cost of estate cleanout in this case will range from $100 to $300 a month.
Now how often are you going to need to opt for a storage cleanout? In our line of work, we have come across storage units that haven't been opened in two or more decades.
Donations seem like an easy thing to do, right? Well, that is not always the case. In our experience, we have seen people struggle with the amount of work they had to do to get a donation before an estate cleanout.
If you have old cars, firearms, and other specialty items the amount of paperwork involved is immense when declaring it as a donation.
Before donating the items, maybe it's a good idea to try selling them first. This way you don't have to run around and waste your time getting all the paperwork ready.
Now just find the charity in the wish and give them the proceeds from the sale. This is a more effective way of a donation than donating entire items especially if they require huge amounts of paperwork.
Ask Your Friends and Families
Now you can easily think about getting a few of your friends and family members together to organize an estate cleanup. You can do that but there are some factors you need to consider before jumping to this idea.
On average by our estimation, we have seen that it takes around 200-300 man-hours to do an estate cleanout of about 3000 square feet. Now that amounts to a lot of evenings and weekends that you need to put in with the band of volunteers you have gathered together.
Why This Might Not Be Such a Great Idea
Think about the time that you need to invest and your family needs to invest in this. Will you be able to take significant time away from work and other commitments? Will the volunteers be able to offer you the time required?
Find out how many hours you and your team of volunteers can give. Then you'll know how many days or months you will need to prepare for this house clean out project.
Also doing this may have prolonged carrying costs which can pile up with extensive work effort. This is why many people hire professional estate cleanout teams to finish the work within a few days.
Tips for A Swift and Affordable Estate Cleanout
If you are having an estate sale? Then you will need to have an estate cleanout done professionally. But before you go into handing your estate over to an estate liquidator, hear us out.
There are about 14,000 liquidators around the US. To be a competent liquidator you need to meet certain standards and most don't even have formal training. So before you hand your estate over take a look at some tips we have prepared for you: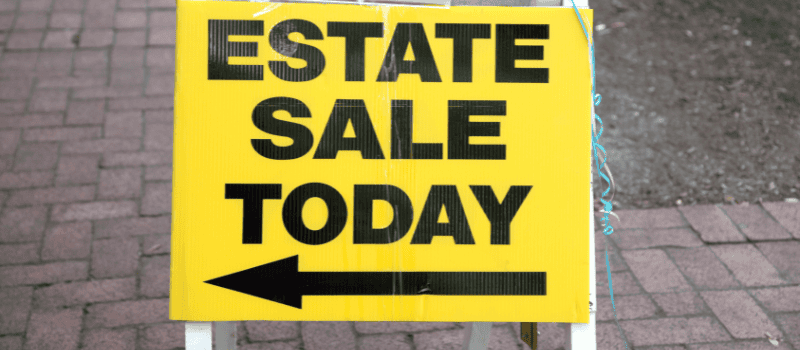 Before giving the estate over to a house cleaning company or perform a full estate cleanout make sure you arrange and set aside documents like any will, trusts and other related documents. Find the life insurance policies if there are any and statements, real estate deeds and titles. Check for recent bank statements if you cannot find any then obtain them from the bank. Also, get a hold of any stock certificates; 401(k) records; tax returns and receipts. These will come in handy if you have to file any returns on income tax.
Take Your Time to Go Through Everything
Often times people forget where they keep things. There have been plenty of instances where people have left valuable and important items within places in the house.
So make sure you go through everything including clothing, drawers, high shelves, every container, etc. well before the team arrive for the estate cleanup. Take your time with this and only when you completely feel that you have left nothing unturned, then hand the estate over.
So this is a tricky situation. If you have a long list of family members who are viable to claim items from the estate, you can ask them to convene at one place and hold a meeting before the estate cleanup.
Try creating a list of things and make sure that everyone gets a fair share. This way you can avoid disputes as more than one person can have claim over one single thing. You can also take help from outside mediators or take legal help to help you resolve the issues should they arise.
Store Photos & Memorabilia Separately
So photos and memorabilia are materialistically really cheap but the sentimental value they possess is beyond anything. Now for anyone else outside the family they will mean very less.
So before you hand over the estate to a junk removal or cleanout company make sure you take out every picture, scrapbooks, albums, etc. Basically anything of any sentimental value, remove them from the estate, make sure you store them safely.
The idea of the future generation being able to relate to the stories and experience is invaluable. Make sure when you are checking the house that you remove every tangible link to family members they may never meet.
Old clothes don't really have any resale value. Unless you have vintage clothing that is considered antiques. If you have any then you can go to Consignment shops and have the clothes checked.
That can be a source for a quick buck. You can also sell the vintage clothes on eBay or have a yard sale and sell them there. But it is highly recommended that you donate the clothes to help out the less fortunate.
This is a good way to honor the memory of a deceased family member if it is their estate you are cleaning out. You can simply talk to any charity that you like working with or any other charity that has ties to your family and provide them with the clothes.
Why Americans Need Estate Cleanout Services
Whenever someone is having an estate cleanout, it's because of one of four reasons.
Either they are:
downsizing and going through a major lifestyle change

someone has died in the family

a divorce or

they have crippling debt.
This makes for a large amount of downsizing in lifestyle for many households. None of these is a good thing so this usually happens when life takes a sad turn.
American's more often than not need estate cleanouts when the death in the family occurs. Say a grandma or a grandpa died and you are left with all their belongings.
What do you do with all the belongings they have acquired over their lifetime? What about the junk that had piled on? You obviously need to do some estate junk removal.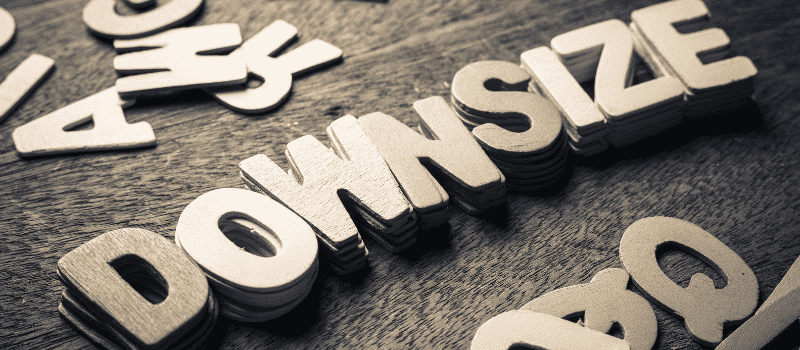 Now another reason is: a large part of the labor force is aging out. It's estimated that on average there are about 10,000 Americans turning 65. You may need estate cleanout due to a job change.
As a junk removal service, we're always ready to help with estate cleanout anywhere across the country. On top of that, there are plenty of households that need help with cleaning out their properties. They might be alone because of a separation or because they are too busy to actually carry out the job.
When to Hire Professional Service
Estate cleanout services are often needed during devastating times in life, such as unexpected foreclosures or the loss of a loved one. This makes full real estate cleanouts not only physically draining but emotionally overwhelming. We are here to help!
Our specialized estate cleanout will help guide you through the process to make it as easy and efficient as possible. We treat your items like they are our own, with attention to detail to ensure the only things removed from the home are the items you choose. We help sort through belongings, haul away what you don't want to keep, and leave the property clean and sanitized.
Ask our Expert for a Stress Free Estate Cleanout
There you go! Those are some important things that you need to know about before you plan an estate cleanout. Keep in mind that all the physical work is not only exhausting but can be risky if done through amateur hands. This is where professionals like Jiffy Junk come in. Our staff has ample experience in handling estate cleanout. We have taken great care into building a team that is punctual, patient, and respectful while treating your needs with the utmost care.
We have an extensive client-base for estate cleanout with the majority being landlords, attorneys, banks, and homeowners. With that being said we will draw the discussion to a close.
Interested in

Getting Started?
Have a big cleanout job that needs to be done right away? Contact us today. We'll get rid of your junk in a jiffy!
What Our

Customers

Are Saying
Thousands of satisfied customers across America have shared their Jiffy Junk Experience.