Some Tips On Getting Rid Of Your Old Couch
So, you bought a couch a few years ago and now you don't like it anymore and want to get rid of it. You find yourself asking this question: "How to get rid of a couch?" Well, there are a few different ways you can do it. You can sell it, donate it, or simply leave it out on the curb. But its best to get help from junk removal company.

There are a few factors to consider when deciding which way to dispose of your couch. Is it still in good condition? Do you need the money? Are you willing to give it away for free? Can it be easily placed outside?

If you are having a difficult time choosing how you'd like to get rid of your old couch, read on to learn more about your options.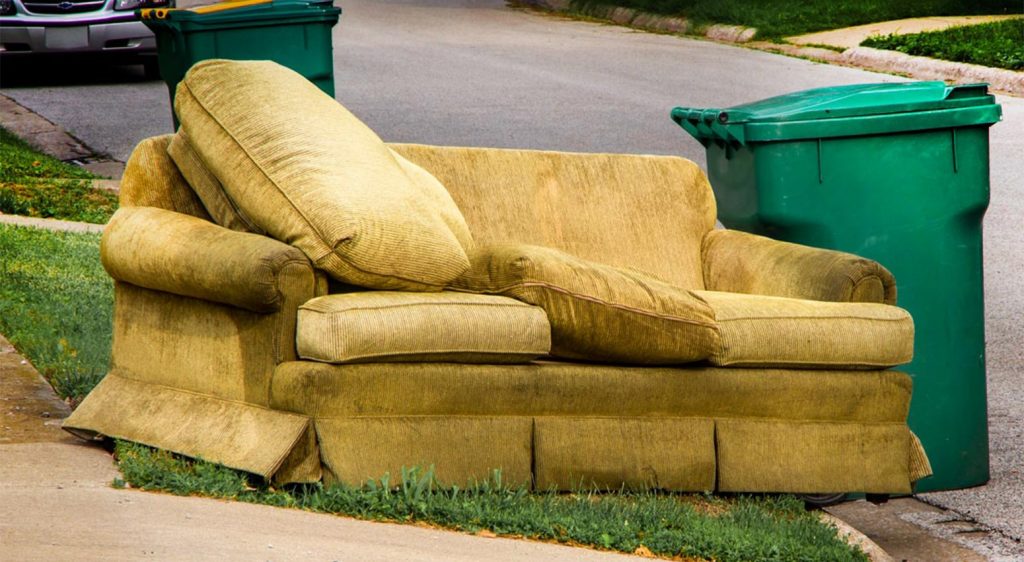 What to Do with an Old Couch
Is there a best way to get rid of a couch? Well, there's actually more than one:

If your couch is too worn out and is creaking as you sit or get up, then the best way to get rid of it is to simply have it taken to the landfill by a junk hauling company.

However, if your couch still looks good and provides comfort, then you might want to consider selling, trading, or donating it. Earning a few extra cash from selling your couch may seem enticing, but this may take some time, so this option may not be ideal if you are in a time crunch. If you are purchasing a new couch, check with the retailer if they offer a trade-in incentive. You can also check with local charities in your area and see if they are accepting couches.
How to Get Rid of a Couch for Free
One of the most convenient ways of disposing of a couch is by giving it to a furniture bank near you. Furniture Banks accept gently used furniture and redistribute these to the community. Aside from giving you the opportunity to bless others in need, furniture banks also help save the environment as they save tens of thousands of pieces of furniture from ending up in the landfill each year.

Oftentimes, Furniture Banks will pick up your sofa for free. There is a Furniture Bank in every area, so check out which one is closest to you and give them a call.
Where Can I Throw Away a Couch?
Local Waste Management
Find out if your city waste management facility offers furniture hauling away services and if there are any corresponding fees. Many cities within the states offer great options for disposing of a couch. Some cities even offer it for free. If so, then you can take advantage of this if your couch is beyond repair and simply put your old couch out on the curb on trash day and they will take it away for you.

Be sure to call or check the city's website for this information. You don't want to end up dragging your couch to the curb only to have to drag it back into your garage.
Scrap Yard
When thinking about where to dump your old, ripped couch, the first thing that might come to mind is landfills. However, couches and other pieces of furniture often contain harmful chemicals like varnish that may seep into the soil through landfills. So, no, dumping your couch in a landfill should not be an option.

Instead, send your couch to the scrap yard. Scrap yards may be willing to take your old couch from you and, if you deliver it to them, you may even get some money for it. You may also opt to have their personnel come and pick up your couch from your location, but you may have to pay a small fee.
Send It Curbside
If you are living in an urban area, then you can simply leave your old couch on the curb for other people to take away. This is usually done with mid-sized items, but you can try this option with your old couch as well.

Remember to put your couch on the curb only if you are in a high-traffic area. Otherwise, it will be hard to get rid of and it won't be a good idea to keep the couch on the road for days. Keep it there for a couple of days maximum and, if there are no takers, then try something else.
How to Sell a Couch
Want to make some extra cash? Try selling your old couch. The market for buying used furniture has exploded by 54% in the past five years, so it is getting increasingly popular and normal for best buyers on a budget or those who are looking for a specific style.
How Much to Sell a Couch For
In general, furniture, when it's resold, usually sells for around 20% to 30% of its original price. So, the easiest way to start is at 60% to 70% of its resale price. Then calculate your sale price by adding value based on the brand or the quality of the materials or deducting to this amount if there are any damages or discoloration, or if the style is outdated. Other factors to consider are the condition of the couch and how much it has depreciated since the year it was bought. If it is basically brand new, you will be able to sell it for a higher amount.
Where to Sell a Couch
There are plenty of options for selling your old couch online and locally. If you run an online search for "sell used couch near me," you are most likely going to see a myriad of used furniture stores, consignment shops, antique stores, and markets where you can offer your couch for sale.

You can also sell your couch online. Doing so can widen your reach beyond your neighborhood and may even increase your chances of closing a more profitable sale. Some of the best online platforms to sell used furniture are: Shopify, eBay, Craigslist, 1stdibs, and Facebook Marketplace.
Best Way to Sell a Couch
Garage Sale
Garage sales usually draw a lot of people and this provides ample opportunity for you to get rid of your old couch. While selling upholstered furniture on a garage or yard sale may seem impossible, it's not. However, whether the couch gets sold or not will depend on the condition of your old couch.

One of the best ways to determine whether your old couch will sell or not is to put yourself in the buyer's shoes. If you were going to buy a used couch, would you have bought yours? Remember, you should only consider selling your couch if it's good enough to be re-used.
Put It In A Rummage Sale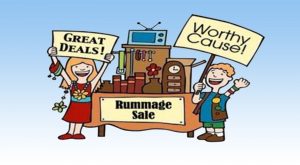 Churches, community centers, or schools often hold rummage sales to raise money for a charity or a special event. If the only item that you have to sell is your old couch, then consider this option.

Transporting the couch to the location of the rummage sale can be a bit of a hassle, but at least you don't have to organize an entire sale event. Simply take it to the venue and you will eventually find a buyer for your old couch.
Sell It Online
You can sell anything online nowadays, and there are plenty of different websites online that can help you get rid of your old couch. Try using various sites for maximum exposure. You can list your couch on Facebook Marketplace and eBay. These are really great places with a lot of potential buyers.

If you want your product to be sold fast, then offer free shipping so that people will be more inclined to get your couch. Remember to limit the offer locally, because you might end up spending too much on delivery if you extend this offer outside your city.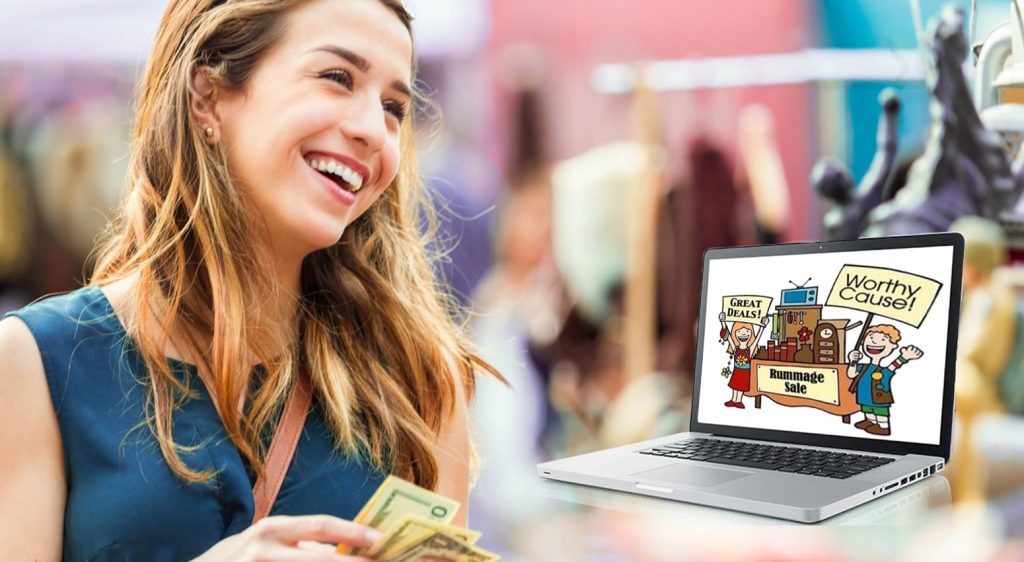 Best Places to Sell Your Furniture Online
Craigslist is one of the best places to start selling your furniture online because it's one of the most visited online classified sites. You can post your listings here for free and it will only take a few minutes to complete.

Facebook Marketplace is one of the best apps to sell your couch locally and it's free. All you have to do is list on your local buy and sell group page.

OfferUp is a free online classified app that promotes itself as the easiest way to buy and sell locally. It will only take a few minutes to upload pictures and type a description of what you're selling using your smartphone.
Old for New Trade-Ins
Since you are getting rid of your old couch, you are most probably getting a new one. There might be an opportunity to get rid of your old couch when you go to the store. There are plenty of stores that will offer you a dollar credit against the cost of the new furniture.

There are even stores that will help you haul away your couch as an incentive for the sale. And, if your couch is of good quality, then the furniture shops will be more interested in it as they may be able to resell the couch by sprucing it up a bit.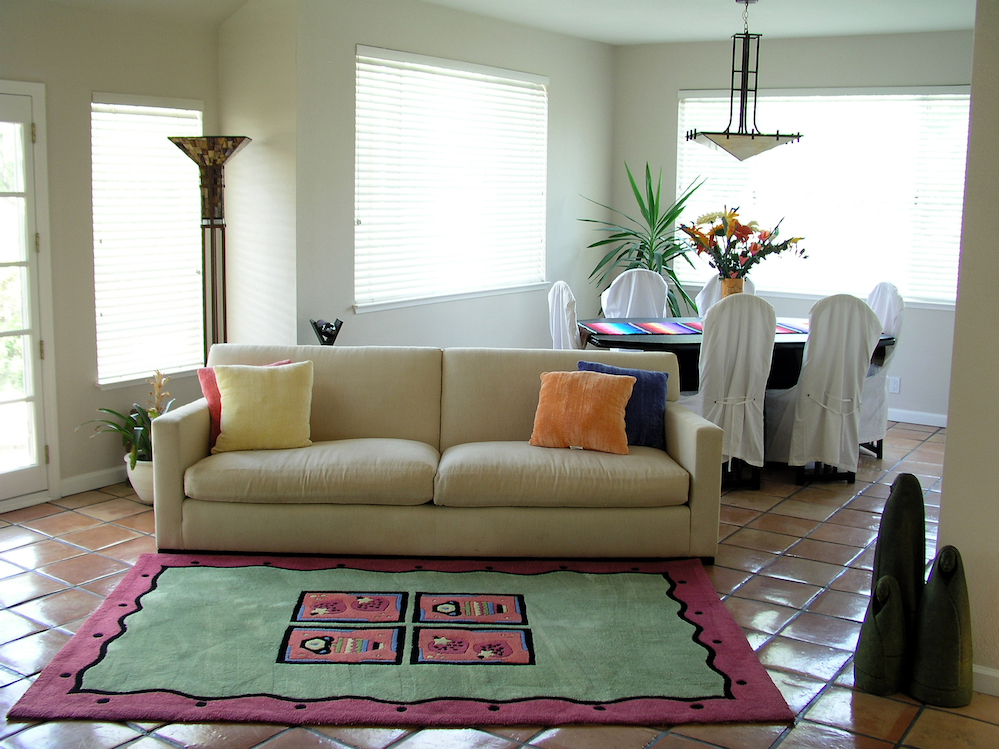 How to Donate a Couch
Donating a couch is one of the best ways to get rid of your old furniture. Before you look for an organization to give it to, check and make sure that your couch is still in good condition. You want to be able to make someone else and their family happy to have received your donation.

Once you have made sure that your couch is in good shape and can be used by another household, the next thing you need to do is ask around. You'll be surprised at how many from your circle of friends and family will be happy to adopt your old furniture.
Where to Donate a Couch
Before you set out to see what charitable institutions are near you, you might want to post on your Facebook or other social media accounts to see if anyone from your family or friends might want to adopt your old couch. Indicate in your caption the dimensions of your couch, how long it's been with you, and your reason for letting it go. If there are no takers in about a couple of days, then you might want to consider reaching out to charities or even college students who would need this piece of furniture in their dorm.
Donate Your Sofa to Charity
Check with the charity you love working with and see if they are willing to take your old couch. If they say yes, ask them if they will be the ones to pick up the couch and take this to their location. There are a lot of charities that will be glad to pick up the couch from your doorstep.

Furniture Banks are among the best places for you to donate your old couch. If there are Furniture Banks near you, contact them. They will happily come and pick up your old couch from you.

Additionally, you can check out your local homeless shelters, theaters, or schools. Oftentimes, they can be in need of furniture so you can consider donating a couch there as well.
Give Your Old Couch to College Students in Your Area
If you live in a college town, then this is the best option for donating a couch. Students are always looking for cheap or free furniture. You can use this to your advantage.

Just put up notices in public bulletin boards near the college and also start posting in online forums that cater to students. This way, you will reach a lot of students who will be willing to take your couch off your hands.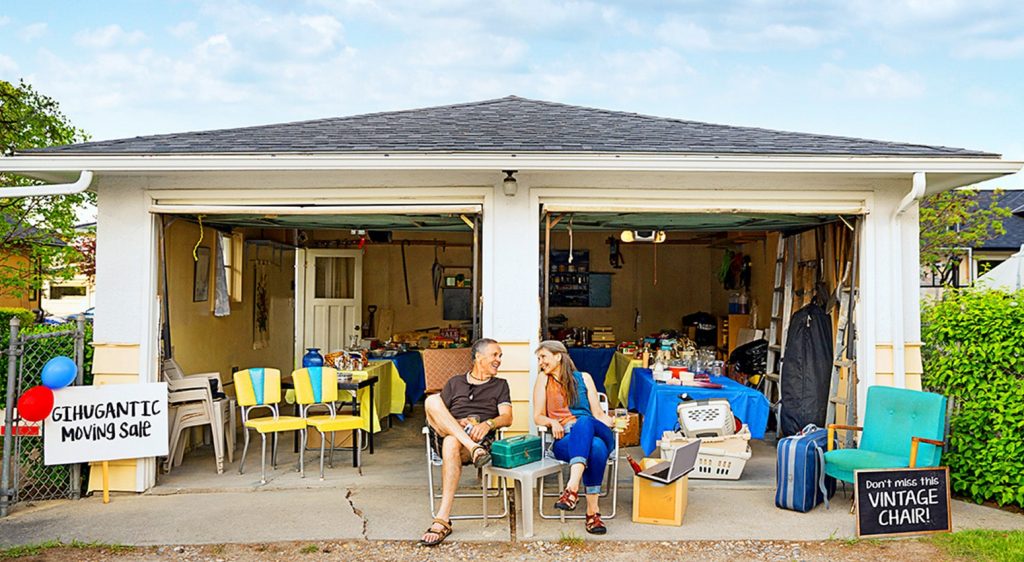 Check If You Can Fix It Before Donating or Selling
If you're considering donating or selling your old couch, this means that it's still in a good condition. Otherwise, you would have already called Jiffy Junk to take it to the recycling facility.

Before you contact a charity or create an account on an online marketplace, you might want to consider fixing your old sofa instead of getting rid of it and buying a new one. There are lots of online resources on how you can fix just about anything, including your couch. And it will even save you some money to opt to spruce up your sofa.
Is It Worth It to Repair a Couch?
Did you know that a removable, machine-washable sofa slipcover can work wonders for your couch? Maybe you won't have to dispose of your couch after all.

If your couch has several stain marks or some scratches caused by your pets and now it looks really old and unattractive, you can simply buy a slipcover and all this will magically disappear. And it won't cost you so much time, money, and energy. Another option is to patch up the damaged-looking parts with matching fabric.

For a couch that has lost its spring, you may want to consider having your sofa springs replaced or repaired. The cushions may also need to be restuffed and the exterior reupholstered. Assess the damage and compare the costs against buying a new couch.
How to Get Rid of Bedbugs in a Couch
Figuring out how to get rid of couch bugs is one of the biggest pains a homeowner can face. The first thing you need to do is get a hold of the infestation by removing the pieces of furniture that the pests have made their new home.

One of the ways you can get rid of bed bugs on your couch is to wash all removable items at the highest setting. This includes the cushions, couch covers, pillows, or belongings such as clothes that have been on your couch. When drying, crank it up to as high as possible so that the bugs aren't able to survive. Bed bugs usually die within 20 minutes once they reach 118° Fahrenheit. With the average dryer reaching typically 125° to 135°, that should take care of them.

Another option is with steam. Nearly all insects, including bed bugs, will die within minutes from exposure to hot steam. Steam is created once water reaches 212°F, so nearly two times the temperature will kill off another part of your leftover bed bug population.

If you don't want to deal with the infested furniture yourself, and just want it out of your home, we offer easy and efficient bed bug furniture removal to take care of it all for you.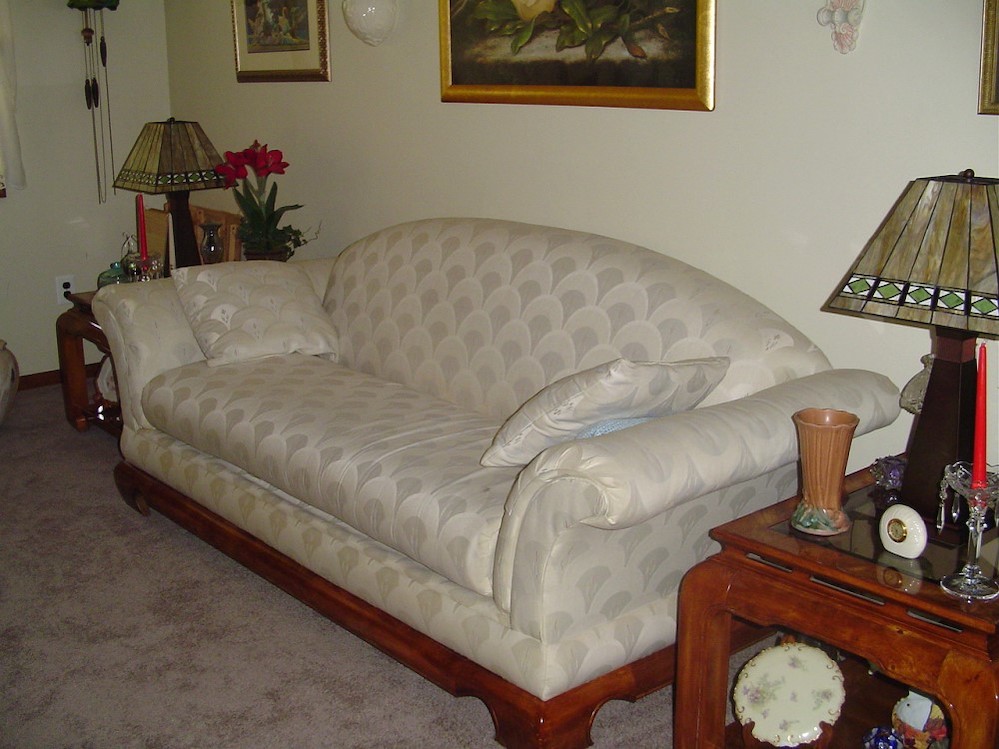 How to Fix a Ripped Couch
Before thinking of selling or donating a couch that has a rip or tear, you might want to consider fixing it first. Here's how to fix a rip in the fabric if you accidentally tear your sofa:

• Assess the damage to the ripped couch. This includes the size of the tear, any additional stretched-out fabric, and surrounding noticeable wear and tear. The smaller, the better and easier to fix when it comes to ripped fabric.

• For small tears, such as a slit or cut that have not created a large gaping hole in the fabric, start by turning the fabric inside out. From the inside, use a needle and thread or sewing machine to sew the area of the tear closed.

• For larger cuts and tears, you will need a fabric patch to fix the area properly and glue the tear back together. Local home improvement and furniture stores offer these in fabric patch kits that include the tools you need and fabric in a coordinating color.
Extra Tips: How to Get a Couch Through a Door
The best way to get a couch through your door is to pivot the couch slightly to an angle that fits well through the door and turn it slightly as you go. You will need a friend or family member to help you with this. Just make sure there is enough space in the surrounding area. If you aren't able to get it through the doorway, try taking off the door from its hinges and removing it, giving you several extra inches of space to work with.

If you still can't maneuver it through, here's what to do when your furniture does not fit through the door or the hallway.
Consider Disassembling the Couch
Dismantling a sofa is not the first thing you'd want to do when you're having a hard time fitting a couch through a doorway. However, when doing so is the only way you can get that furniture through, then you're left with no other choice but to disassemble it.

This process may seem daunting, but it's possible to take it apart yourself. Prepare the materials you'll need, including the following:
• Staple remover
• Flathead screwdriver
• Philip's head screwdriver
• Wrench or Allen wrench

Once you have these, then you are all set to start dismantling your couch.
How to Dismantle Sofa to Fit Through Door
When fitting a couch through a doorway is such a challenge, one of the ways you can get that furniture through is to disassemble it. Here's how:

• Remove the cushions and set them aside.
• Remove the legs by unscrewing them. Put the legs aside.
• With a staple remover or a flathead screwdriver, take off the sofa upholstery by pulling out the staples.
• Remove the upholstery so you can see the frame and the fasteners that attach the arms to the base.
• Using a flathead screwdriver, Philip's head screwdriver, wrench, or Allen wrench, remove the arms, leaving the upholstery intact.
• Remove the upholstery that attaches the seat to the back and unfasten the screws or bolts that hold them together.
How to Remove the Back of a Couch
All sofas and recliners come with the ability to remove the back for when buyers need to lift and move the heavy furniture, or when it is necessary for disposing of a couch. It is actually relatively simple to dismantle the back of a couch from the arms and seat of the sofa. Here's how:

• Pull up the upholstery from the back of the couch to reveal the inside of the couch. If this is too difficult to do on your own, you can use a utility knife.
• Look for the connection between the arms and bottom of the sofa, which typically has screws or tabs. Use a screwdriver to pull the screws out, twisting counterclockwise, or press down on the metal tab if it has them.
• Unscrew the screws by turning them counterclockwise. If your couch has metal tabs, press the metal tabs forward to unlock.
• Lift the back piece of the couch up off the bottom, sliding the whole piece upwards to dismount from the bottom of the sofa."
How to Remove the Back of a Recliner Couch
Moving a recliner sofa safely from one part of your home to another is as simple as taking out its back. Doing so will make it much easier to move the recliner couch and protect it from any damage. You can remove the back of a reclining sofa following these steps:

• Lift the recliner sofa on the front and look for the detachable back panel for the interior panels.
• Look for the Velcro strips or snaps that attach the fabric of the sofa to the framework of this foundation and unfasten them.
• Lift the exposed upholstered panel.
• Look for the metal lever around the trunk, the locking levers between the rear seams, the seam between the seats and center console of your reclining sofa, and the locking lever.
• Using a flat-head screwdriver, loosen every lever and raise it to discharge the back of the sofa.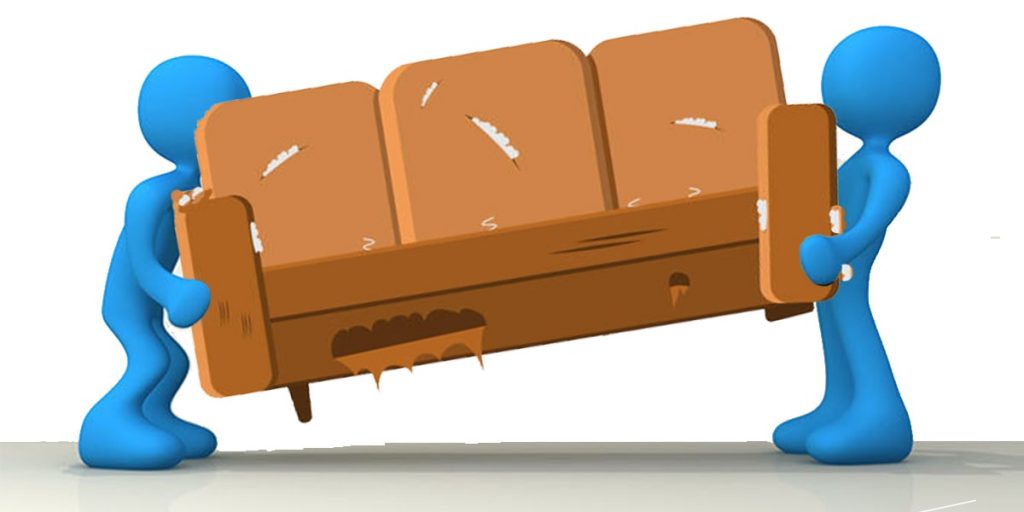 Final Note: How to Get Rid of a Couch Fast
There you have it, everything you need to know about disposing of your old couch is here. Whatever your preferences or circumstances here, this article shows you all your options on how to get rid of a couch.

And don't forget — if you need help hauling away your old sofa and sending it to a recycling facility or a scrap yard, all you need to do is give Jiffy Junk a shout! Our team of professional and friendly staff will do everything for you so you would not have to stress about your old couch.
Interested in

Getting Started?
Have a big cleanout job that needs to be done right away? Contact us today. We'll get rid of your junk in a jiffy!
What Our

Customers

Are Saying
Thousands of satisfied customers across America have shared their Jiffy Junk Experience.