Jiffy Junk will take care of the lifting and remove your junk in a Jiffy. We provide professional junk removal in Westchester NY.
It's easy to think Westchester junk removal isn't needed or doesn't happen when you see the well-manicured acres
of the Lyndhurst Estate or terraced-gardens of Kykuit. The opposite, of course, is true. Even the most majestic estates
require removal of the outdated, the worn out, and the broken. That is a normal part of maintaining their elegance.
Get Rid of Your Junk in a Jiffy
We here at Jiffy Junk consider every junk removal in Westchester County of utmost importance and we will be there to pick up the junk. No matter how big or small the job, whether it's picking up junk from a suburban house, a studio apartment, a downtown office space, or an estate home, we can clear it all.
Subscribe today so you'll never miss a reward.
The best junk removal service in the US. Let our local team haul away your junk!
Get the limited reward now

Exceptional Junk Removal Service
Responsible Westchester property owners hire Jiffy Junk for other reasons too. With Jiffy Junk, you can count on us to dispose of your items in sufficient manners. If items can be re-used, they will be delivered to charitable donation sites. Many materials can be recycled. Jiffy Junk saves you the time of sorting through recyclables and finding the proper drop sites for each material. We do it for you.
We'll remove almost anything you can think of, including*:
Interested in Getting Started?
Have a big cleanout job that needs to be done right away? Contact us today.
We'll get rid of your junk in a jiffy!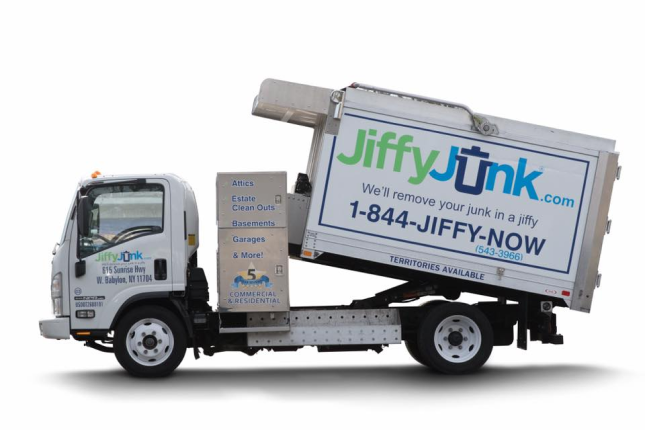 Eco-Friendly Junk Removal Services In Westchester
Now if you need more evidence that Jiffy Junk is the best junk removal service in Westchester then know that
we even offer eco-friendly junk removal because we have a duty to our community. 
Eco-friendly Junk removal doesn't have to be a messy business. At Jiffy Junk, our Westchester customers
appreciate our attention to detail and our respectful treatment of their property. Each of our team members is carefully trained
to provide the Jiffy Junk white glove treatment. You can expect us to pick up your used furniture, old appliances,
yard waste or other items needing to be hauled away without a trace that we had been there.
Efficient Westchester Junk Removal
Conveniently schedule your junk pick up online through our website or give us a call.
We can help with a long list of junk removal services, like:
• Estate cleanout
• Yard waste
• Remodel debris
• Eviction cleanups
• Boat removal
• Construction debris
• Basement cleanout
• Furniture removal
• Office electronics
• Storage cleanout
Whether you have one item or a large accumulation of items, we have the equipment
and service personnel to do the job quickly and do it right.
Jiffy Junk services all the communities in Westchester County, NY, including Yonkers, White Plains,
New Rochelle, Mount Vernon and all the towns and villages in between.
Call us today to get a quote on your junk removal needs.