How to Help a Hoarder to Clean Their House
Just imagine a house that's full to the brim with boxes, many untouched for years. It is not just ordinary clutter of everyday living which you can readily organize once the weekend comes. In fact, this hoarded junk is more severe because it can adversely impact your quality of life, result in physical injuries, alienate your family, and so much more. And we have seen this situation many times when we help, families with a resident hoarder get rid of their accumulated belongings.

An individual who has a hoarding disorder feels a compulsion to save massive amounts of items, whether they are needed or not. As a result, it leads to clutter and chaos, often causing both physical and mental duress. Hoarders have no more safe spaces to move because they are literally packed with junk that also serves as fire hazards. These hoarded belongings accumulate dust mites and other pests. If you or a family member suffers from this, take note of these decluttering tips for hoarders.
What Exactly Is Hoarding
Do you feel upset and anxious when you have to discard old newspapers, letters, clothes, etc? You constantly second-guess and agonize over throwing things because what IF you need them someday. The pile of junk just keeps growing, making it difficult to move around. Your family members feel embarrassed to invite friends over.

Don't wait for things to escalate into horrible fights that result in separation. If you feel anxious and don't know what to do, seek professional intervention. Our estate cleanout services will come in handy because we have no emotional attachments to your belongings.

Our team will implement the best clean up practices in going through someone else's items. We also use advanced tools to get the job done in a jiffy. We truly live up to our name! As such, we can readily discard invaluable items that weigh down your life. It is time to unburden yourself from useless material possessions that threaten to destroy your relationships and mental health.
Clutter vs Hoarding
On the surface, clutter vs hoarding may look similar because they are both messy. However, there is a big difference between them. Clutter is the result of general untidiness. The mess can happen because of a busy work day, so you have little time for chores.

In contrast, hoarding is more serious. The mess is a result when someone suffers from a hoarding disorder, a mental health problem. Hoarders feel a compulsion to save many things, whether they have worth or not. It may be present on its own, or it could also be a symptom of another disorder like OCD or obsessive compulsive disorder or depression.
Hoarder Cleaning Checklist
If you find yourself collecting items with no use and have trouble discarding junk, take note of our decluttering tips for hoarders. Your behavior can have serious deleterious effects on the emotional, mental, social, and financial health of people you live with. Thus, it is important to know how to clean a hoarders house before your home situation reaches a point of no return.

Ready to tackle this task? If you don't know where to start, you can take advantage of our hoarder cleaning services. But if that makes you anxious and you want to sort your stuff out on your own, just be prepared for the herculean task ahead. It is not easy to sift through years of accumulated junk. You need guidance so you don't stress yourself out needlessly. Here is a checklist of items to consider when tackling a hoarding cleanup.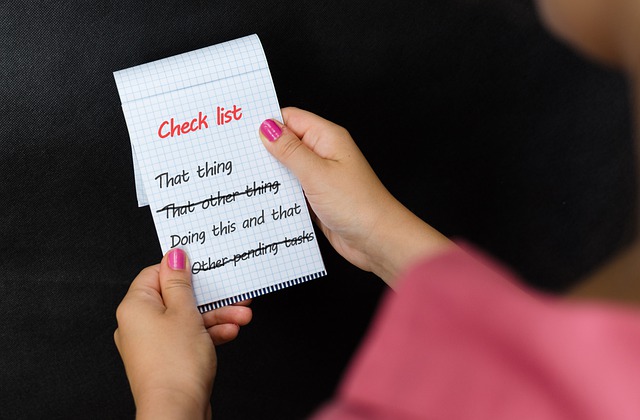 1: Identify the Severity of the Problem
In our experience helping many families cleanup with our hoarder cleaning services, we've noticed that hoarders are not the same. They can be classified in terms of the severity of the problem. Some hoarders keep their junk isolated in just one part of the house, like the attic, basement, or garage. However, other's infiltrate the whole house with their junk. If you can't help but utter: "I need help cleaning and organizing my house!," consider calling our team for assistance.
How much garbage is there?
Are your things piled up with no rhyme or reason? Do you have numerous boxes but you have no idea what's inside? Does your stuff make you feel stressed out but you don't know what to do with them?

You need intervention before you get buried under a pile of junk. We kid you not! We've seen many houses where it took us many weeks to organize the space because there was too much junk with hardly any room to walk. It is a herculean task to get the home back on track. Hence, you must take these decluttering tips for hoarders to heart before your mess takes over your life.
What kind of items does the person hoards
If you are researching cleaning tips for hoarders, good for you because this exemplifies that you are ready to make a drastic change to organize your life. Those who have a tendency to hoard collect all sorts of items, regardless of value. They are different from avid collectors who keep valuable items organized and accounted for like baseball cards, coins, or stamps. Hoarders commonly stash a wide array of items such as the following:
Newspapers
Magazines
Empty boxes
Papers
Plastic bags
Photos
Household supplies
Canned food
Broken appliances
Wires
Old shoes
Journals
Toys
Old furniture
Hire professionals to help with the heavy lifting
Even though you have a hoarder cleaning checklist, it can feel impossible to clean up all the mess you've gathered throughout the years. How do you tidy up your house in a few days when you turned a blind eye for several years? Looking at boxes and piles of stuff can feel daunting. You may even feel worn out before starting the project. Even if your family commits to help, it may seem like a never-ending project. But fret not because you can hire a professional waste disposal company like our team at Jiffy Junk. We have the knowledge, experience, skills, and tools to get your hoarded junk cleaned in a jiffy!
2: Create a Roadmap
Failure to plan is planning to fail. Hence, you need to create a strategy to guide you. Before booking our decluttering services, find the root cause of your problem. Are you hoarding to a void or do you have undiagnosed OCD?

Next, create a time table. You don't have to get the whole house cleaned in one day. Instead, follow our Top Decluttering Tips and tackle it per room so it doesn't feel like a chore. You can rent out our bins to sort your things. Pick what to keep, donate, and sell. Remember, when you accomplish mini-goals, you will feel more motivated to continue.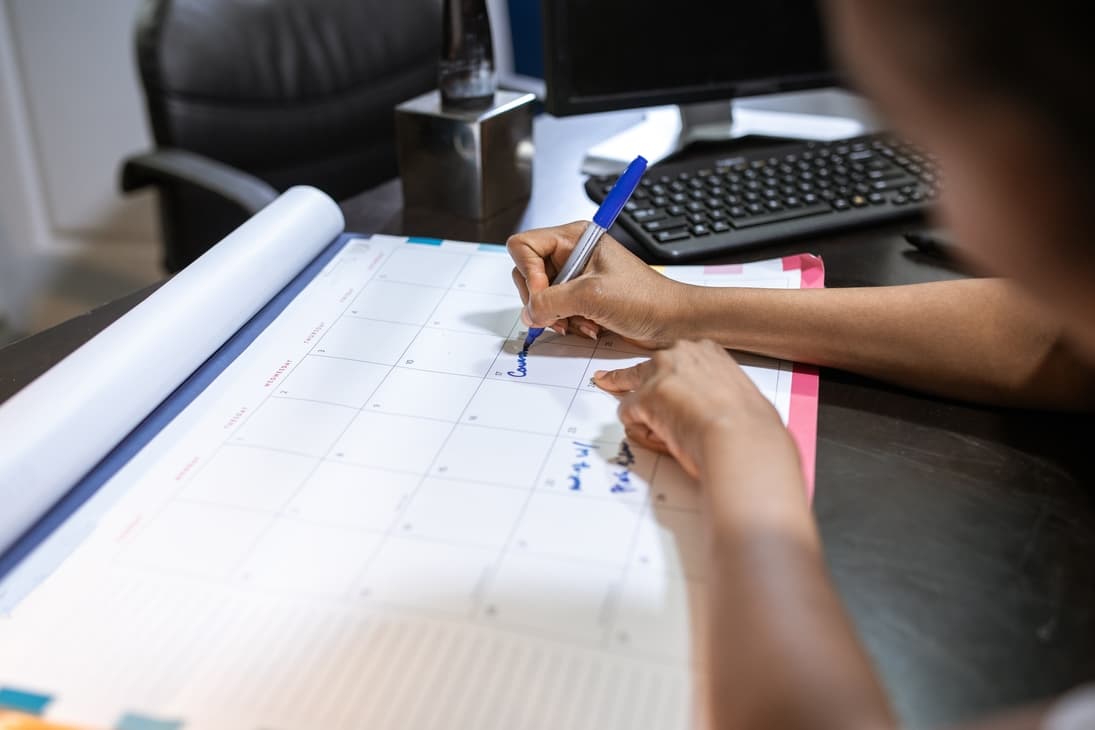 3: Have Your Tools Available
Our full decluttering services means you don't have to lift a finger. We will do all the work on your behalf. As a result, you will feel no pressure as we do the cleaning and sorting on your behalf. However, if you can't bear to part with your precious belongings without taking a final peek and saying goodbye, you must have the items in our Cleaning supplies list on hand. This approach gives you freedom on what to store, donate, or sell. Make sure you have the following ready for the days you do your cleaning:
Trashbags
You can't clean hoarded stuff without trash bins for your discarded junk. Remember, be strong enough to let go of things that no longer serve a purpose. If you haven't used them in years, chances are you won't use them anymore. Use the bags for items that you want to throw. Make it a point to let go of broken gadgets, unused toys, clothes with holes, old newspapers, magazines, etc. Anything with little to no value must be let go.
Mops and buckets
One of the best decluttering tips for hoarders is to get a new mop. This will make you feel inspired to keep your room squeaky clean and fresh all year long. Get the matching buckets ready because there will be a mountain of dust waiting for you. People often underestimate the amount of dust. But we speak from experience when we tell you to prepare for the worst. Dust can be vicious so wear goggles and a mask, too.
Vacuum cleaner
No cleaning project will ever be complete without a trusty vacuum cleaner. Prepare several disposable dust bags because you will probably replace the receptacle several times. If your home has not been cleaned for a long time, there will be dust particles, debris, and mites. Consider renting a commercial steam cleaner that can perform a truly deep clean to sanitize your home. You can ask us for assistance if you need guidance.
Disinfectants
Have store bought disinfectants on standby to kill any germs, bacteria, viruses, or other parasites. If you are wondering how to organize years of paperwork and how to keep a house clean, you won't achieve your goal until you've thoroughly sanitized and disinfected the whole place. If you want something less toxic, you can make your own cleaner with equal parts of water, vinegar, and baking soda. You can also add a squeeze of lemon for a natural, fresh scent.
Empty Boxes or Any Other Empty Containers
Ensure you have empty bins on hand for easy sorting. You can rent large bins from us if you don't want full decluttering services. Stand your ground and remain firm as you sort through your things. Discard anything that you haven't used in the last 6 months. You need the empty bins for making piles for donation, selling, recycling, or discarding. Remember, at the end of your project you should only have a few items on your "to keep" bin.
Protection Gear
When working on hoarder cleanup, it is vital to wear protective clothing, plus safety goggles, masks, and gloves, because you will be upsetting years of accumulated dirt and dust. Don't attempt to handle anything without proper preparation. Remember, you may also encounter biohazard materials coming from pests that have made nests and colonies within the junk. Without protective equipment, you can end up handling contaminated material. Bacteria, viruses, and germs transmitted through animal waste can cause respiratory complications or infections. Worst of all, exposure to toxins can have long-term health effects on you and your family. Gear up and suit up before tackling the piles of junk.
4: Lookout For Hazardous Elements
Remember to be on the lookout for hazardous materials. With years of neglect, you have to be prepared by wearing protective gear like goggles, face mask, and gloves. You can encounter animal feces, rotting food, colonies of pests, rodents, etc. It is best to be prepared when you start sorting your things because you will disturb whatever critter is living amidst all the mess. You must also keep an eye out for harmful chemicals like gasoline, paint, and other chemicals.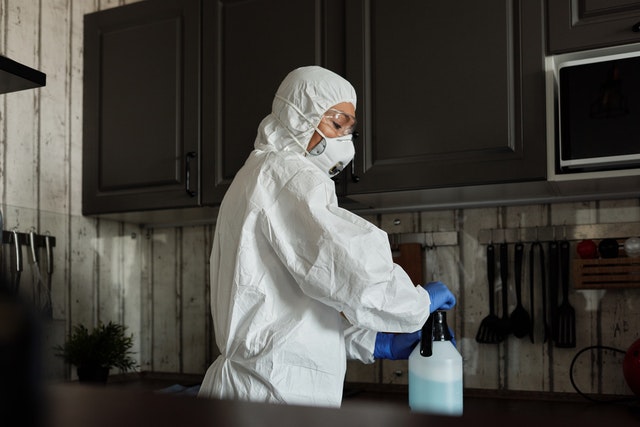 5: Pay Attention to the House's Structure
If you don't take advantage of our full estate cleanout services, follow the hoarding cleaning plan so you don't feel overwhelmed. As you go through each room of the house, pay attention to any plumbing leaks. There could be visible wetness or other signs like bubbling paint, warp wood, or drooping ceilings. Also keep an eye out for electrical issues such as discolored outlets, faulty switches, or broken receptacles. Watch out for unstable pillars too as it can affect the foundation.
Basements
Not all basement wall or floor cracks are serious. Some are normal due to subtle ground movement over time. However, when load bearing structures have cracks, you need to pay attention because your whole house can cave. Other signs of issues include, sticking doors, cracked windows, mud tubes where subterranean termites may infiltrate, bouncy floors, and damages on the basement's ceiling. All these are no longer cosmetic issues that signify a deeper problem.
Staircases
One of the major decluttering tips for hoarders focuses on the stairs. Why? Because it is common for most hoarders to keep piles of things on the stairs, too. This means your staircase has borne a lot of weight throughout the years. As a result, the integrity of your staircase may be compromised. Watch out for the following hazards:
Powdery deposits coming from the wood
Creaking stairs showing loose joints
Weight Management
Damage spindles and balustrades
Worn out nosings on the front treads
Damp Floor
Floors can suffer from moisture ingress and penetration leading to damage. If it seeps through wooden floors, it can warp the wood. It can also result in a mold and mildew infestation because they love a moist environment. Damp floors can also cause the concrete to crack or loosen up tiles. If the water penetrates deeper, it can lead to cracks in your foundation. If you've left your floors neglected because of your clutter, find the source of moisture, repair it, and thoroughly dry the floors.
Post-Cleaning Habits to Prevent Future Mess
Attempting to clean a hoarder's home in one go is a recipe for disaster. That's impossible to do and you may quit even before you gain any traction. The key to success is to divide the task into smaller increments. Cleaning the whole home may seem like a "mission impossible!" However, breaking down your cleaning chore by room makes it less daunting and more manageable. So make plans to spring clean per room, giving yourself ample time based on its size.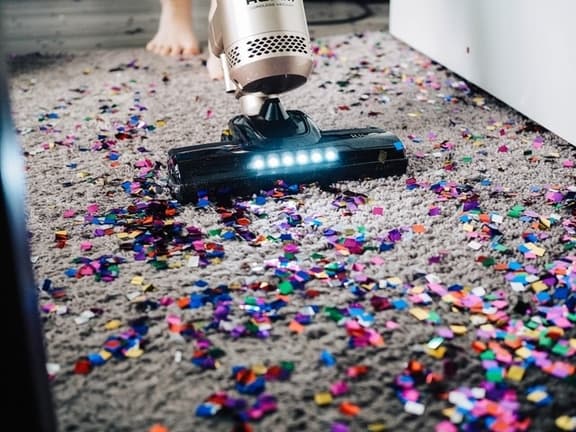 Kitchen
The kitchen is the heart of your home because it's where you cook nutritious meals for the whole family. Most houses even have a small dinette where family members convene for a quick meal. For this reason, your kitchen must be spic and span. Your food preparation should remain free from clutter and pests. This ascertains nothing will contaminate the food, which can adversely impact everyone's health. Check out these kitchen cleaning hacks below:
Clean the Dishes
Your dishes must always be sanitized because it comes in direct contact with the food. For starters, you should never keep a pile of dirty dishes in your sink. That's an invitation for pests and rodents to infiltrate your home. Next, create a space for your dishes in the cabinets. It would help to buy a dish organizer so you can file them neatly. Finally, keep the most used dishes in a separate area. This will give you and your family easy access when you need them. At the same time, it allows you to store the dishes swiftly after cleaning.
Clean Your Sink
Don't take your sink for granted. Just because you constantly run water in this area doesn't make it clean. The kitchen sink can accumulate germs, bacteria, and other pathogens if you don't sanitize it properly. Keep the sink in pristine condition by using an anti-bacterial cleaner to scrub it at the end of the day. You must also ensure that you don't leave it sopping wet after each use because it will leave watermarks that can eventually damage the material. Most of all, a damp sink invites mould and mildew growth, which can contaminate food and lead to health problems. Dry it with a microfiber cloth or paper towels.
Clean Every Surface
Your kitchen has a lot of surfaces where dust, crumbs, and other particles can settle. Apart from the countertops, pay attention to the following areas:
– Table: Keep it free from food particles and wipe down your table using appropriate cleaning materials. For example, Windex for glass and pine-sol for wood.
– Stove: Your stove can be pretty greasy so use a degreaser and take out food debris after each use. Don't let grime accumulate because it can be harder to slough off when left unattended.
– Cabinets: Wipe them with a clean cloth and polish the hardware to make them look fresh.
Don't Forget to Clean Up Appliances
Cleaning your appliances like your fridge, stove, microwave, oven, etc. will ensure that you and your family clean uncontaminated food. Do so at least once a week or immediately if there is spillage. Making this a habit will reduce the chances of sickness and infections. Clean heat emitting devices because microorganisms tend to thrive in warm areas. At the same time, your fridge can have food spills that may eventually end up spoiled. Bacteria and fungi can also survive and grow at colder temperatures. An accumulation of these pathogens will make your fridge or freezer smell bad. Worst of all, they can contaminate your other food.
Bedroom
Your bedroom is a sanctuary where you spend at least ⅓ of your life inside of it. Remember, experts, recommend that you get 8 hours of sleep daily. For this reason, you must clean your bedroom to make it conducive to sleep. Organizing your bedroom will make it more relaxing. As a result, you will feel less stressed, allowing you to sleep calmly and wake up refreshed. Remember, lack of sleep will bog down your immune system, making you more prone to illness. So make your bedroom hygiene a priority. Here are bedroom cleaning tips to help you get much better sleep.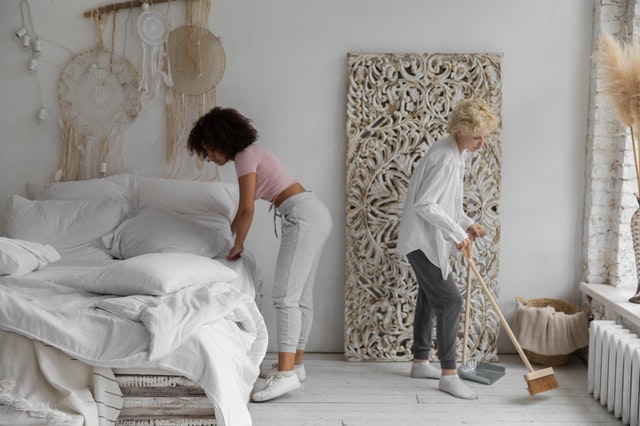 Thoroughly Wash the Floor
Most people don't think about thoroughly washing their bedroom floors. However, dust mites, fungi, dead skin cells, hair, crumbs, etc. will settle in your carpets. On top of that, if you have a habit of bringing outside shoes in your bedroom, your floors could be a lot dirtier than you think. Thus, doing a dry vacuum at least once a week is advisable to pick up surface contaminants. Then, a wet shampoo at least once a month will ensure your floors get a deeper clean. If you have hardwood floors or laminates, clean your floors with a Swiffer wet jet for wood to clear out the gunk at least once a week.
Dispose of Old Clothes
Hoarders typically form attachments to their clothing. Usually, you will find disorganized closets with piles of boxes. There is no rhyme or reason for keeping old clothes. Sometimes, even if clothes have holes or with loose seams, a hoarder is compelled to keep it. Typically, a hoarder's mentality is that they can still use the clothes someday. Even if they haven't worn it for years, they struggle with discarding clothes that they no longer use. Hence, if you are ready to dispose of clothes, you must be firm and vigilant. Anything that you haven't used for 6 months must go because it's likely that you won't use them anymore.
Organize the Closet
If your closet is burgeoning at the seams, that's the sign you need to clear out your clothes. For starters, keep your sweaters neatly folded and your dresses or pants organized in hangers. This will make it easy for you to find the things you need, especially in the morning rush. Let go of things that you haven't used in months because chances are, you won't be using them again. You can donate those that still have a lot of wear left in them. Sell those that still have tags or look new. Others have tried repurposing old clothes by combining fabric swatches into quilts or making them into throw pillow covers.
Declutter the Whole Room
Declutter the room by starting with the bed. Take out unnecessary items and just keep your pillows and blanket there. Making your bed will inspire you to deal with the rest of the room. Put things back where they're supposed to be like file books on the shelf, put underwear in their chests, and dispose of things like papers that are stacked on your side table. Make it a habit to pile away from your freshly laundered clothes immediately. And don't leave your dirty clothes on the floor but put them in the hamper. Don't leave any underwear or towels hanging on the chair.
Get Rid of Dust
While you're resting, you don't want to inhale dust which can irritate your nasal passages, especially if you have allergies and asthma, and disrupt your sleep. Here's what you can do to minimize bedroom dust:
– Wash beddings once a week
– Vacuum and steam clean carpets, upholstery, and curtains
– Launder or steam clean any stuff toys
– Clean surfaces like tables, shelves, drawers, and even window blinds with a damp material
– Keep shoes out of the bedroom
– Store seasonal clothing in vacuum-sealed bins
If you have furry pets that play and sleep in your bedroom, you may need to vacuum and steam clean more often.
Living Room
Your living room is a major part of your home where your loved ones congregate. Your immediate family members usually spend a lot of their at-home-time in the living area, which is why it is named this way. You owe it to them to keep the living room orderly because everyone shares this communal space. Remember, you can only live well if this area is clean and organized. On top of that, the living room serves as a place where you entertain guests, so keep it neat to create a good impression. Here are tried and tested living room organizational tips.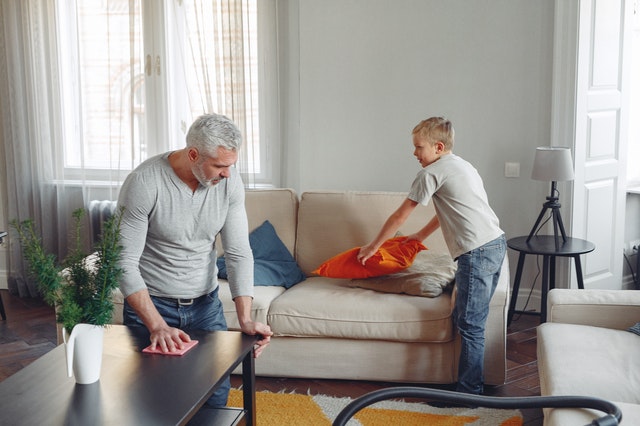 Remove the "Doesn't Belong Here" Items
Since the majority of your family bonding happens in the living room, clutter tends to creep up in this area. Before you know it, your space is filled with non-living room decor or essentials like children's toys, sweaters, exercise gear, towels, empty plates, glassware, etc. Make it a point to take out things that don't belong in the living room at the end of each day. This will prevent clutter from piling up. Doing it daily doesn't compound the problem so it doesn't feel like a herculean task to clean up your living room. Keep this area neat so you are ready to welcome surprise guests at any time.
Clean Couches and Cushion Chairs
Don't forget to clean your couches and chairs because a crumb or two can settle in the crevices. It only takes a few crumbs for pests to invade your furniture and grow their colonies. On top of that, you want to clean these areas because dust, debris, hair, and even dead skin cells can dirty up these frequently used seats in your home. Use pine-sol to beautify wood surfaces and vacuum the upholstery weekly. If you have leather seats, use the appropriate cleaning tools recommended by the manufacturer so you don't damage the material. And remember to clean any metal embellishments.
Clean the Carpet
Clean your living room carpet, especially if you and your family congregate in the area. High-traffic places must be vacuumed at least once a week. Every month, you should also do a wet shampoo to clean deeper into the fibers. Should there be any carpet spills, don't wait for it to settle and stain the material. Immediately take away the debris and blot out as much moisture as you can with a paper towel. Then, use a carpet cleaner to thoroughly cleanse and sanitize the spot. If you have guests over, do a dry vacuum to take surface dirt out the next day.
Undust the Room
Undust your living area by wiping down all the surfaces such as coffee tables, shelves, blinds, baseboards, cornices, light fittings, and ceiling fans. Don't forget to dust decors as well like figurines, picture frames, wall-art, etc. Use an electrostatic material or a damp microfiber cloth to attract all the dust. You may also use a soft-brush vacuum for appliance vents. If you have air-conditioning, replace disposable filters monthly. For built-in ones, clean them with soapy water and air-dry before reinstalling. Consider investing in an air purifier for your living room to improve ventilation and prevent dust from accumulating.
Polish Every Furniture
Polish all the wood in your home using basic wax or pine-sol to make it look fresh and bring back its glimmer. However, don't overdo it, because excessive buildup overtime backfires and yields the opposite result. Use cleaning materials designed for wood once every two weeks. You can also create your own by mixing 2 parts vinegar, 2 parts olive oil, and one part lemon juice in a spray bottle. Then, spritz on a dust-free wood surface and wipe down with a clean cloth. Don't forget to polish metal with the appropriate cleaner, too. Read the label of your cleaning solution.
Bathroom
Some people like to joke that the bathroom is the most used seat in the house! And your commode is indeed vital because it helps you eliminate the toxins in your body. The same goes for the rest of your bathroom because you need your shower, tub, and sink to keep your good grooming and hygiene habits in place. You can only truly cleanse yourself if your bathroom is neat and clean. Keep it free from mould, mildew, germs, and bacteria with proper sanitation. Check out these no-fail bathroom cleaning tips to ensure it's squeaky fresh, with no foul odour: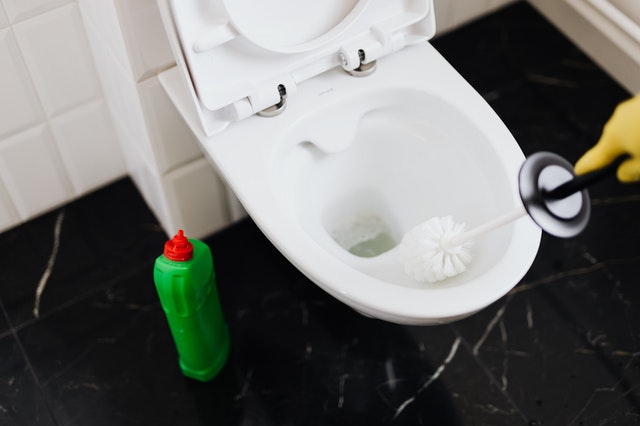 Deep Wash the Floor
Unfortunately, vacuuming your bathroom floors is not sufficient to give your tiles a true deep clan. When it comes to your bathroom, you need a mop and a cleaning solution to take out odour-causing bacteria. Start with a quick surface clean to take out the debris like dust, hair, etc. From there, prepare ordinary bleach by combining one tablespoon of Clorox with a quart of water. You can also use a commercial floor disinfectant and douse the floors generously. Then, scrub the tiles, rinse, and dry the floor well. You can also spray the floors with a scented antibacterial cleaner to zap out any pathogens.
Scrub the Shower/Bathtub
Fight soap scum and grime in your tub and shower with equal parts of distilled white vinegar and hot water. White vinegar is safe for both fibreglass and ceramic tiles so don't worry about discoloration. Meanwhile, use a half-gallon of hot water with two tablespoons of dish soap for marble materials. After dousing the tub or shower with the appropriate cleaning solution, use a soft brush or scrub sponge to wipe down the tiles and grout. You need to apply some arm strength to take out stubborn stains. Finally, rinse everything with clean water. Do this deep cleaning once a week to prevent sediment buildup and deter mould and mildew growth.
Clean The Sink
Make it a habit to clean the sink every day when you use it. After washing your face or brushing your teeth, take out hair and debris. Then, give it a quick rinse with hand soap. You should also make it a point to pat the area dry with a paper towel after every use. This will prevent moisture from seeping into the countertops and avoid damage like warping. It will also deter the growth of mould and mildew. Do a quick sink clean every day as a part of your hygiene habit to avoid sedimentation, water stains, and bacteria buildup.
Thoroughly Check Every Corner
How do you refresh your sink basin and make it sparkle like it's new? You can do a deeper clean of your bathroom at least once every month. Try using any store-bought general bathroom cleaning spray. If you want a milder option, you can use a dish detergent mixed with water. Use your scrub sponge to wipe down the area. Run hot water and repeat the scrubbing motion to loosen up stubborn gunk. This will take out as much debris and grime as possible. Use a metal cleaner to take out water stains and make the fixtures sparkle. Once done, dry everything, especially the counter area to prevent damage.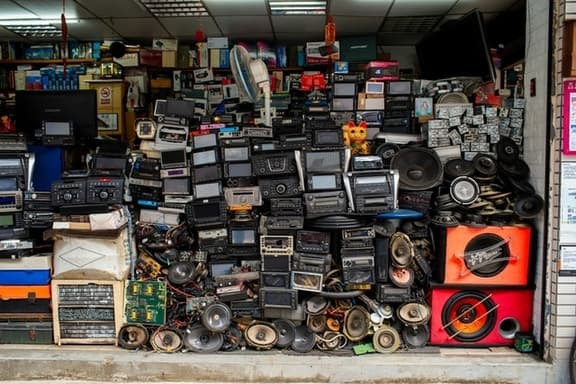 FAQs
How to Help a Hoarder Get Rid of Things?
If your loved ones are serial hoarders, Don't Force Them no matter how much you want to organize your house. Doing so will just build up resentment and cause a strain in your relationship. Besides, true change must always come from within if you want this change to last for the long haul. Instead, hold a family meeting and have a heart-to-heart talk with the hoarder. Ask your children to pitch in to explain with concrete examples how this hoarding habit is making them feel miserable. If it is adversely impacting your physical and mental health, point them out. Offer to clean the accumulated junk, making it a family project.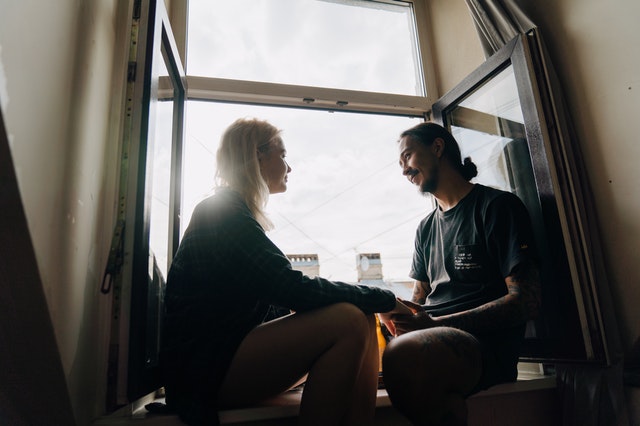 What's The Average Cost to Clean a Severe Hoarder's House?
You will not find a standard answer when it comes to hoarder home cleanup. In our experience, there are many variables involved. This includes the size of the property, location, type of property, and how much junk is involved. However, on average, most people spend around $1 to $3 per square foot for basic hoarder cleaning. But for severe cases involving hazardous materials, the price could skyrocket between $200 to $400 per hour per laborer involved with the project. If you need a ballpark figure, give our team a call and we'd be very happy to assist you.
How to Clean out a Hoarders Basement?
Cleaning out a hoarder's basement may seem like a gargantuan task, especially if you want to get the work done in 3-5 days. If there's only one or two people doing the cleaning, it may be virtually impossible to accomplish your goal. How do you sort and organize years worth of stuff? If you truly want to get the work done fast, you need to call in the pros to do all the heavy lifting for you. Although you have to pay professional fees, you will benefit in the long-haul because they will stress out and deal with hazardous elements on your behalf. Sometimes, it's best to pay for convenience.
How to Help a Hoarder Clean Their House?
If you want to help a hoarder clean their house, you must start with an honest conversation. The decision has to come from the person, and it could never be forced. Otherwise, the hoarder will just fall back into bad habits, undoing all the work you do. Then tackle things room by room, making file folders by year of important documents. Sift through all the items and choose what to keep, throw, sell, donate, and recycle. Come prepared with cleaning tools because you will be disrupting years of dust that had already settled into the area.
Who Can Help Cleaning and Organizing My House?
You can ask family members and friends to help you clean out your home if you are finally ready to let go of your material possessions. However, it may cause strain in your relationship, especially if you have a severe hoarding disorder. After all, there will be animal feces, insects, rodents, dust mites, mold, mildew, etc. It's just not fair to demand that from people you are close to. For best results, pay for a professional crew to do all the cleaning so you don't ruffle any feathers. This will give you the most efficient service as you can also supervise their work.
I'm a Hoarder How do I Begin to Clean My House?
As a self-confessed hoarder, you can only truly begin cleaning your entire house when you've made peace with yourself. Find out the root cause of your hoarding behavior to address the problem. Otherwise, throwing out junk is just a temporary band-aid fix. Eventually you will revert back to old habits. Perhaps, you came from humble beginnings or have a shopping compulsion. Find out what your triggers are. From there, you can seek the help of a professional junk removal company like our team at Jiffy Junk. With our help, you can truly start afresh and live a happy, fulfilling life.
Interested in

Getting Started?
Have a big cleanout job that needs to be done right away? Contact us today. We'll get rid of your junk in a jiffy!
What Our

Customers

Are Saying
Thousands of satisfied customers across America have shared their Jiffy Junk Experience.