Basement Organization & Cleaning Tips: Begone You Cluttered Dungeon!
 

Has your basement turned into a veritable dungeon with an obstacle course of boxes, bins, and discarded items? Clutter can really cramp your style, especially if you're interested in minimalist living trends. Make sure you're able to reach the seasonal decor and frequently used items you store in your basement by clearing out all of the things being inadvertently collected. Cleaning basement doesn't have to be a daunting task, provided you're prepared in advance to get the job done properly.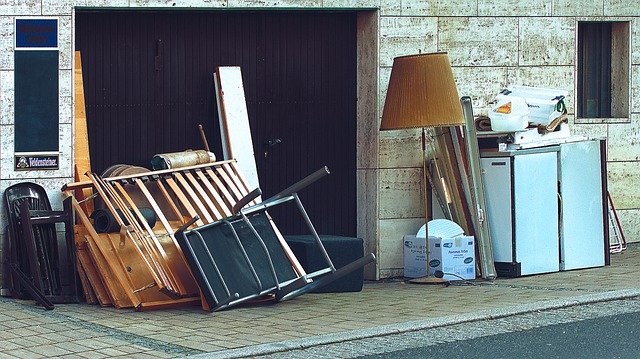 Clearing the Clutter: Where to Begin
 

The most difficult aspect of tackling a cluttered, dirty basement is often just figuring out where to start. This especially holds true when the amount of work seems to be overwhelming. Starting your project with a detailed plan of attack makes those first steps more manageable.

 
1) Prepare Your Schedule for the Cleaning Process
 

Take a look at your schedule for the week and find feasible time slots where you can have at least 2-3 hours to spend on cleaning the basement. You can divide the cleaning process across a few days or in steps, if you have a very busy schedule. It's a big project which can take anywhere from a few days to a few weeks, depending on how much you have stored in your basement. There is no deadline to finish it, so every step counts. Even if it's spread out during times convenient for you.

 
2) Have All of Your Cleaning Tools Ready to Go
 

All the tools and cleaning supplies you'll be needing for your basement clean-up project should be within reach and ready to go before you get started. You will need sponges, rags, a large sturdy push broom, a long-handled duster, bucket and mop, and a variety of cleaning products, as well as a soft bristle brush.

 
3) Select a Disposal Method Before the Cleaning Process
 

Some junk is just plain scrap while other pieces may still have some value for someone else and can be donated or recycled. Scheduling a pick-up or clean-up with Jiffy Junk can be done quickly and conveniently, either with a phone call or through our online booking service. Whether you just want to downsize the extra stuff in your home or have certain rooms that need to be cleared of furniture and debris, you can rely on our licensed and insured team of professional cleaners to do the job right – we will even clean the space once we are done.

 
4) Contact the Junk Removal Service Beforehand
 

The first step in giving your basement a real, proper cleaning is to get everything that you no longer need out. Take a look at the items that are taking up the most space, or that you don't know what to do with, and likely will never use. It's time to get rid of those. Schedule an appointment with Jiffy Junk. When it comes to how to clean basement floor, you can rely on us to help you sort through your stuff and haul away anything that you decide is ready to go. Contact us today at (844) 543-3966 or by visiting jiffyjunk.com/booking.

 
Donate or Discard? Let Jiffy Junk Handle the Heavy Lifting
Discarding Old Items
 

Broken, worn-out, or damaged items should be discarded, while those that are in good working condition, regardless of whether they're in style, can find new homes when you choose to donate them. At Jiffy Junk, we provide cleanout, donation, and decluttering basement services for anyone located in New York City and Long Island — so you don't have to tackle the entire project on your own. When you're ready to de-clutter, organize, and clean your basement, let Jiffy Junk help you get the job done fast.

 
Donating Old Items
 

Almost all of us have piles of old clothes and items just lying around somewhere, and they all end up in the basement eventually. If there are bags or boxes of stuff that you have been meaning to go through, haven't been used in several years or you never know what to do with, trust us – you don't need them. These items may still be put to good use by dropping them off and donating them to local shelters, Goodwill, or the Salvation Army. So, as you plan your basement organization, keep in mind that these items will be able to help many who are in need in your community.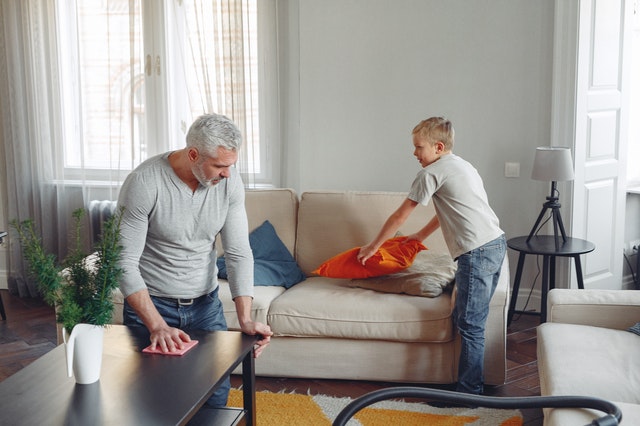 How to Clean Out a Basement
 

Cleaning out your basement can be such a daunting project, as it is a time-consuming and tedious process. Oftentimes, people don't know how to get started. Of course, booking our cleanout basement service would be the easiest way to get your basement all tidy and organized, but if you really want to try doing this task yourself, we have prepared some basement cleaning tips for you. Below, we have outlined the steps on how to Declutter and Clean Out Your Basement in 5 Steps to help you tackle this project efficiently and in the shortest amount of time possible.

 
1) Create a Strategy
 

First and foremost, identify the largest and least-often used items. Whether it's an old sofa from your college days or an exercise bike no one has touched in years, start clearing the larger and more obvious items first. When you've isolated and addressed things that take up the most space, you'll have more room to move. Look for the proverbial elephants in the basement as a starting point, then work your way through smaller items.

 
2) Sort Your Old Items
 

Once the biggest offenders are removed, it's time to start looking for things that don't necessarily belong in the basement. If you've been in the habit of tossing items you don't have another use for downstairs, this is the time to start finding permanent homes for them. Move tools to the garage, for instance. Piles of outgrown or out-of-style clothing you've been meaning to donate? Address those, too. Be sure to sort through boxes, bags, and bins. Chances are, items you'd like to keep are intermingled with the things that you no longer need.

 
3) Place Smallers Item in a Box
 

A smart and time efficient basement organization tip: Use a large box, or several boxes if needed, to put all of the smaller items in your basement. This allows you to remove the items that can easily be moved without taking countless trips going back and forth to take them out and put each item back individually.

 
4) Begin the Discarding Process
 

We've all thrown broken or damaged items in a closet or basement with the intention of fixing them someday, but how often does "someday" arrive? If an item has been lurking in your basement and waiting for repairs for quite a while, it may be time to let it go. Cleaning the basement and clearing out useless or unneeded items leaves you more space to effectively organize and store the things you can and do use, turning your basement into usable square footage.

 
5) Remove Every Unwanted Bulky Furniture
 

Now that your basement organization has come to a point where the smaller items and items to donate are removed, it's time to take a look at all the big, bulky items you have been meaning to get rid of and decide which ones need to go. This is a vital step in order to make progress in your basement and create real changes and organization of the space. Manage it properly by contacting a junk removal company days before tackling the cleaning process. Jiffy Junk can help with furniture removal as well as sorting, organizing, and hauling away what you are ready to donate, recycle, or send to the dumpster.

 
6) Clean Out All the Dust
 

Use a long-handled duster to get rid of all the cobwebs, mothballs, accumulated dirt – including in corners and small crevices – that have accumulated in your messy basement over time. Loose dust, mold, and bacteria in basements can easily be pulled into your HVAC system, impacting all the other areas of your home, which is unhealthy and needs to be avoided.

 
7) Vaccum Every Small Debris and Leftover Dust
 

When cleaning the basement, go over the floor with a vacuum and broom once or twice over after going through the areas that have gathered the most dirt to ensure that there is no leftover dust and debris before beginning to mop the floors.

 
8) Mop the Whole Floor
 

Now that you are done decluttering the basement, the next step is to mop the floor clean. With a large bucket of hot water, mixed with dishwashing soap, detergent, or baking soda, start from the corners of the room and begin mopping the floor one area at a time. Once too much water begins to accumulate, use a long-handled floor squeegee or a large sturdy broom to push the excess water towards the drain in the middle before moving on to the next area.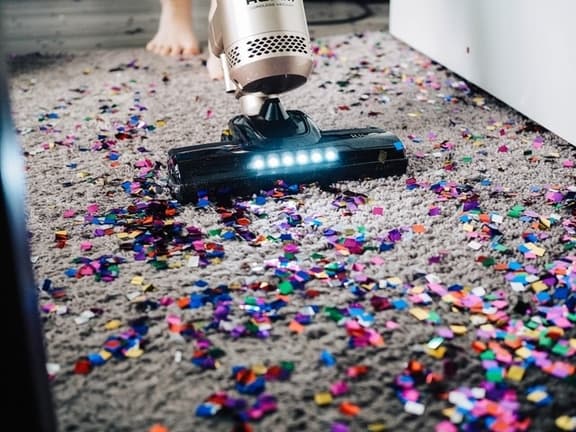 Leave It to the Professionals
 

Certain situations are simply too big to handle on your own, such as unfinished basement cleaning after remodels, flooded basement cleanup, or hoarding situations. Jiffy Junk's basement cleaning services will efficiently reclaim your space, eliminate allergens, improve air quality, control pests, and leave your basement organized and without the junk you no longer need. How much does it cost to clean out a basement? Call us today at (844) 543-3966 to get a free estimate.

 
FAQs
How to Clean Concrete Basement Floor?
 

Mixing baking soda and liquid detergent with hot water is a simple and effective solution for cleaning a concrete basement floor. For areas with mold, mildew, or heavy build-up, use a soft bristle brush with water and vinegar or baking soda to scrub each area clean and loosen up the dirt before removing it completely. Start in the corners, and as you move along sweep any excess water to the middle of the room towards the floor drain.

 
How to Clean Mold in Basement?'
 

Mold is a potentially dangerous problem that quickly spreads over time. To get rid of it as soon as possible and prevent mold from returning, use a mold cleaning solution, mold killer, or indoor disinfectant liberally in the area to begin the removal process. For a less invasive, natural cleaning solution, both vinegar and baking soda are acidic and can help in the removal of mold.

 
How to Clean Basement Walls?
 

If you are cleaning concrete walls in your basement, the first step is to vacuum the corners and sweep the walls to remove any dust and dirt that have accumulated. From there, begin to wash down the walls with soap and water going over one area of the wall at a time, from top to bottom, before moving on.

 
How to Clean Basement Floor with No Drain?
 

Cleaning a basement floor without a drain is more of a challenge and a bit more time-consuming, but with a few extra steps it can be done. Wring out your mop completely before using it to clean the floors, and run the floors over with a dry towel or dry vent brush, while having a dry air mover set out that will quickly absorb extra moisture and do the drying for you.
Interested in

Getting Started?
Have a big cleanout job that needs to be done right away? Contact us today. We'll get rid of your junk in a jiffy!
What Our

Customers

Are Saying
Thousands of satisfied customers across America have shared their Jiffy Junk Experience.