Why You Should Consider Eco-Friendly Trash Removal Services
So spring is coming soon and it's basically where we as a nation get to our annual "trash clear out season". Everywhere you go, you will see that households are gearing up to clear out whatever has accumulated over the last year.

Now there are plenty of people out there who dread the cleaning that accompanies spring but trust me if you play your cards right then it isn't that big a deal like people make it out to be. Now,if you are anything like me then you too feel suffocated during this time of the year with all the things being piled up around the house. I mean with the pile of clothes that I need to donate or the junk piling up in my garage, I always feel overwhelmed when I go past the pile of trash. So I usually can't wait for the cleaning season to begin.

Depending on the amount of trash piled-up I may need to hire a trash removal service. But I don't hire just anyone. I make sure that the trash removal service that I am hiring provides eco-friendly services and here's why.

Every day we create a huge amount of trash that is piling up and that's hampering the environment already. So going eco-friendly when removing trash is a great way for you to help out the environment. Places like your garage might already be chock full of trash. Things like broken bicycles, knick-knacks, family photos, and Christmas decorations might as well be collecting dust already. All of this junk needs to be properly processed and disposed of in a certain way otherwise these will wreak havoc in the environment.

Another place that you can have a stockpile of trash is in the basement. Now usually this is where we keep things that we don't need. Things like Tanks from old pets, accessories, old furniture, and outgrown kids' toys are all stuffed in the basement. So with that much trash, you may require a junk removal trash service for your residence.

The importance of eco-friendly junk removal is immense because the trash, if not disposed of correctly, will cause havoc in your local environment. That might come back to haunt you later. So here we will talk about how you can help out the environment by removing trash in an eco-friendly way.
What Can You Recycle?
When removing large items it can seem like a daunting task especially if this is your first time doing it. You might be confused as to whether you should be dumping it or recycling it. Now it may be a bit confusing to choose between the disposal methods.

So within the following passages, we will talk about what you can recycle from your trash. And by the time you are done reading the article, you will hopefully be able to get rid of your trash in an eco-friendly way.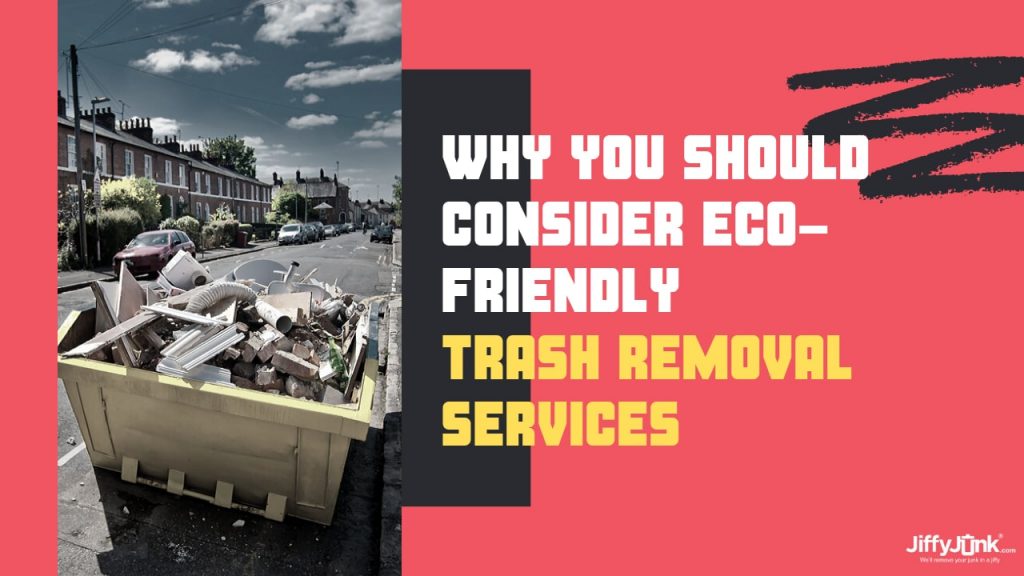 Recycling Trash Furniture
Do you remember that big old furniture that you had to get rid of? Well, believe it or not, you can actually recycle it. But before you recycle the furniture you should always check for personal belongings that you may have stashed.

Check the drawers and between the cushions and any other place where things might have gotten in. So before you actually start recycling, you need to sort out your furniture. Separate the ones that are metal from the wood materials. It's one of the ways you can ensure proper disposal.

Now the scrap metal dealer can and will take away any metal furniture that you want to throw away. They will know how to properly utilize the metal in the furniture as well. Now furniture that's not metal should be hauled away or donated.

It might seem like a taxing task and to tell you the truth it is. So when people need to get rid of furniture they call trash furniture removal services like Jiffy Junk. Jiffy Junk offers extensive trash furniture removal services. The services include Couch, Sectional Sofa, Recliner, Dining Set, Patio Furniture, Mattress & Box Spring, Headboard & Footboard, Entertainment Center, and Chest of Drawers disposal.
Trash Appliance Removal
So getting rid of appliances without proper preparation can lead to damaging the environment. The appliance may even contain harmful chemicals that might cause harm to you.

So when disposing of trash appliances it is better to call in trash removal experts near you. This way you ensure no one gets hurt and nothing gets damaged and the environmental effect is kept to a minimum.
Trash Electronics Removal
With electronics, it's always better to salvage or to recycle them. So electronics often contain harmful chemicals and metal that might cause harm if simply left out on the curb. Now you don't want that. So make sure you call in help when removing trash electronics from your house.

One more thing, you should always wipe any personal information there may be on the electronics before disposing of them. As for disposal, you will be able to find plenty of local home trash removal services that will be willing to provide you with an outlet of disposal.
Old Mattress Disposal
Now getting rid of your old mattress may seem hard but trust me it isn't. In certain areas what you can do is just put the old mattress on the curb. Later sometime someone will pick it up and drop it in the landfill.

Now for this, you will get charged by the city for the service. But don't you think this is an easy way to get rid of your trash? However, this is not available everywhere so do contact your local authorities to see if you have this service in the city.

If you don't then you would have to drop off the mattress yourself. In trying times however you can call in a professional trash removal company and they can get rid of it for you.
Some Tips On Eco-Friendly Trash Removal
Junk or trash removal is hard by itself and it wouldn't be surprising if you think eco-friendly trash removal is hard. This is why in the following passages you will see some tips on how you can remove trash from your house in an eco-friendly way. So let's start.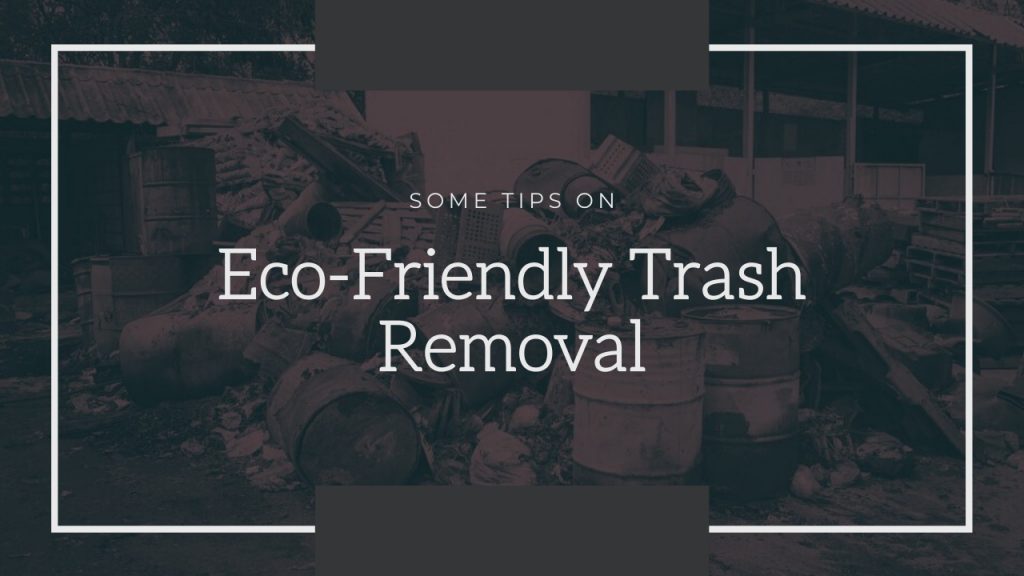 No Need To Rush
So trash removal is a very laborious process. So naturally, it will take you some time to do it. Oftentimes what people do is they try to rush and when they do, they either damage things or they forget something in the removal process. So you should remember to never rush when removing trash from your residence.

If you are doing an annual cleanup, then before you start just allocate some time to properly plan out the entire cleaning process. Make sure you separate segments and types of trash and also allocate a reasonable amount of time to remove the trash as well.

List all the rooms down. Create a priority table on which room you will clean first. Remember to spread the cleaning session throughout multiple weekends. You don't really want to spend all your free time removing trash, do you?
Is Creating Piles A Good Idea?
No, they aren't. When thinking about removing trash from your residence you should always have a clear idea about what you need to remove. Now creating a pile of "maybe" will only confuse you and increase the chances of just piling on more trash in your house. So making a list of items and having them appraised by a professional will help you make the decision on what's trash and what's not.

Remember when you begin the trash removal process you should already have a clear idea of what your trash is, so there are no delays because it's already going to be a long process anyway.
Holding A Garage Sale
One great way to get rid of your trash is to hold a garage sale. Now you know what they say, one man's trash is another man's treasure, right? So when you have a clear list of things you want to get rid of you can hold a garage sale.

You will be surprised to find how many people will pay a good price for your trash. Holding a garage sale will get rid of a lot of trash and is sure to free up a lot of space in your house so why not give it a try?
Online Sale
So this is like the digital version of a garage sale. There are plenty of places online where you can post ads for your unwanted junk and people will buy it off you. However, listing an item online is only the first step.

It may take some time for the actual sale to go through. Another thing is that you don't really know who is buying your items. Other than that if you are removing big pieces of furniture there is the question of transport.

Always see if the buyer is willing to provide the transport for delivery. There is no point if you find out that the buyer can't provide the transport and you can't deliver the furniture yourself. This will only result in time wasted. So make sure you figure out the logistics of the sale first before posting it online.
Recycling & Donation
Now you already know that landfills aren't a good idea for trash disposal. However, there are ways you can ensure that your trash doesn't get to the landfills. Things like your books, electronics, appliances, mattresses, etc., you can simply just donate them to a charity of your choice.

You can also choose to repurpose the materials and use them to make something else that you can use. Donation is a great cause. It will not only make you feel good about yourself but it is actually helping other people out.

Now we donate obviously for a good cause but you know it doesn't hurt to get a tax break as well. So make sure you get a receipt after you have donated. There are plenty of charities out there who can provide transport but you have to make sure you choose properly.

However, if you have no problem delivering the items yourself, then all the more power to you! So choose wisely and choose a charity that you care about when giving away things. Remember for you it may be trash but for them it's a need.
Calling In An Eco-Friendly Trash Removal Expert
So there you go, now you see why you should consider eco-friendly trash removal? Well, not only is it a great way to help out the environment but it will help your community too. And with that our discussion on eco-friendly trash removal comes to an end.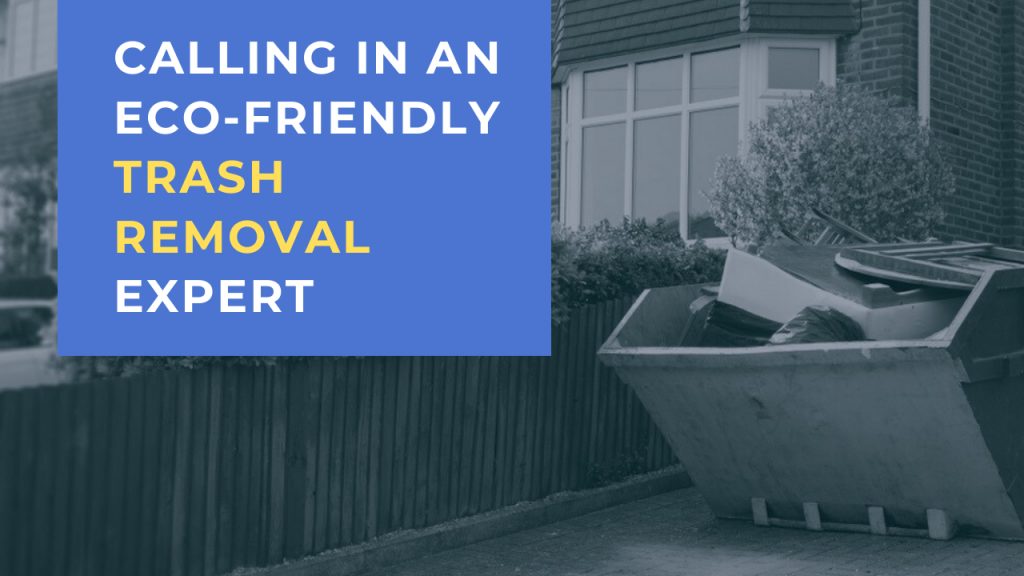 Let us know how you conduct the trash removal in your home. Also, send us your thoughts on what else could be done for the environment. Now if all this seems a bit too daunting for you then don't worry. You can call in a professional eco-friendly trash removal service near you.

Companies like Jiffy Junk provide the best eco-friendly junk removal services available. So if you are in a rut and don't know how to get rid of the junk in an eco-friendly way, then Jiffy Junk is your best bet. So when you are cleaning your house this fall, give Jiffy Junk a call!
Interested in

Getting Started?
Have a big cleanout job that needs to be done right away? Contact us today. We'll get rid of your junk in a jiffy!
What Our

Customers

Are Saying
Thousands of satisfied customers across America have shared their Jiffy Junk Experience.