The first step to getting the new flooring you want, often starts with removing the current carpet. If it is time to replace your old carpet in your home or business with new carpet or hardwood floors, you must first pull up and then haul away your existing flooring. This can be back-breaking work in a large home or business, plus messy and time consuming, especially if the carpet is glued down.The good news is you don't need to do it on your own. Jiffy Junk can handle it for you.
We offer carpet removal service for residents and business owners. Our professional team can quickly remove old carpeting to clear your building floors to prepare it for new flooring. We offer carpet removal from concrete floors as well as hardwood floors, all done efficiently and affordably. When you need a professional, Jiffy Junk is the one to call.
Hardwood and Stairs
Pulling up carpet, rolling it up and hauling it away is just another service we offer at Jiffy Junk. Whether you need carpet removal from stairs or from any area in your home or business, we will carefully pull it and take it away while protecting the floor underneath from damage.
This is especially important when working with hardwood floors. Often our clients want to maintain the integrity of the wood underneath the carpet, making it essential to take precautions to protect it from damage. At Jiffy Junk, we always strive to meet and exceed our client's expectations, using extreme caution to avoid damage to any property while performing our services.
Concrete
One area that can be difficult to prepare for new flooring is basements. Basements offer a few challenges. Often there can be moisture or mold under the carpeting, which requires carefully removal to prevent illness. In addition, the old carpeting must be hauled up stairs, which can be heavy and unwieldy. However, our team has the experience and the right equipment to take care of it, regardless of where the carpet is located in your home or business.
Carpet Disposal Service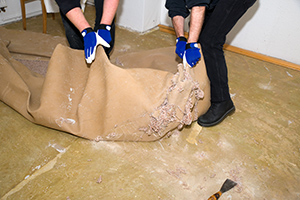 Once we pull up and remove your old carpet, we will haul it away for disposal to the appropriate waste center. You do not need to worry about how you will haul large rolls of heavy carpet to the proper disposal site; this is all included in our service. We will also leave the job site clear and clean when we leave – we never leave a job site without sweeping and cleaning the area first.
When you need carpet removal from concrete, hardwood floors, stairs or basements, Jiffy Junk is the company to call. We can also pick up and haul away furniture and other rubbish at the same time. Brooklyn residents and the surrounding New York area can trust our professional team to complete every job on time and to the highest level of satisfaction.
Call us today at (844) 543-3966 for more info or schedule a free no-obligation estimate with our online booking system.
Jiffy Junk Carpet Removal Services




5

/

5

based on

1083

reviews. Review Me